Pinnacle Power Pioneers New Heat Maintenance Technician Apprenticeship
A first of its kind Heat Maintenance Technician Apprenticeship is being led by Pinnacle Power, part of Pinnacle Group. The new 36-month apprenticeship aims to support the UK's journey to net zero, building on the sustainable energy expertise that Pinnacle provides its private and public sector commercial and residential property clients. 
Initial approval for the Heat Maintenance Technician Apprenticeship has been given by Institute for Apprenticeships and Technical Education (IFATE). Full curriculum details, funding levels and partnerships with local colleges are all being finalised by the Trailblazer group, which includes industry leading organisations in the heat network industry, including EQUANS, Uniper, E.ON, SSE, Metropolitan, FairHeat, Vattenfall and Vital Energi.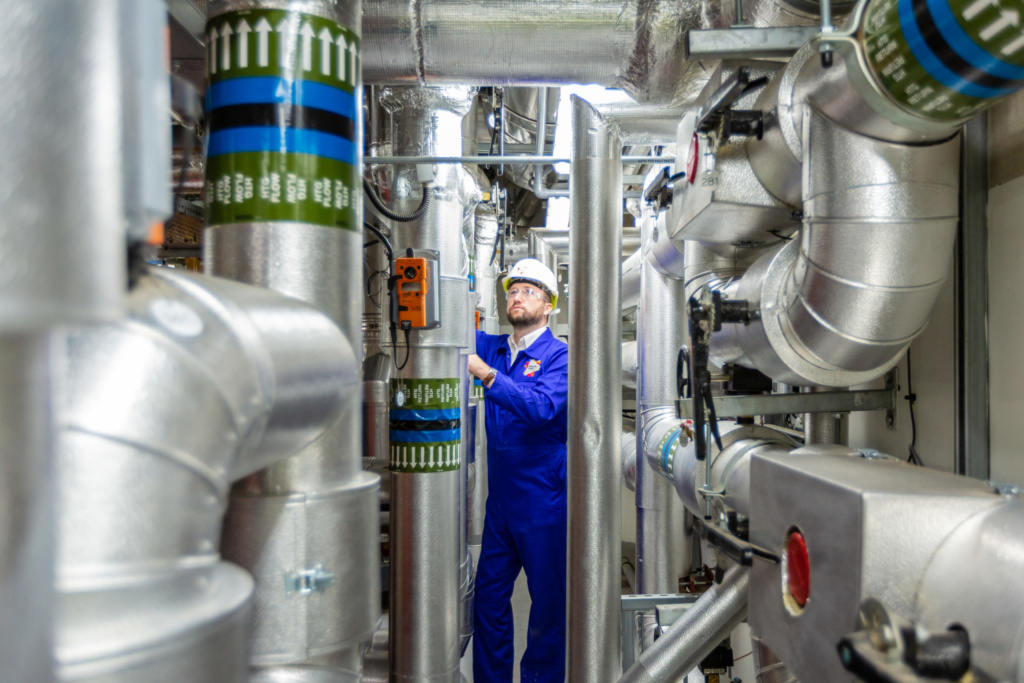 The group are hoping to have a final submission to the IFATE by winter this year with roll out of the apprenticeship in 2023.
Toby Powell, Pinnacle Power's Head of Operations and Chair of the Trailblazer Group, is focusing on the successful roll-out of the apprenticeship programme. 
Toby said: "To reduce carbon emissions and meet sustainability targets, there is a rapid roll out of heat networks across the country. To meet the needs of this growing industry, we are looking to encourage new talent, provide structured learning and a rewarding career to those that wish to join us at this exciting time. At Pinnacle Power, we have a responsibility to design, build, operate, maintain and provide customer services that deliver sustainable heating to thousands of properties and commercial businesses across the country."
The apprenticeship will be open to those over the age of 16 and will focus on a core or Science Technology Engineering and Math (STEM) foundation module, including mechanical, electrical and controls principles. This core module will be complemented with options to specialise in Heat Interface Units (HIUs), Low Temperature Hot Water (LTHW) distribution systems, or heat generation plant and equipment. 
Toby added: "We are proud to be progressing these apprenticeships and see it as a crucial way to future-proof our team. It also feeds into our purpose as a company that gives back to communities by providing employment and training opportunities."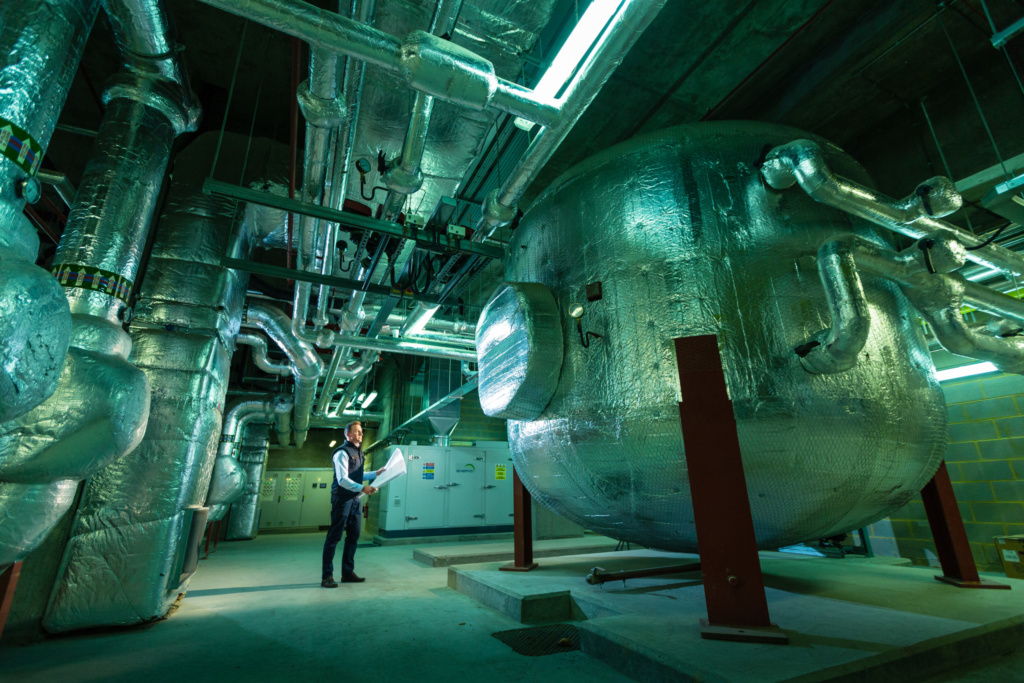 Heat networks, which are distribution systems that can take heat from a central single source to heat a network of properties, form an important part of the government's 2050 Net Zero strategy. This is because the energy they provide can be supplied by a range of low carbon heating sources, removing the need for individual high carbon heating systems, such as gas boilers. 
For more information about the Heat Network Maintenance Technician Apprenticeship programme, and how to get involved, please contact: info@pinnaclepower.co.uk.
Pinnacle Group finalises integration of Orchard and Shipman brand.
The integration of housing specialists, Orchard & Shipman (O&S) Group, into Pinnacle Group has entered its second phase. This means that as of 1st June 2022, O&S Group now operates under the Pinnacle Group brand, replacing all O&S Group branding.
Pinnacle Group acquired O&S Group in late 2021, to support Pinnacle's geographic expansion and service capability growth. Since then, the integration of the two businesses has been steadily underway. As well as the change to the branding, this latest phase of the acquisition will simultaneously see the O&S Group social media channels and website cease - apart from O&S Homes (one of our regulated Registered Providers of Affordable Housing), which will still have a page on the Pinnacle Group website.
Peregrine Lloyd, chief executive of Pinnacle Group, said:
"We're pleased to be taking the final integration steps as part of our exciting acquisition of O&S Group. The integration of branding, social channels and website within the Pinnacle Group brand is an important part of our plan to deliver our vision together as one provider. We look forward to growing from strength to strength together."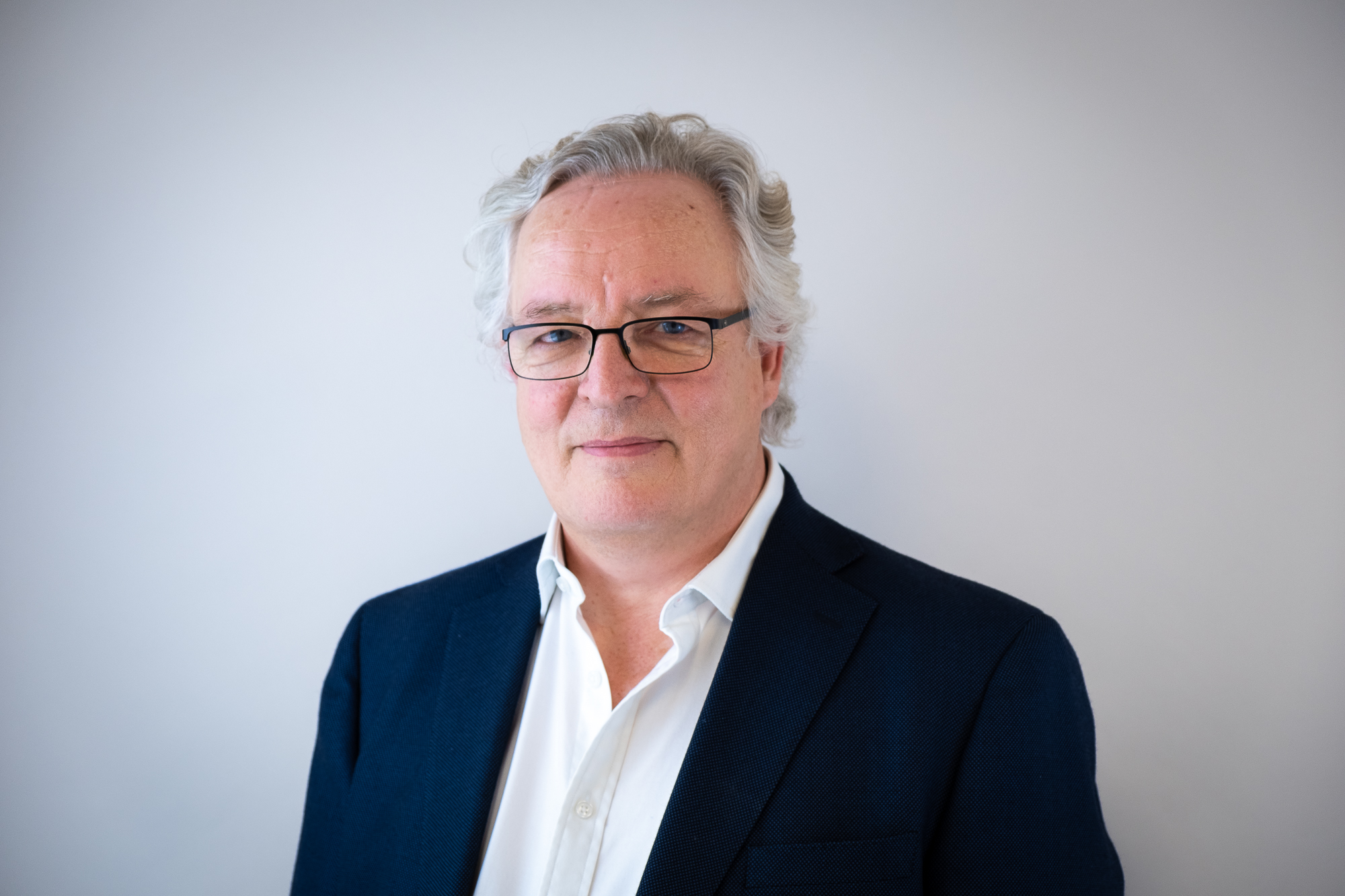 Peregrine Lloyd
Group Chief Executive
Pinnacle Group Launches New Sustainability Commitment
A SUSTAINABILITY pledge has been announced by Pinnacle Group. The published Carbon Reduction Plan details how the business plans to minimise direct and indirect emissions across each of its services and extensive property portfolio over the next decade.
In the plan, Pinnacle Group pledges to achieve net zero on direct emissions as a result of the businesses' own operations by 2025, and full emissions that account for waste disposal, purchased goods and services, as well as employee commuting by 2035. These goals align with the Science Based Targets definition of achieving net zero.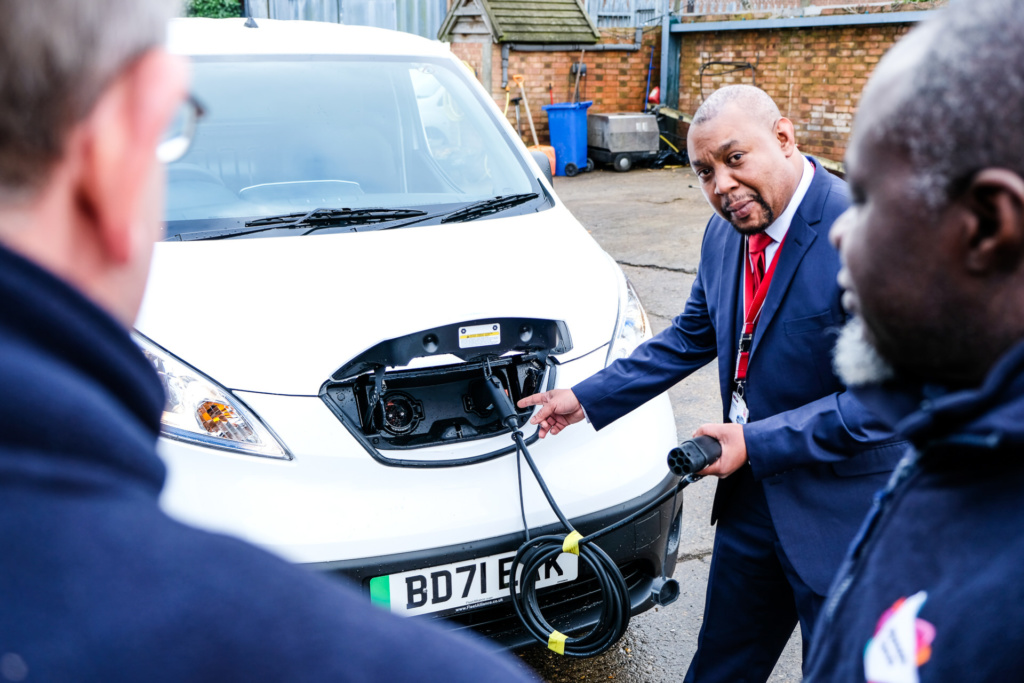 While the business has already taken several steps to reduce its carbon footprint - including investing in a fleet of electric vehicles and committing to a new sustainable procurement policy for its soft facilities management (FM) cleaning services - the latest plan has developed a clear roadmap to net zero.
To achieve targets, the document outlines Pinnacle Group's plans to scrutinise current emissions and take action to reduce carbon emission levels via various schemes and behavioral changes. Reducing the environmental impact of business travel, for example, will be delivered via a new Green Business Travel programme. A large-scale review of utility provision across the entire Pinnacle Group estate will also be completed in Spring, with aims to make a complete transition to 'green energy'.
"Our Carbon Reduction Plan is the result of science backed data analysis and strategy building, so that we can best tackle the sustainability challenge across our facilities management services, homes, utilities and community wellbeing work. We want to create lasting change, so formalising our approach in this new plan holds us accountable and allows for a more measurable journey to net zero against our goals."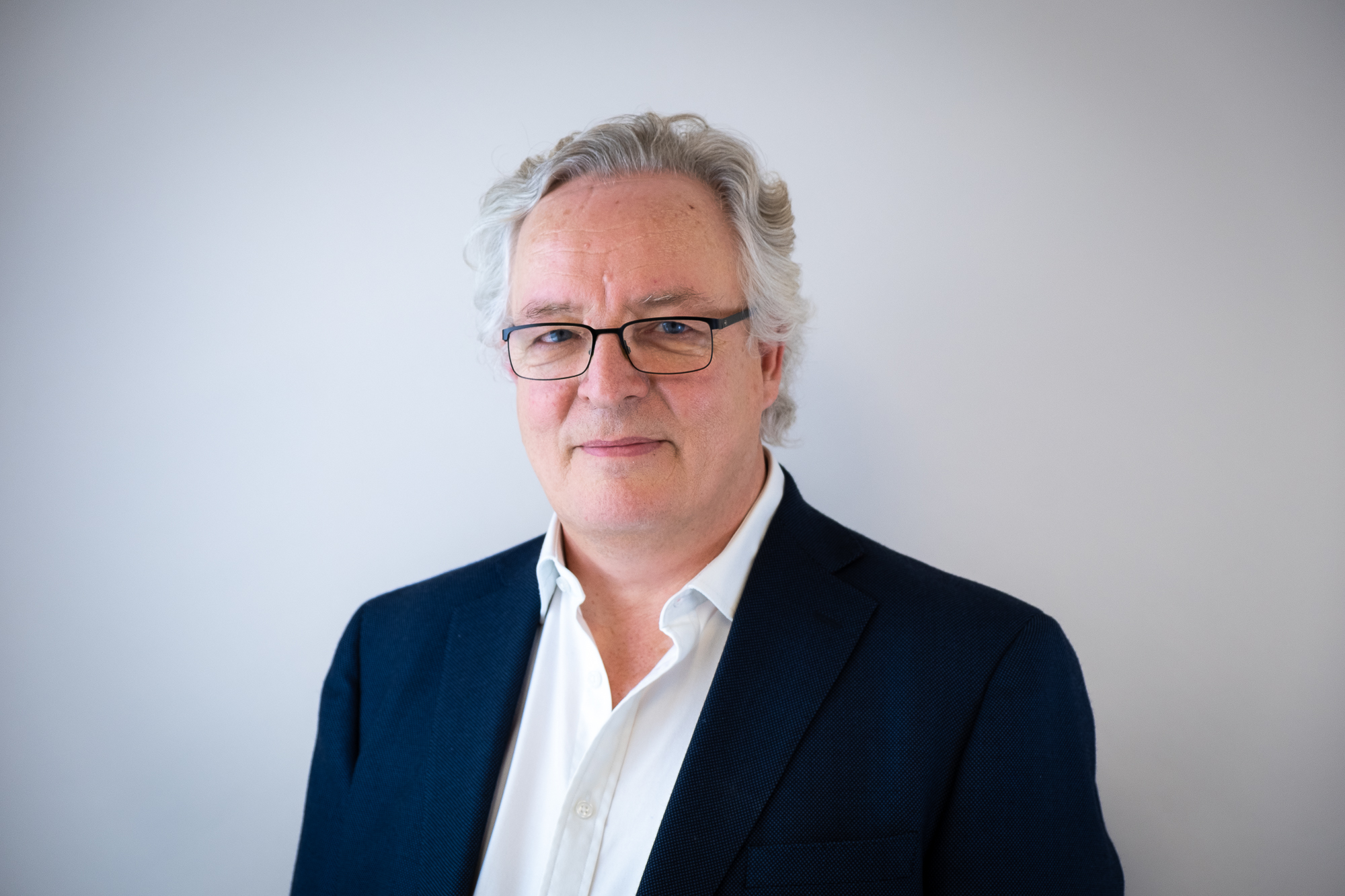 Peregrine Lloyd
Group Chief Executive of Pinnacle Group
"Sustainability is a core pillar of what we champion at Pinnacle Group, so we are proud to push forward on our promises to help protect our planet. This is an exciting step in our net zero journey, which makes our mission clearer in all the strides we're making to reduce emissions, right across Pinnacle Group services. We look forward to supporting the team in reaching our 2025 and 2035 targets as we strive to become a more sustainable business."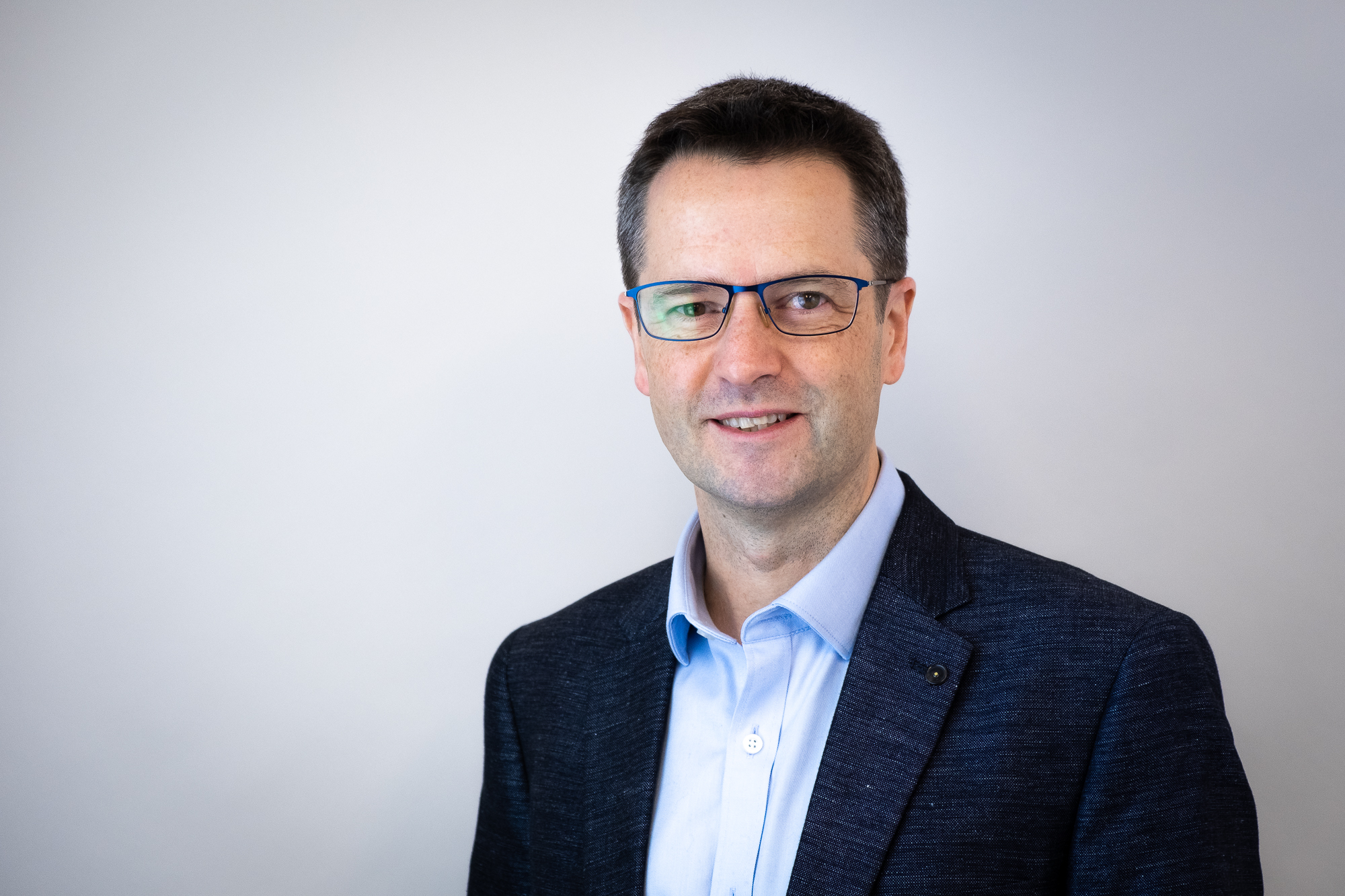 Paul de Kock
Head of Projects at Pinnacle Group
Pinnacle Group will also launch its "Plan to Net Zero" in the coming months, which aims to drive forward environmental best practice with a focus on employee education.
Pinnacle Group Reports Kickstart Scheme Success During National Careers Week
PINNACLE GROUP has revealed that 30 young people in total have been provided with six-month paid work experience placements through the government's Kickstart Scheme. Announcing this success during National Careers Week (7-11 March 2022), Pinnacle Group has also reported that this has led to full-time employment for eight young people so far.
The last intake of the government-backed Kickstart scheme, which was aimed at 16-to-24-year-olds receiving Universal Credit and at risk of long-term unemployment, happened in December 2021. Pinnacle Group is now supporting the final cohort through the scheme, which involves them working with a dedicated Kickstart coach to provide regular reviews and feedback.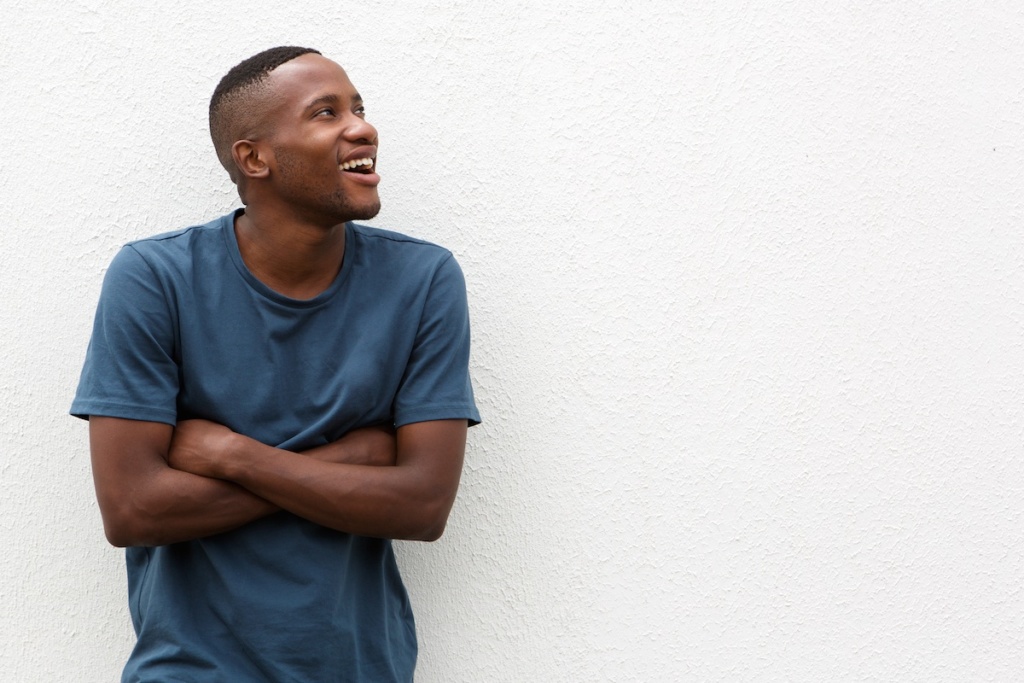 In addition, Pinnacle Group has further invested in the young people on the Kickstart Scheme by supporting them all with Group Employability Workshops, designed to build confidence and understanding of their role at Pinnacle. Alongside this, the Kickstarters have been supported with other job skills - including how to develop a CV, writing cover letters, completion of application forms, interview techniques and job searching.
Reporting on the success of the Kickstart Scheme, Ben Leahy at Pinnacle Group said: "Supporting the community through engaging with young people and providing job opportunities is very important to us. We are therefore delighted to have taken part in the government's Kickstart Scheme, which aligned with our people focused values. Although applications are now closed, the positive impact the scheme has had on the young people involved and the Pinnacle team has been tremendous. The fact that this has also led to full-time employment for eight young people so far is further testament to how valuable the scheme has been."
Sajan Raja, who joined Pinnacle Group through the Kickstart Scheme and is now a full-time Junior Data Analyst, said: "I have found the experience to be really rewarding and I am so pleased to be doing something that challenges me and that I enjoy. I wasn't sure what to expect when I joined the Kickstart Scheme but it has helped me to discover my strengths and open the door to a career I never thought I was able to have. I am grateful to the team at Pinnacle for taking a chance on me and helping me to thrive."
Pinnacle Power's Apprenticeship for Heat Network Maintenance Technician Announced
PINNACLE POWER, part of Pinnacle Group, is proud to have received approval from the Institute for Apprenticeships & Technical Education for a first-of-its-kind Heat Network Maintenance Technician Apprenticeship. By developing this apprenticeship, Pinnacle Power is actively contributing to boosting the next generation of skilled technicians needed as the UK transitions to a greener economy. 
The 36-month apprenticeship is open to those over the age of 16 and will focus on a core Science Technology Engineering & Math (STEM) foundation module, including mechanical, electrical and controls principles, maintenance strategies, as well as safe working practices of heat networks. This core module will be complemented with options to specialise in Heat Interface Units (HIUs), Low Temperature Hot Water (LTHW) distribution systems, or heat generation plant and equipment.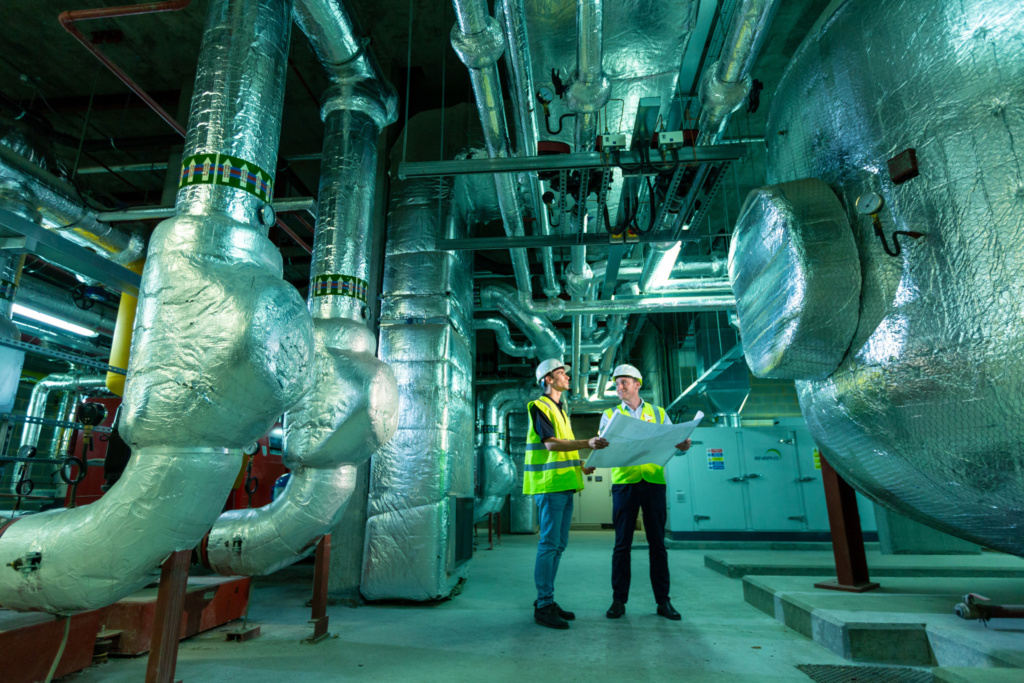 Heat networks, which are distribution systems that can take heat from a central single source to heat a network of properties, form an important part of the government's 2050 Net Zero strategy. This is because the energy they provide can be supplied by a range of low/zero carbon heating sources, and ultimately removes the need for individual high carbon heating systems, such as gas boilers.
As more properties in the future will need to reduce carbon emissions to help meet sustainability targets, heat networks and the professionals who install and service them will also need to increase. This is why over the coming months, Toby Powell, Pinnacle Power's Head of Operations and Chair of the Trailblazer group, will be focusing on the successful roll out the apprenticeship programme.
Toby said: "This is an extremely important initiative that will support the future of heat networks being developed to meet the legally binding targets of NetZero by 2050.

As an industry we are well aware of the current skills gap and I hope that this apprenticeship, alongside other fantastic initiatives being worked on in the sector, will draw in a diverse, new and enthusiastic talent pool to help us drive forward what is expected to be one of the fastest growing sectors in the UK.

I am excited to begin this journey with the Trailblazer group and continue to build the valuable course structure, before rolling it out more widely and connecting with schools and colleges to partner with, which is our ambition to do."
This Trailblazer group will be formed of a team of industry representatives, government representatives and associations, working with the Institute of Apprenticeships and Technical Education.
For more information about the Heat Network Maintenance Technician Apprenticeship programme, please contact: info@pinnaclepower.co.uk. 
2021 Year in Review
At Pinnacle Group, we are proud to have launched our first "Transforming Communities, Changing Lives" annual review, which looks back at the fantastic Environmental, Social and Governance (ESG) progress made in 2021, to create a lasting legacy in the communities we serve.
Last year, Pinnacle's ESG journey started with the introduction of a new ESG framework, which underpinned our vision and purpose. Our objectives have been set out across four pillars: "Protect Our Planet", "Our People", "Community Impact" and "Responsible Business".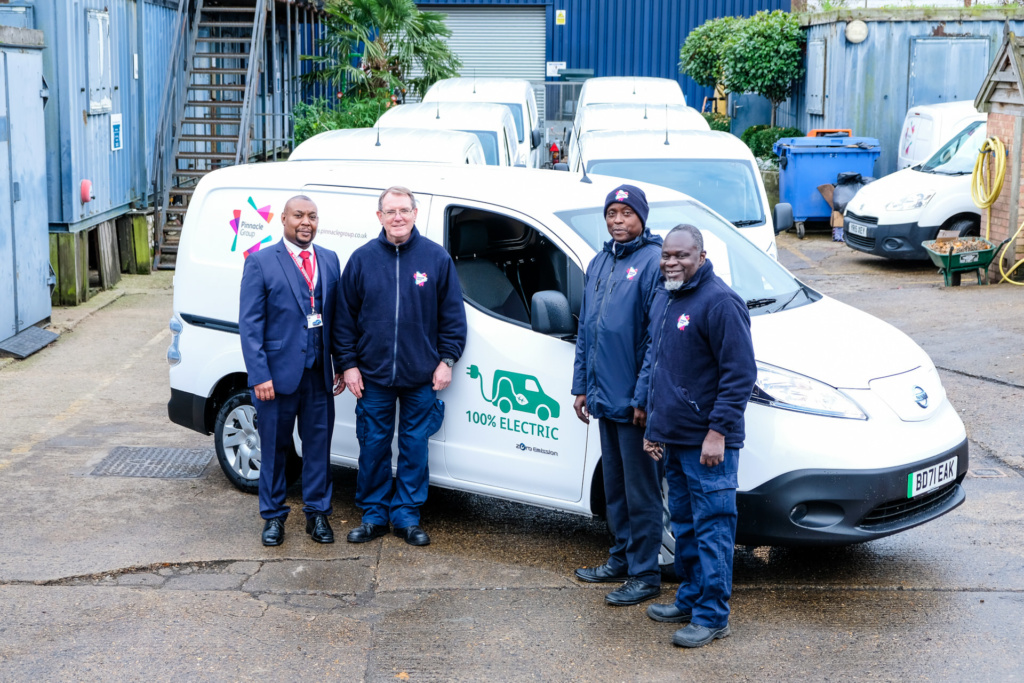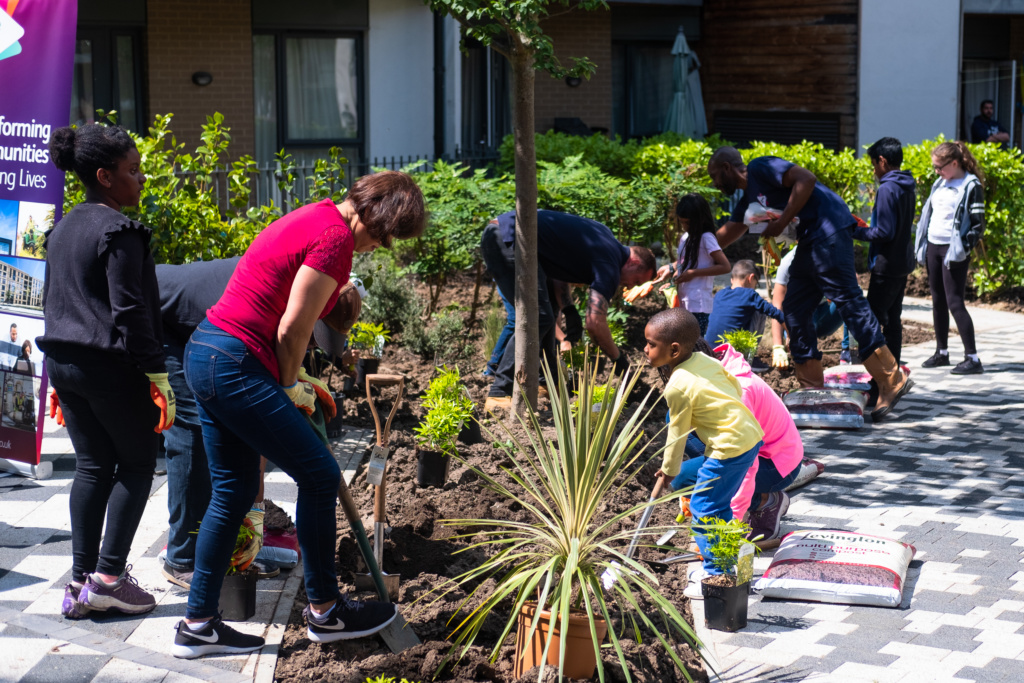 To meet our new framework goals, we acted in 2021 to deliver against our ambitious plan – the results of which are now revealed in our first ESG annual review. Some of the review highlights include:
Kickstarting Project Electrify – increasing the number of electric vehicles in our fleet.
A new approach to retrofitting buildings such as the 70% energy reduction across Swindon schools by switching to LED lighting.
Launching a first-of-its-kind Responsible Procurement Policy, in collaboration with our preferred commercial cleaning supplier, BCHS (Bunzl Cleaning and Hygiene Services).
Embracing tools and technologies, such as our Voice of the Customer and FM Client Feedback programmes and a new supply chain management system.
Engaging with the communities which we serve, in Myatts Field, London, we devised and hosted six weeks of free structured sport coaching followed by a healthy lunch for 50 young people. 
Introducing a new supply chain management system which captures more detailed information on our supply partners.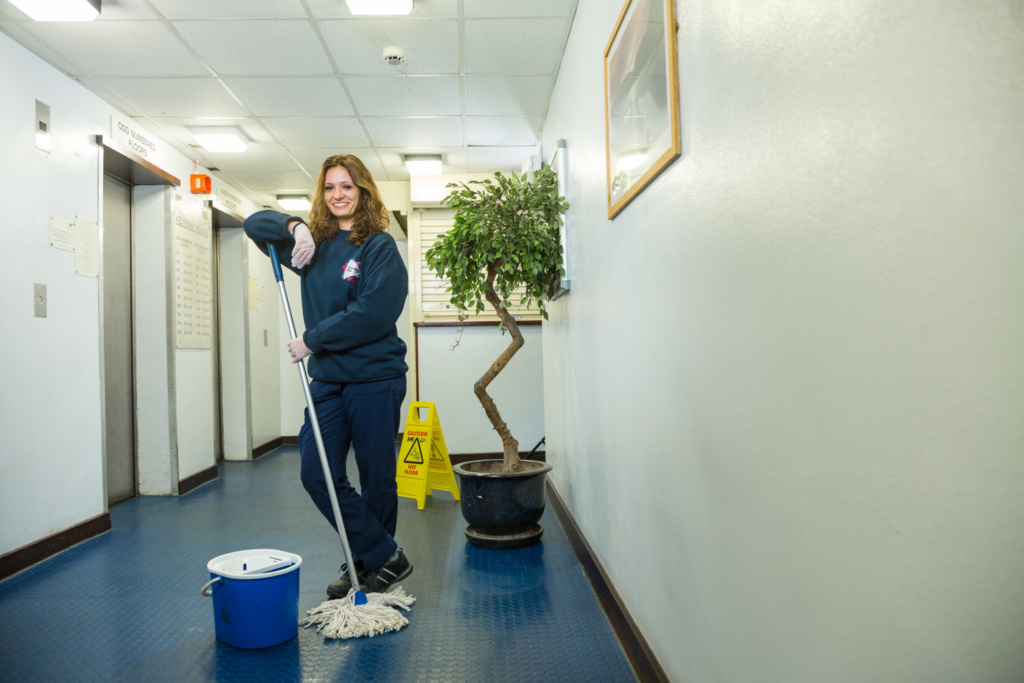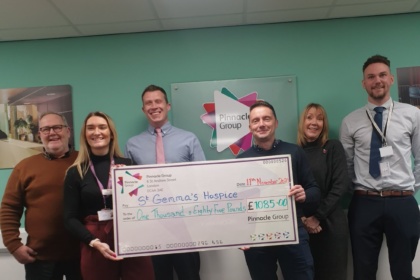 Peregrine Lloyd, Group Chief Executive, said: "I am incredibly proud to launch our ESG Annual Review to showcase the activity that has taken place across our Group over the last year. This Annual Review serves as an important waypoint on our ESG journey.
"It provides us the opportunity to reflect on the progress we have made, to challenge our approach and to find ways in which we can extend and strengthen the impact we make. It was six months ago that we launched our new ESG framework, and I'm pleased to see the outcome of our new approach to capturing and measuring the impact of our collective efforts in this review. Looking forward to 2022, I am excited by what I believe we can achieve."
To learn more about the positive impact Pinnacle has had on the environment, communities, and training and development, you can read the full report here.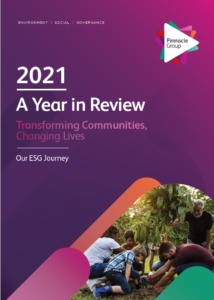 Celebrating our people and culture at The Pinnacles
Our 2021 staff awards celebrated the outstanding achievements of our colleagues from across the Group.
Pinnacle Group's annual staff awards, 'The Pinnacles', celebrate our people and our culture, acknowledging those that have embodied the spirit of what it means to be a Pinnacle employee. This means living our values, making an impact and striving to make Pinnacle a company that we can all be proud to work for. Pinnacle strives to transform communities and change lives, and this ethos runs through everything we do. But it's our most important asset, our people, that is at the heart of this vision.
For our 2021 awards, each Pinnacles finalist received a cash prize of £300, £1000 goes to our five category winners and £2,000 for our Employee of the Year.
It was our honour to give a virtual drumroll and present the awards to: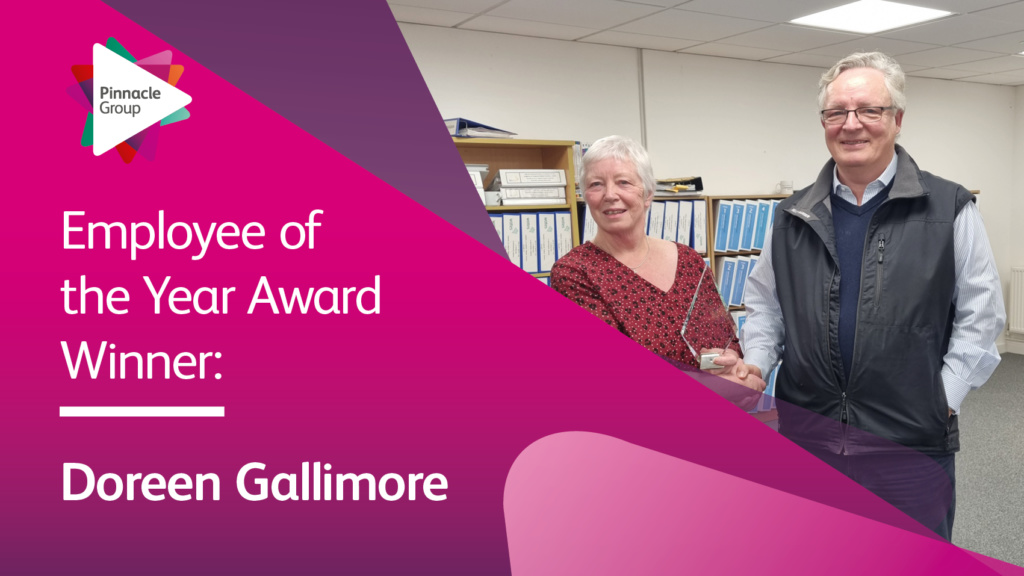 Doreen is a Cook in Charge with an absolute wealth of experience spanning 26 years. Working in a primary school, some of her young customers can be difficult to impress and are fussy with food. However, with her passion for cooking, preparing meals from scratch and making food look appealing and interesting, Doreen has won them over. The drawings and testimonials from Years 3 and 4 are tangible proof of how Doreen works hard and puts her creativity into play to make a real difference.
Michelle Lee, Doreen's manager says: "I only wish I could clone Doreen. Her knowledge and expertise in the role she holds is considerable. She is great to work with and a shining example." This high praise is echoed by our client at Rufford Park Primary School in Leeds: "I have been nothing but impressed with the job she does and the service she provides. From the outset, Doreen gave me the immediate impression that she worked at the highest of standards and sought excellence in everything that she did. Mutual respect, trust and collaboration have been at the centre of her work ever since as she continues to provide meals to the highest standard." 
Congratulations to Doreen and our other Employee of the Year finalists:  
Kwaku Asimeng, Cleaning Operative
Armant Tona, Grounds Maintenance Operative
Andrew Atkin, Cleaner
Sonia Leon-Alvarez, Property Manager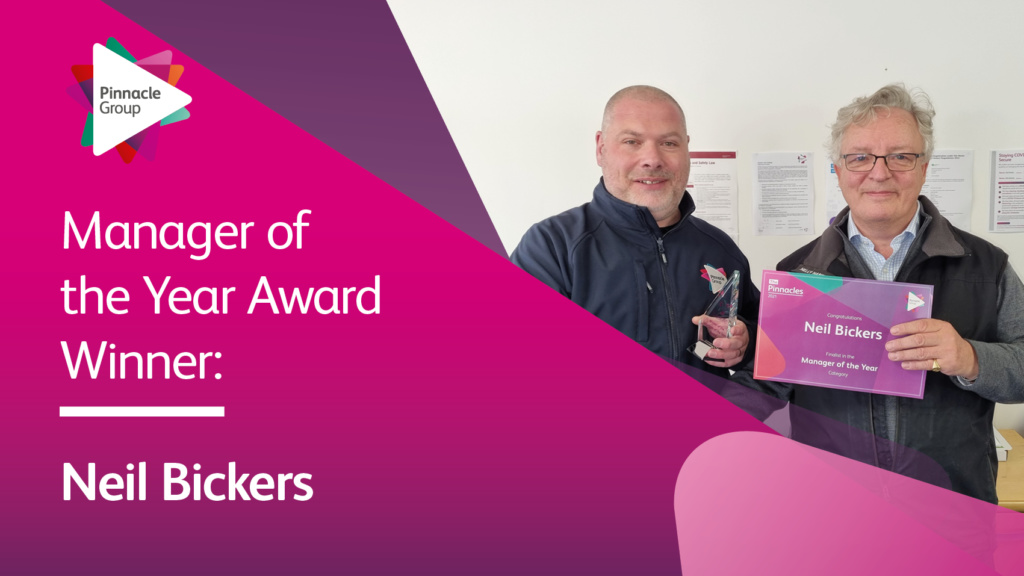 Since Neil started working with Pinnacle in April 2019, as the Contract Manager for East of England, he has been an inspiration to his team, enabling them to flourish under his leadership.
Neil accepts the challenge of managing over 140 sites with pride and determination, consistently promoting and delivering a high quality service through leading by example. Empowering his team is a key element of Neil's management style, and this encourages and this generates trust and a creative work environment.
It is clear that Neil goes over and above what is expected of him, as has been clearly demonstrated by his checking on the welfare of our elderly residents through the pandemic. 
Congratulations to Neil and our other Manager of the Year finalists:  
Minal Hazisa, Contract Manager
Ramesh Raikundal, Client Liaison Manager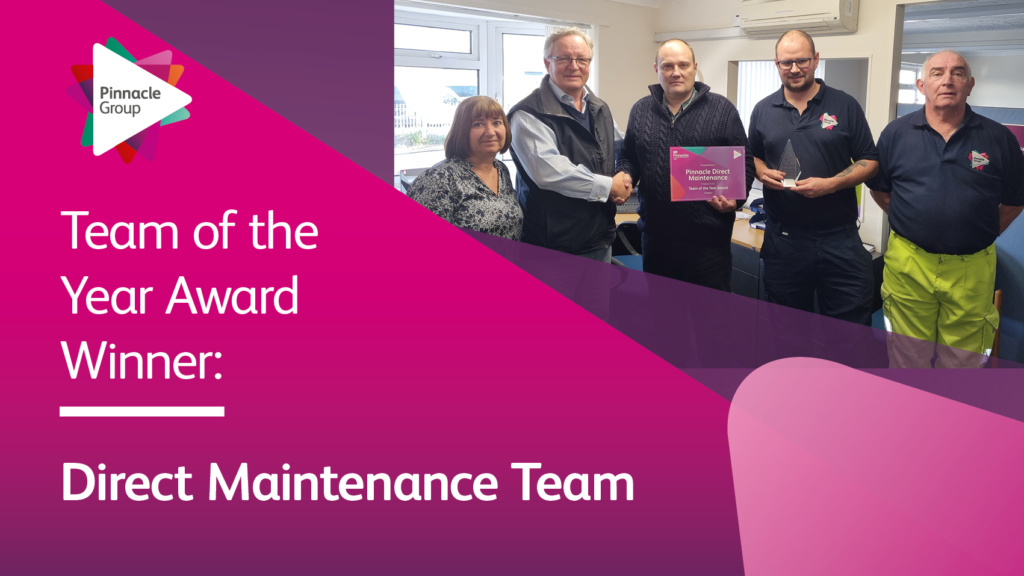 Nothing is too much to ask the Direct Maintenance team. The small team, led by Graham Callis, consistently goes above and beyond their daily duties to deliver an excellent experience. They are a fine example of our Pinnacle values and wear their 'Pinnacle badge' with pride. No job or query is a problem to them and they are always willing to lend a hand.
The team are on a 24-hour call-out rota and attend sites at short notice when there are unforeseen issues. They often need to access and carry out key tasks at education sites which is facilitated by Graham and his team's flexible attitude and their willingness to  carry out their work over weekends to avoid any disruption to the client and students.  
Pinnacle Direct Maintenance go the extra mile and they thoroughly deserve the accolade of Pinnacle Group's Team of the Year.
Congratulations to the Direct Maintenance team and our other Team of the Year finalists:  
Lexington Gardens Concierge
Bidding and Growth Team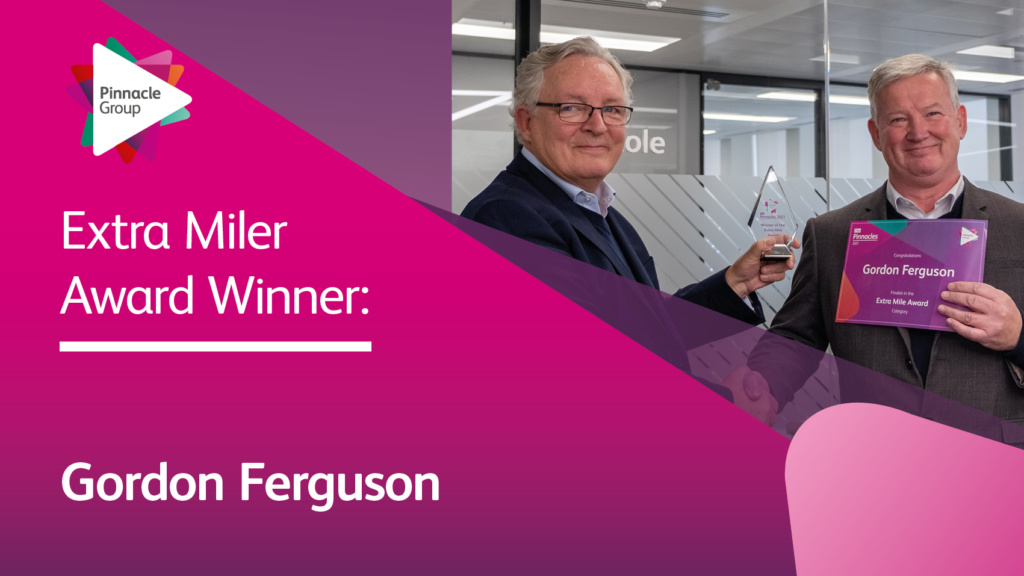 Gordon has worked with Pinnacle for six years as Estate Manager and clearly loves his job and genuinely cares about the residents in his development. He has been nominated by numerous people and is the deserving winner of the Extra Mile Award. Gordon has commented that he couldn't have succeeded without the support of his amazing team.
Congratulations to Gordon and our other Extra Mile Award finalists:  
Elaine Ball, Caretaker
Lee Moorcroft, Mechanic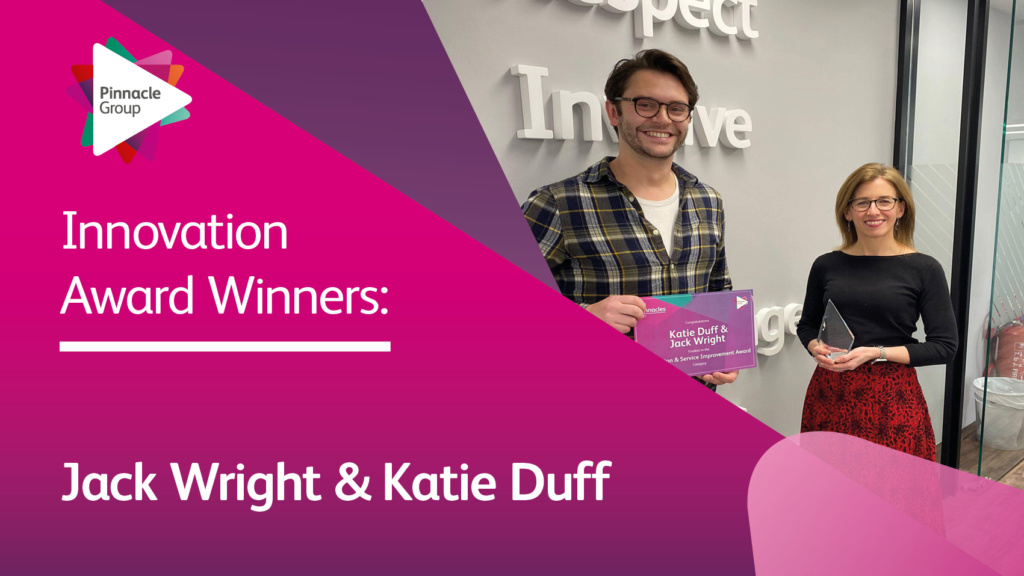 Jack and Katie have been working together for just over a year and have developed and managed the deployment of the first-of-its-kind innovation in the district heating and billing space. Pinnacle Power's new open-protocol and cloud based Pay-as-you-go heat product 'MBus PAYG'.
They have challenging the status quo of expensive, licensed prepay systems to deliver this hardware and software innovation by involving clients in the development journey and understanding their needs; delivering excellence by bringing to market a product that is unchallenged in terms of cost and functionality.
The solution has impressed clients so much so that some are rolling it out on all of their new sites and are looking to retrofit existing ones too.
Congratulations to Jack and Katie and our other Innovation Award finalists:  
Simona Misukiatie, Project Manager
Performance Management Team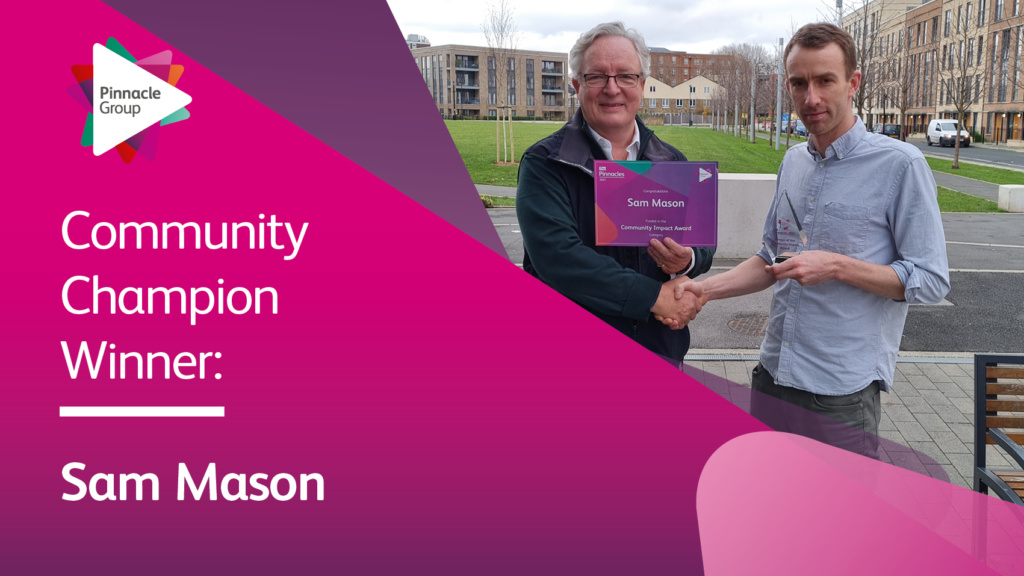 Sam has only been with Pinnacle since February 2021 yet has already proved his passion for meeting residents and providing opportunities for the community. Sam has shown that the residents are at the heart of all we do and that their involvement and voice is an essential element of bringing the community together.
Sam has extended his 'can-do' attitude to create community development strategies on each of his projects, adding value to the work that Pinnacle does as well as delivering £30K of external funding to help deliver workshops for the young people living on our estates.
Congratulations to Sam and our other Community Impact Award finalists:  
Helen Regan, Housing Officer
Rawdon Littlemore Team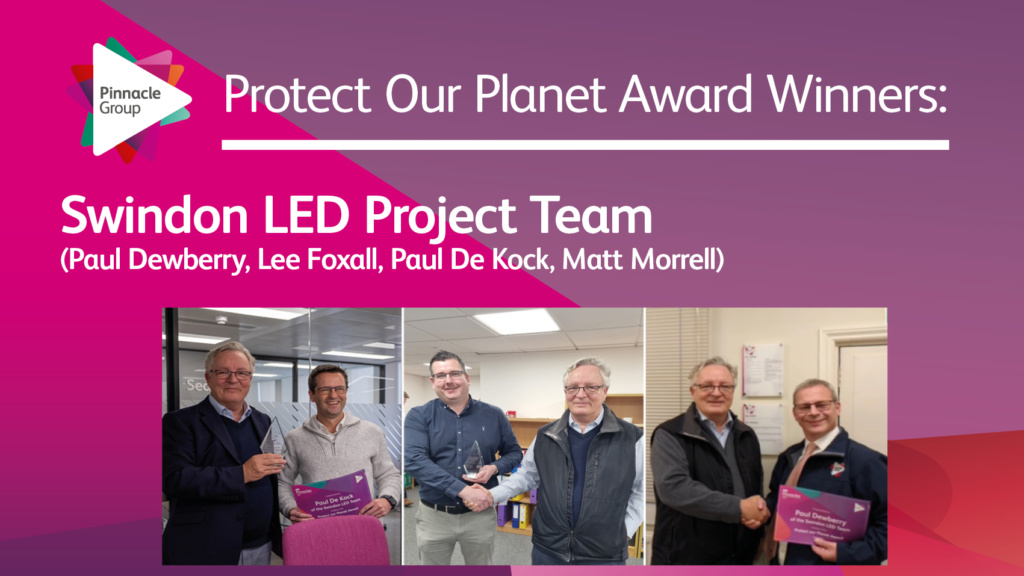 In addition to the substantial reduction in energy consumption achieved for the Swindon Schools Project, Paul Dewberry and the team, have achieved many other significant results.  The team sourced a UK manufacturer for the lighting system to ensure that the carbon footprint was further reduced by using local suppliers. 
The standout feature of the team's actions is how they have succeeded in improving the overall learning experience for students, through this project, which positively impacts the overall drive to reduce carbon . The enhanced lighting system has improved overall wellbeing and mental health for the learners, as students are able to study in well-lit rooms, and this is having a hugely positive impact on their education. This is a fantastic result from a project which at first set out to save energy! 
Congratulations to Swindon LED Team and our other Protect Our Planet Award finalists:  
Sarah Russell, Procurement Manager
Michael Hogg, Asset Adoption & Commissioning Manager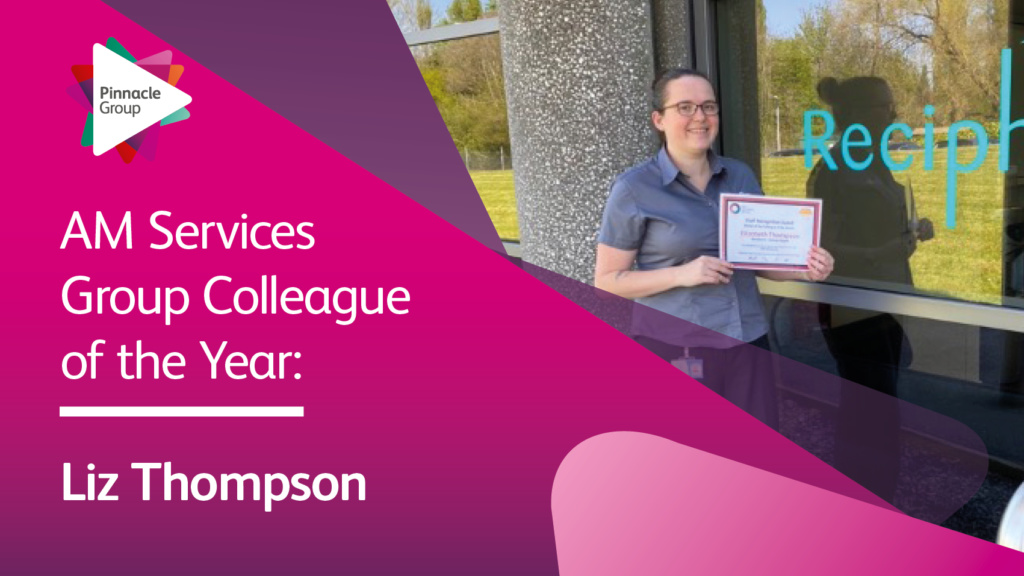 Liz believes in teamwork and leads her team to be the best they can be. She communicates with them regularly and works alongside them daily to iron out any issues and ensure service delivery is at its highest. This has led to Liz and the team being recognised with several AM Services Group colleague and team awards.
The Recipharm site's Engineering Team Leader summed up Liz's vital contribution during a coronavirus-impacted time, saying: "We couldn't do it at all without you. We know that the current situation makes it difficult for you as a team, and the additional services you have provided have been exceptional and always with a friendly smile and 'can-do' attitude."
Congratulations to Liz and the other finalists: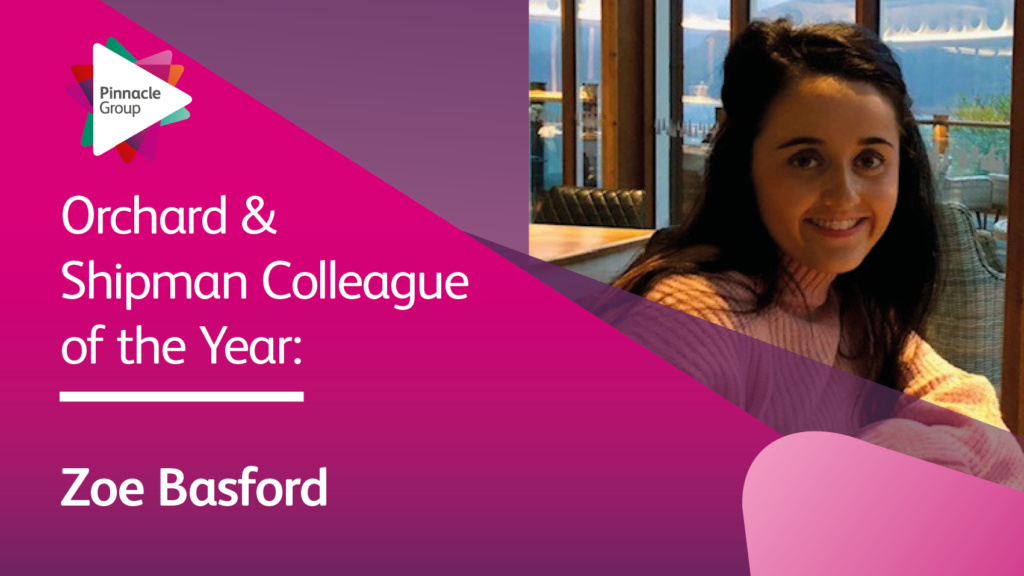 Zoe proved herself an absolute star over the year, achieving 38% of the company's Google reviews in 2021 and receiving a total of 54, 5-Star reviews! She has continuously and consistently gone above and beyond her daily duties to deliver an outstanding level of customer service to our landlords and tenants in a time that has been particularly difficult for many.
Congratulations to Zoe and the other finalists:  
Abbie Jay Cronin
Gillian Parris
Unfortunately, The Pinnacles awards event, which was due to be held in December at the prestigious VSC military members club in the heart of London, was cancelled due to the tightening of COVID restrictions. However, since then our ExCom team and senior managers from AM Services Group and Orchard & Shipman have been honoured to visit finalists to present them with certificates and trophies.
We look forward to celebrating in person with all our finalists and colleagues this year.
Pinnacle Group support the Great British Tech Appeal
During December we have been busy collecting used smartphones and tablets from across the Pinnacle Group.  With support from our mobile phone provider, Redsquid, we have donated over 130 pre-loved devices to Vodafone who will work with charity partners Barnardo's and Business to Schools to distribute the refurbished devices to individuals, families and schools who have been identified as most in need.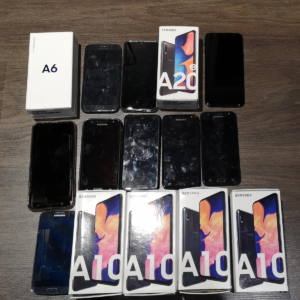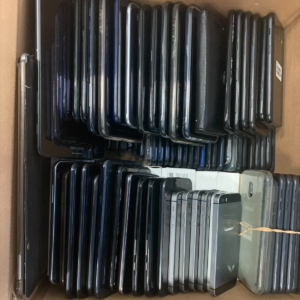 "Christmas is a wonderful time for giving and we have been pleased to support Vodafone's fantastic initiative. This appeal aligns closely with our social values, as engaging with communities is what we do each day. The devices that will be distributed to those in need will be so beneficial and fits in so well with the ethos behind our own work, which is to help those living and working in the areas we provide our services to."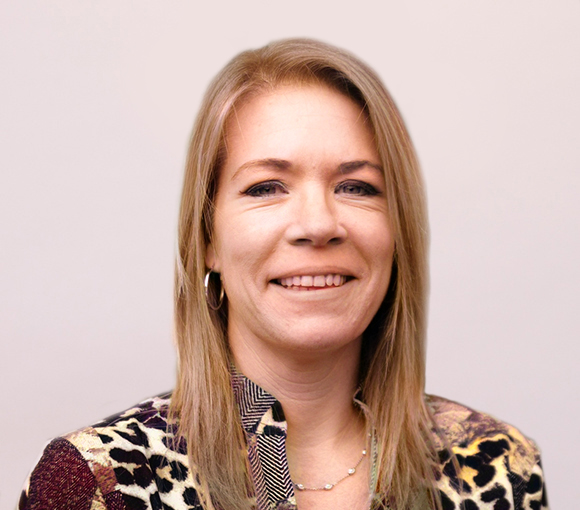 Sarah Russell
Group Procurement Manager at Pinnacle Group
More about how we have been giving back, as well as our work to 'Protect Our Planet', 'Our People', 'Community Impact' and 'Responsible Business', can be seen in our 2021 ESG Review.
Pinnacle Charges Towards Net Zero With Fleet of Electric Vehicles
Pinnacle Group is delivering on its "Project Electrify" ambitions to roll out an all-electric fleet of service vehicles. Pinnacle looks to transition almost 500 Light Commercial Vehicles (LCVs) from the current diesel-power to all-electric - starting with its first 33 models of the Nissan eNV200.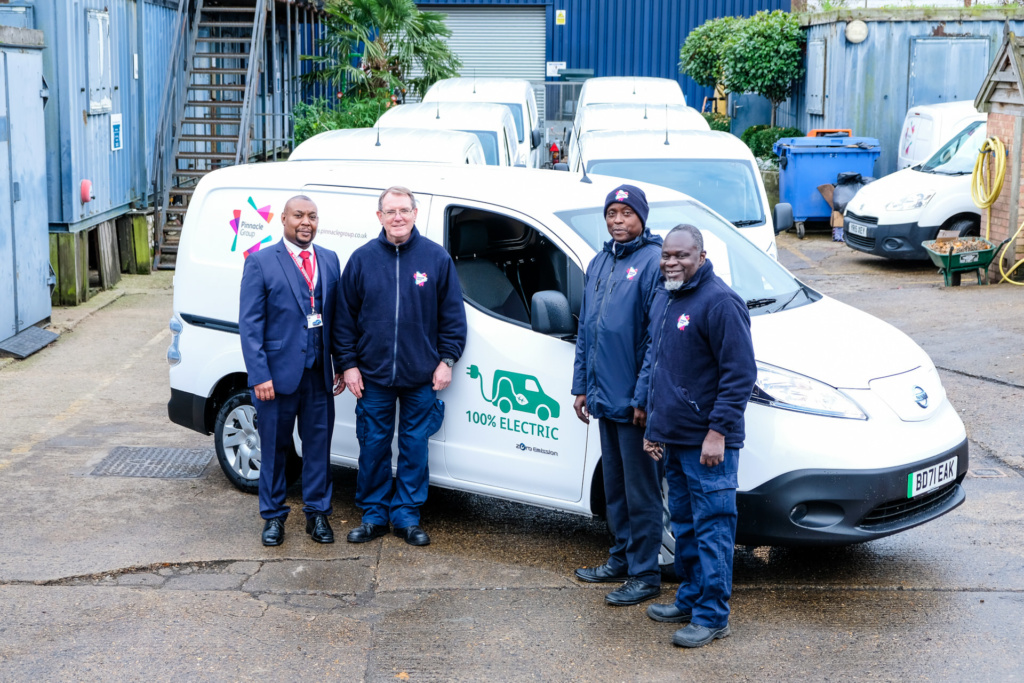 Pinnacle, which has more than 100 locations and 3,000 staff nationally, is accelerating its efforts to build a carbon neutral fleet under its Carbon Net Zero road map. Every vehicle due for renewal or added to the fleet will be considered for an electric vehicle replacement where possible.
Working closely with Fleet Alliance, a national fleet management company, there are also plans for a smaller tranche of Citroen e-Berlingos and electric replacement Light Commercial Vehicles (LCVs) in the new year. The move follows a comprehensive six-month plan to identify the vehicles suitable for electric replacements.
Pinnacle's group procurement manager, Sarah Russell, said: "We are pleased to take the first step as part of our Project Electrify strategy, which has been well-researched and formalised by a dedicated cross-sectional group of colleagues.
"Building on Pinnacle's ESG 'Protect our Planet' commitment, we will now be pressing ahead with the transition ambition in earnest - and we are planning to equip each of our core locations with the required charging infrastructure. This will start with the installation of 10 charging points at Tulse Hill, South London, in the new year."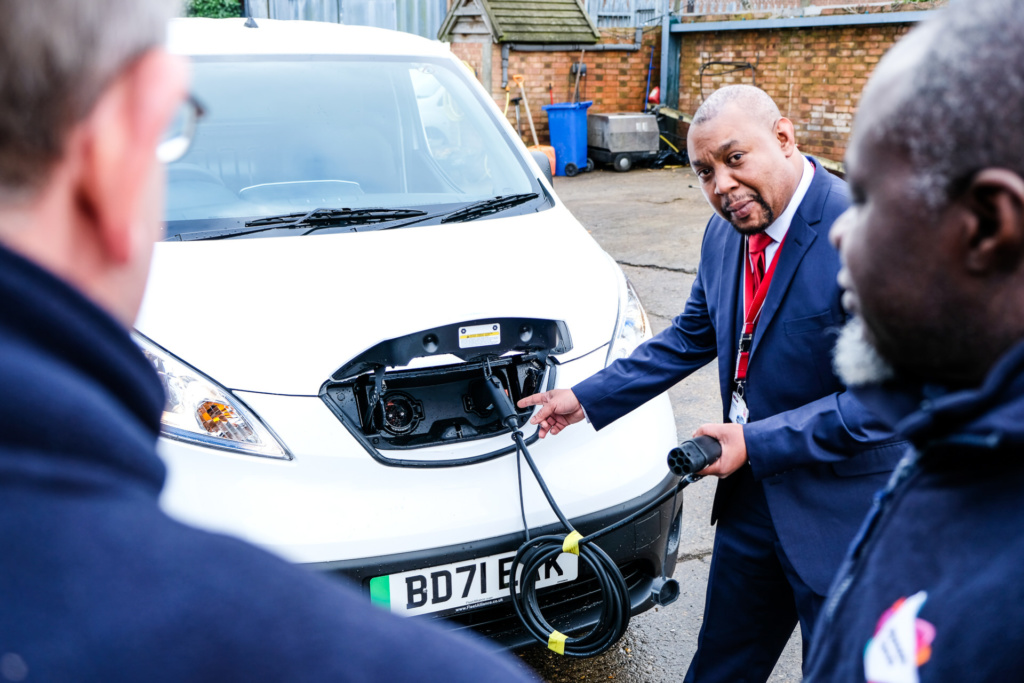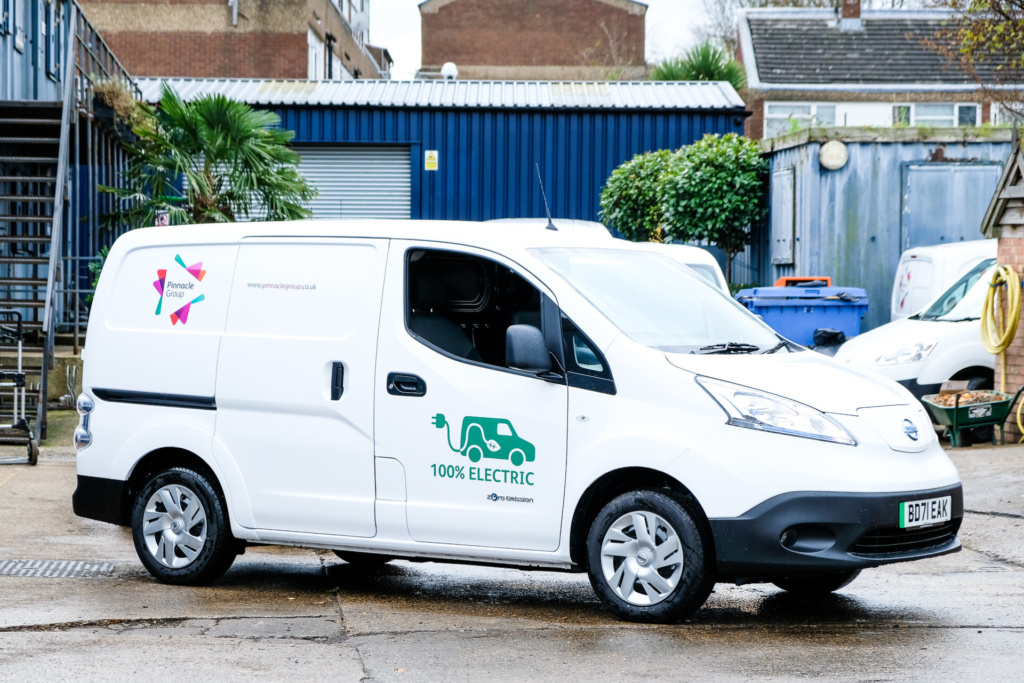 Pinnacle Group has been an outsourced client of Glasgow-based Fleet Alliance since late 2017 and benefits from several services and solutions.
Fleet Alliance CEO, Andy Bruce, commented: "Pinnacle Group is to be applauded for its decision to transition to an all-electric fleet in a structured, disciplined and well thought through manner.
"We will, of course, be with them all the way to ensure that the transition is a complete success and plays a key role in helping them achieve their zero net carbon ambitions."
The vehicles will operate on four year/68,000-mile operating cycle, which will allow Pinnacle to better-record the long-term carbon savings. With full maintenance packages, drivers will be provided with electric charge cards, while those who park their vehicles at home overnight can also opt for home chargers.
Karen Reid, Corporate Sales Manager for Fleet Sales at Nissan, said: ''We are naturally delighted that Pinnacle has chosen Nissan as a partner on its electrification journey. This announcement is a great way to round off an incredible year for e-NV200 in the fleet arena.
''Pinnacle are clearly serious about making a success of their decarbonisation plans and the team there deserve huge credit for their efforts. We wish them every success.''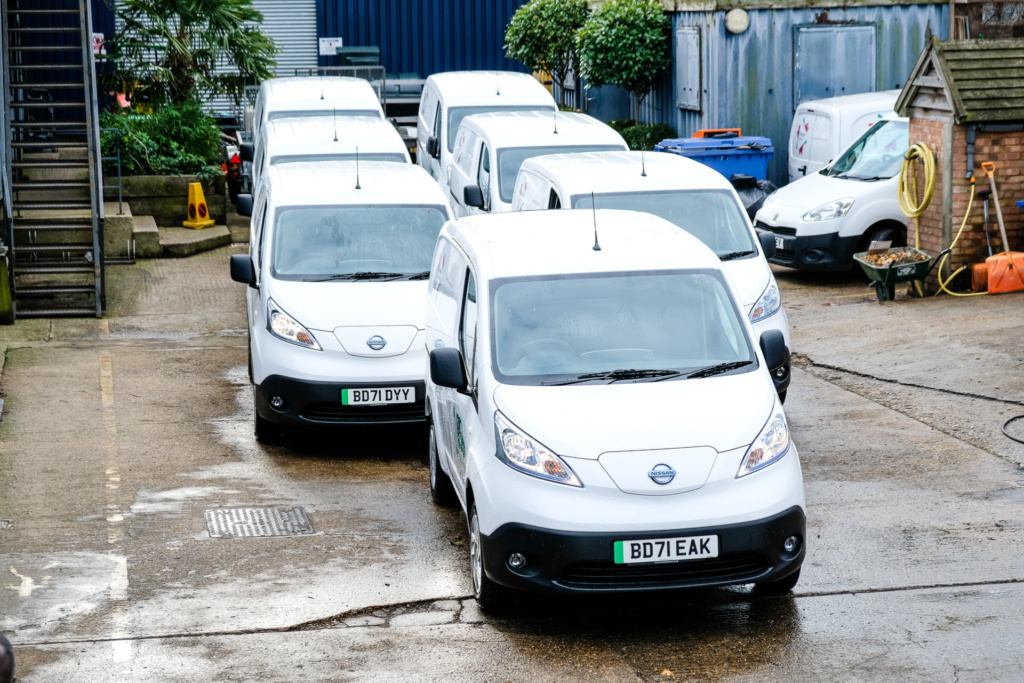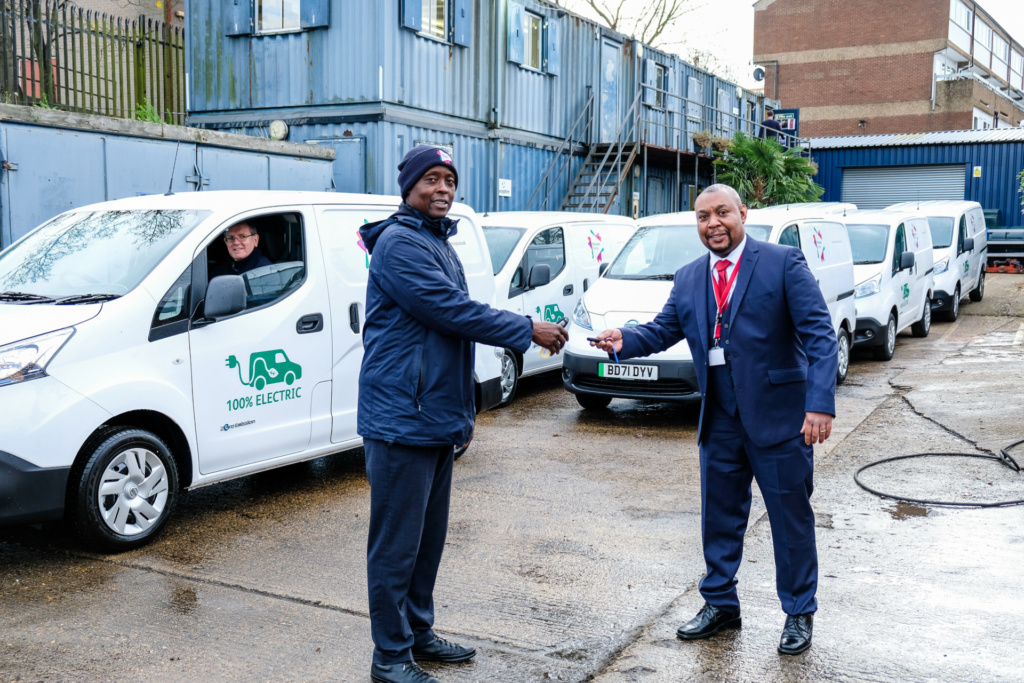 Pinnacle Group acquires Orchard & Shipman
ANNOUNCED today, Pinnacle Group, one of the UK's leading multi-tenure residential service providers, is expanding its geographical footprint and service capability nationwide through the acquisition of residential and social housing specialists Orchard & Shipman.  This acquisition will integrate the whole of Orchard & Shipman within Pinnacle, including their Registered Provider (Orchard & Shipman Homes), and will continue to be led by Chris Shipman, Executive Chairman.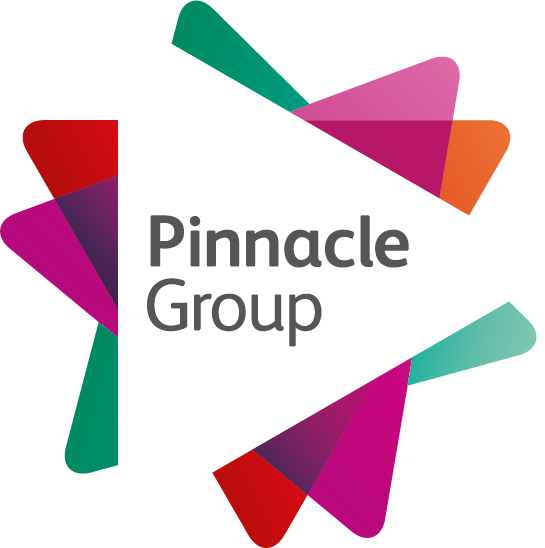 Orchard & Shipman brings over 30 years' experience and expertise in the provision of the highest quality residential management services to public and private sector landlords and portfolio owners nationwide. 
With a mixed-tenure residential management portfolio of over 80,000 homes across the UK, the strategic acquisition of Orchard & Shipman further boosts Pinnacle's already significant sector expertise and capability whilst benefitting existing as well as new customers and clients.
The deal immediately strengthens Pinnacle's capacity to deliver step-change housing solutions. This includes delivery of the 49,000-home National Accommodation Management Services contract - secured by Pinnacle in June - on behalf of Defence Infrastructure Organisation (part of the Ministry of Defence). It also includes the £85m funding project, devised and secured by Orchard & Shipman in August in partnership with London Borough of Bromley, to provide much-needed permanent affordable homes and to manage them over a 50-year period.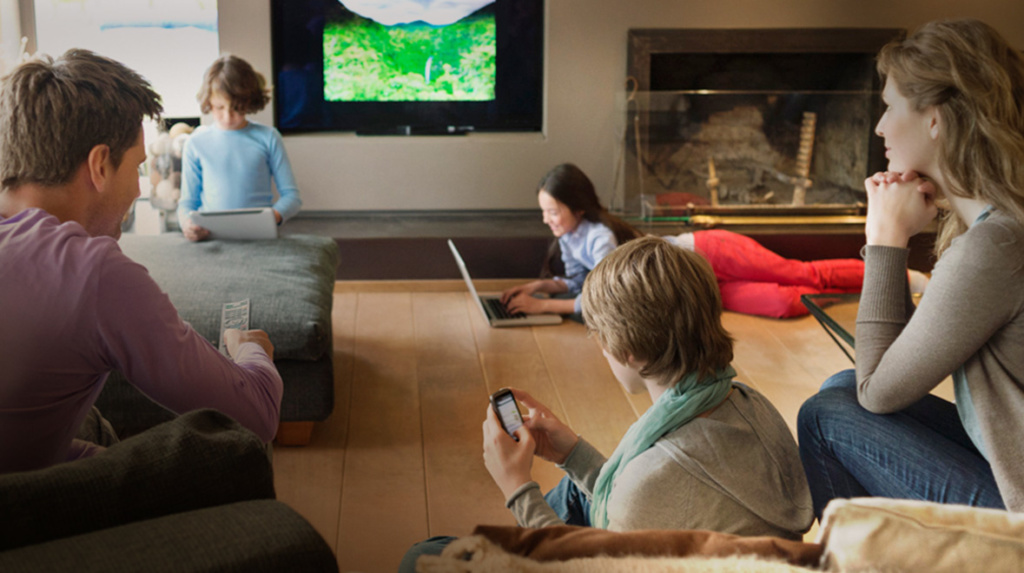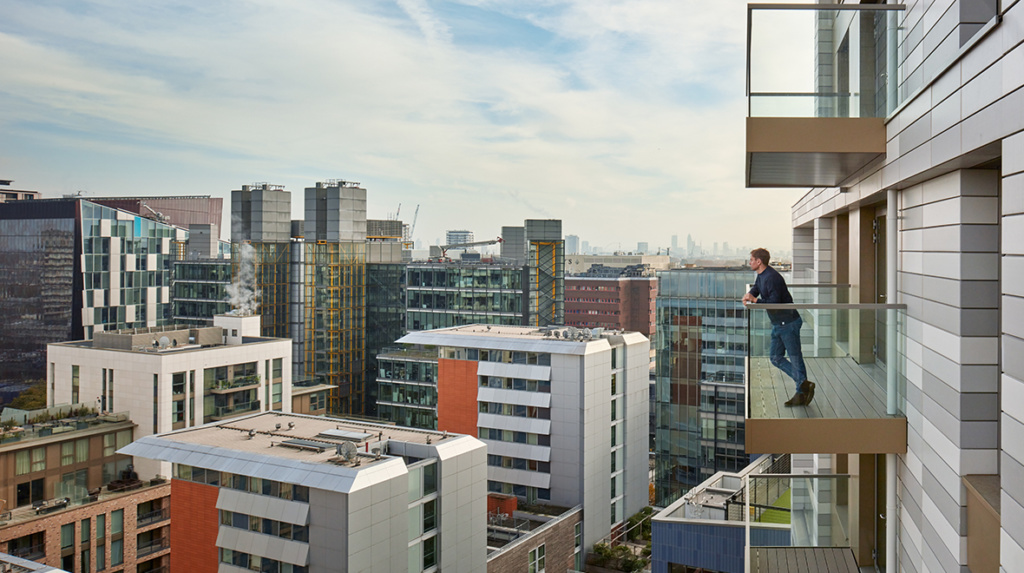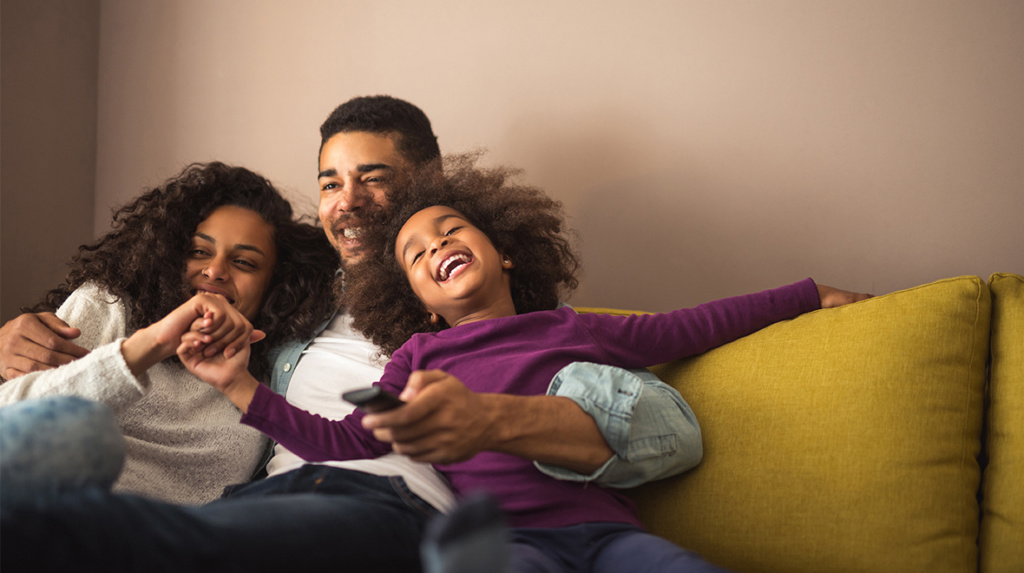 "I am delighted to able to announce this strategic acquisition for Pinnacle. Both companies have a long history as trusted housing service providers and a complementary client base across public and private sectors. We have shared values and heritage and look forward to meeting our collective goals of providing even better value, more service innovation and extra customer focus as we continue to grow under the Pinnacle umbrella."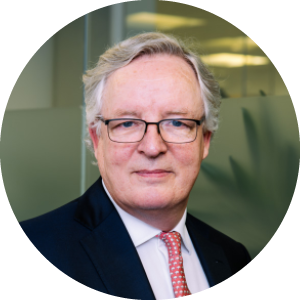 Peregrine Lloyd
Pinnacle Group Chief Executive
"I am delighted to be joining an organisation that has the same high standards and values we have striven to deliver over our 30 years in business and very confident that our customers and employees will be in safe hands. Our businesses have many complementary skills and I look forward to helping to deliver the exciting projects we already have in the pipeline."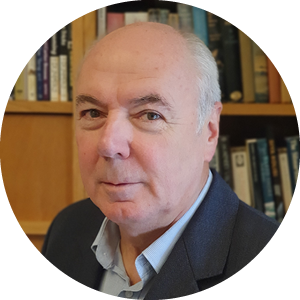 Chris Shipman
Executive Chairman of Orchard & Shipman
Claire Kober joins Notting Hill Genesis board
Claire Kober, Managing Director, Homes at Pinnacle Group has been appointed as a board member at Notting Hill Genesis.
In early September, Claire joined the board of Notting Hill Genesis, one of the largest housing association in London and the south east, to support their aim of providing more of the homes desperately needed in London.
Claire oversees Pinnacle Group's housing and property management contracts and sits on Pinnacle's Executive Committee. She works closely with local government, institutional investors and developers.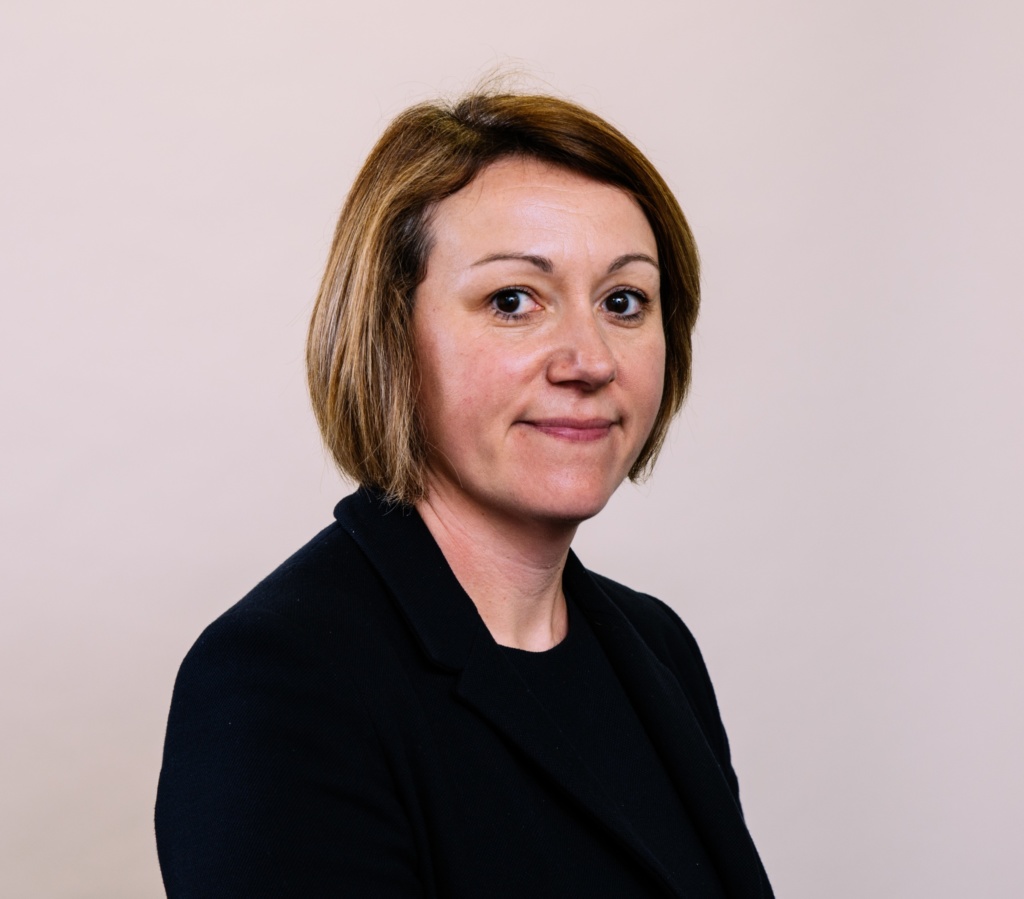 On taking on the new role, Claire said: "I believe the housing association sector has a vital role to play in providing individuals and families the security of a decent home. As one of the largest players in the sector with an impressive track record, ambitious mindset and focus on London – a city with huge housing need – I've long admired Notting Hill Genesis.
"I'm particularly keen to contribute to discussions on the delivery of social purpose in a modern age and play a role in driving the organisation forward at a time characterised by both great challenges and opportunities."
Claire will serve on the Boards of Notting Hill Genesis, Notting Hill Home Ownership and SpringBoard Two Housing Association.  She is a member of the housing association's Audit and Risk Committee and chair of the Operations Committee.
Three Peaks Challenge – Raising Money for the Royal British Legion
At Pinnacle Group, we are proud to be advocates for those who protect our nation and to support the Armed Forces Community, including charities and organisations which work to support the wider Forces community.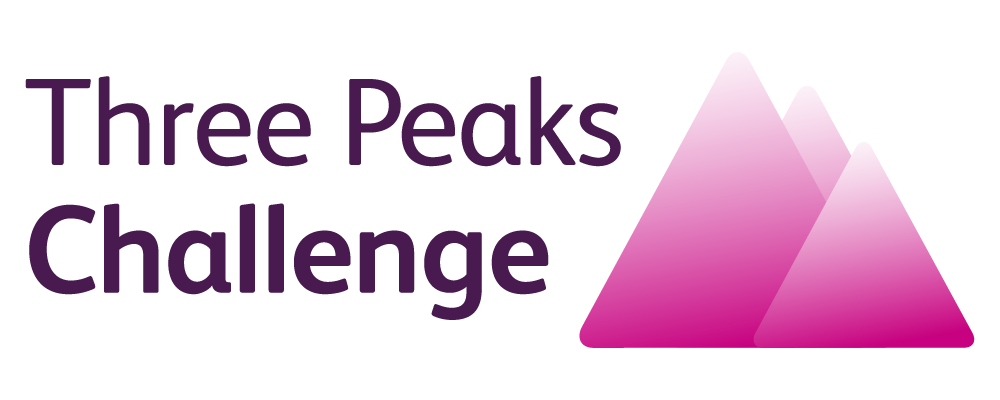 Our Armed Forces Network is a business-wide community of colleagues which seeks to inform our strategy and direction across all parts of our business. On 18 September 2021, members of the network and the wider Pinnacle Group are taking on the Three Peaks Challenge to raise money for The Royal British Legion in their centenary year.
The Challenge
Christopher Hodson, Neil Fergus, Mark Dutton, Alex Elsy and Laura Newey will be taking on the challenge to climb the three highest mountains in Scotland, England and Wales, within 24 hours! In total they will walk 26 miles (42km) horizontal distance and 3,000m (9,843ft) of vertical ascent, scaling Ben Nevis, Scafell Pike and Snowdon – one after the other!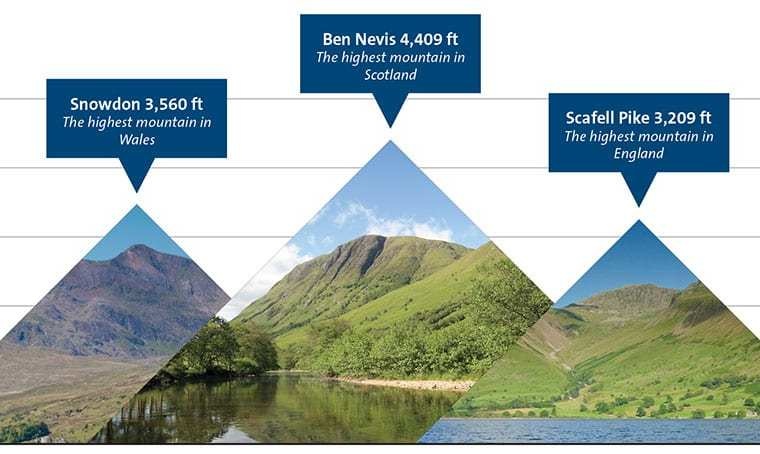 How can you support?
If you would like to support the Three Peaks team to raise money for the Royal British Legion, please visit the team's Just Giving Page. All donations are greatly appreciated.
Why your support matters
Since 1921, the Royal British Legion has been at the heart of a national network that supports the Armed Forces community. They are the country's largest Armed Forces charity, with 180,000 members, 110,000 volunteers and they provide lifelong support to serving and ex-serving personnel and their families. From providing expert advice and guidance, to recovery and rehabilitation, through to transitioning to civilian life.
Good luck to Team Pinnacle!