Our 2021 staff awards celebrated the outstanding achievements of our colleagues from across the Group.
Pinnacle Group's annual staff awards, 'The Pinnacles', celebrate our people and our culture, acknowledging those that have embodied the spirit of what it means to be a Pinnacle employee. This means living our values, making an impact and striving to make Pinnacle a company that we can all be proud to work for. Pinnacle strives to transform communities and change lives, and this ethos runs through everything we do. But it's our most important asset, our people, that is at the heart of this vision.
For our 2021 awards, each Pinnacles finalist received a cash prize of £300, £1000 goes to our five category winners and £2,000 for our Employee of the Year.
It was our honour to give a virtual drumroll and present the awards to: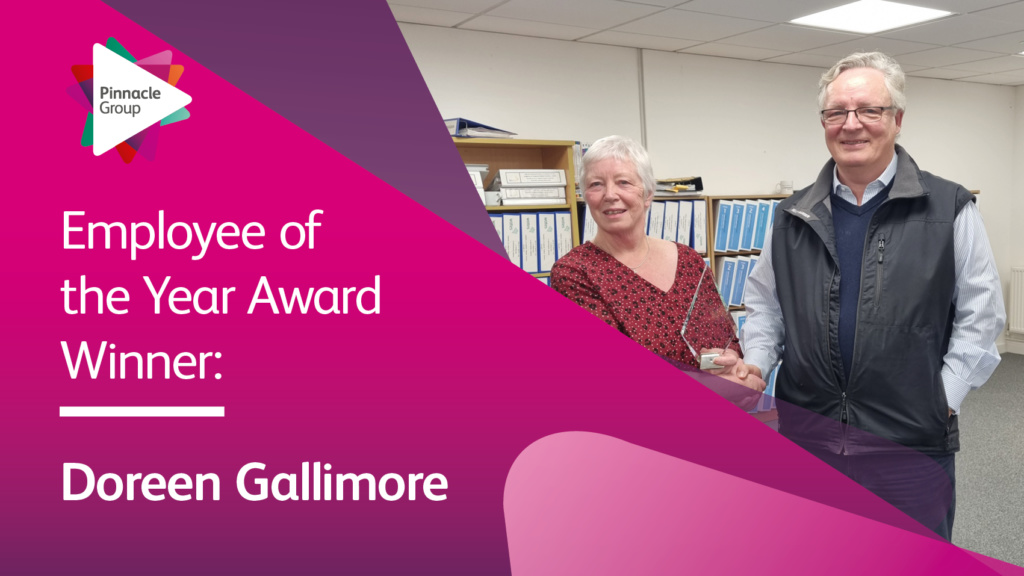 Doreen is a Cook in Charge with an absolute wealth of experience spanning 26 years. Working in a primary school, some of her young customers can be difficult to impress and are fussy with food. However, with her passion for cooking, preparing meals from scratch and making food look appealing and interesting, Doreen has won them over. The drawings and testimonials from Years 3 and 4 are tangible proof of how Doreen works hard and puts her creativity into play to make a real difference.
Michelle Lee, Doreen's manager says: "I only wish I could clone Doreen. Her knowledge and expertise in the role she holds is considerable. She is great to work with and a shining example." This high praise is echoed by our client at Rufford Park Primary School in Leeds: "I have been nothing but impressed with the job she does and the service she provides. From the outset, Doreen gave me the immediate impression that she worked at the highest of standards and sought excellence in everything that she did. Mutual respect, trust and collaboration have been at the centre of her work ever since as she continues to provide meals to the highest standard." 
Congratulations to Doreen and our other Employee of the Year finalists:  
Kwaku Asimeng, Cleaning Operative
Armant Tona, Grounds Maintenance Operative
Andrew Atkin, Cleaner
Sonia Leon-Alvarez, Property Manager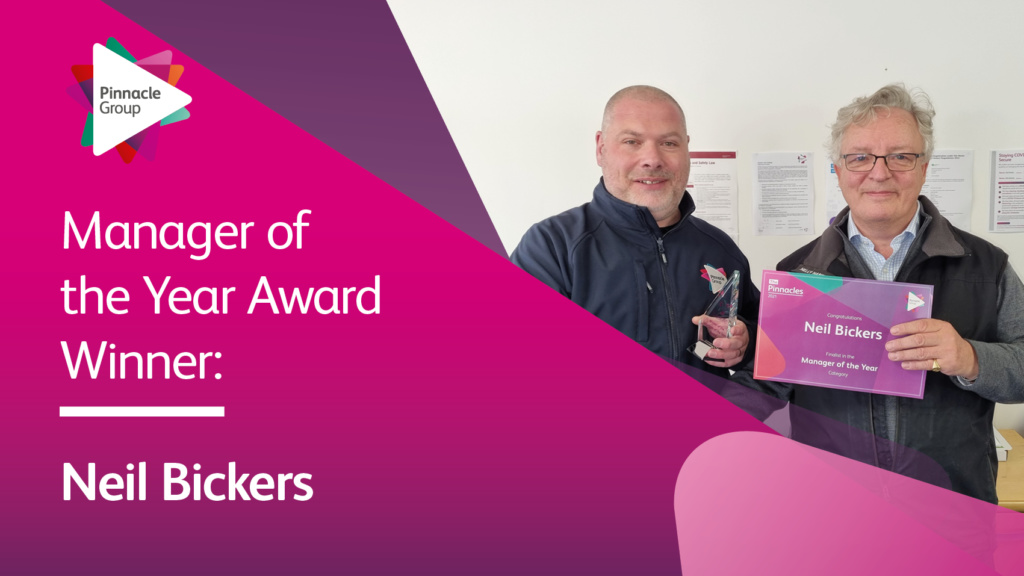 Since Neil started working with Pinnacle in April 2019, as the Contract Manager for East of England, he has been an inspiration to his team, enabling them to flourish under his leadership.
Neil accepts the challenge of managing over 140 sites with pride and determination, consistently promoting and delivering a high quality service through leading by example. Empowering his team is a key element of Neil's management style, and this encourages and this generates trust and a creative work environment.
It is clear that Neil goes over and above what is expected of him, as has been clearly demonstrated by his checking on the welfare of our elderly residents through the pandemic. 
Congratulations to Neil and our other Manager of the Year finalists:  
Minal Hazisa, Contract Manager
Ramesh Raikundal, Client Liaison Manager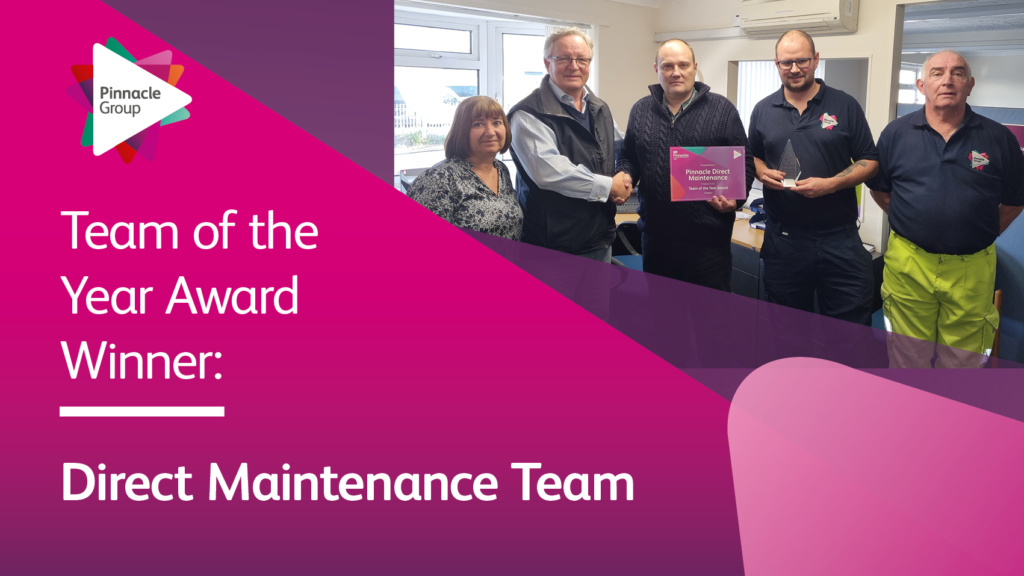 Nothing is too much to ask the Direct Maintenance team. The small team, led by Graham Callis, consistently goes above and beyond their daily duties to deliver an excellent experience. They are a fine example of our Pinnacle values and wear their 'Pinnacle badge' with pride. No job or query is a problem to them and they are always willing to lend a hand.
The team are on a 24-hour call-out rota and attend sites at short notice when there are unforeseen issues. They often need to access and carry out key tasks at education sites which is facilitated by Graham and his team's flexible attitude and their willingness to  carry out their work over weekends to avoid any disruption to the client and students.  
Pinnacle Direct Maintenance go the extra mile and they thoroughly deserve the accolade of Pinnacle Group's Team of the Year.
Congratulations to the Direct Maintenance team and our other Team of the Year finalists:  
Lexington Gardens Concierge
Bidding and Growth Team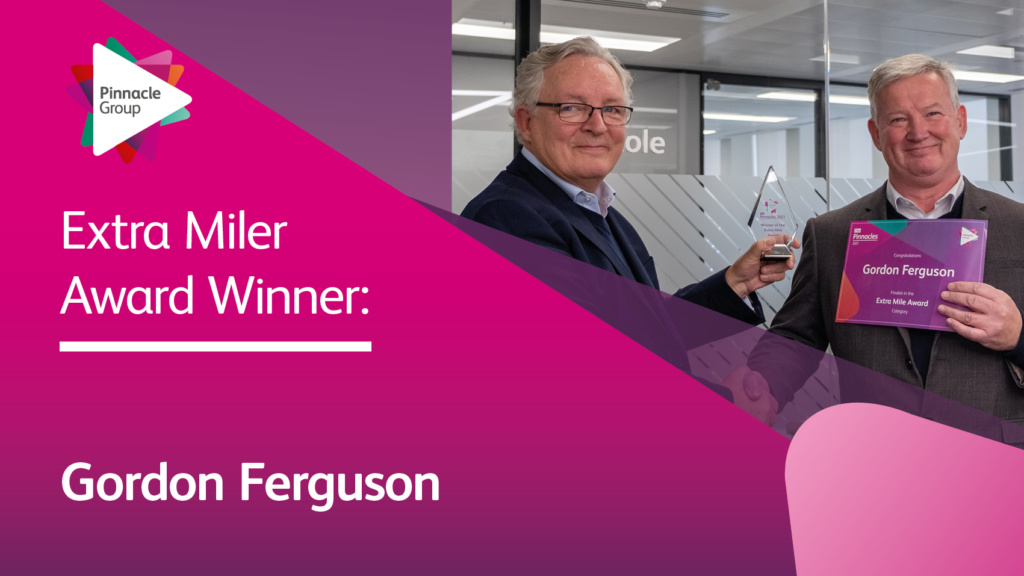 Gordon has worked with Pinnacle for six years as Estate Manager and clearly loves his job and genuinely cares about the residents in his development. He has been nominated by numerous people and is the deserving winner of the Extra Mile Award. Gordon has commented that he couldn't have succeeded without the support of his amazing team.
Congratulations to Gordon and our other Extra Mile Award finalists:  
Elaine Ball, Caretaker
Lee Moorcroft, Mechanic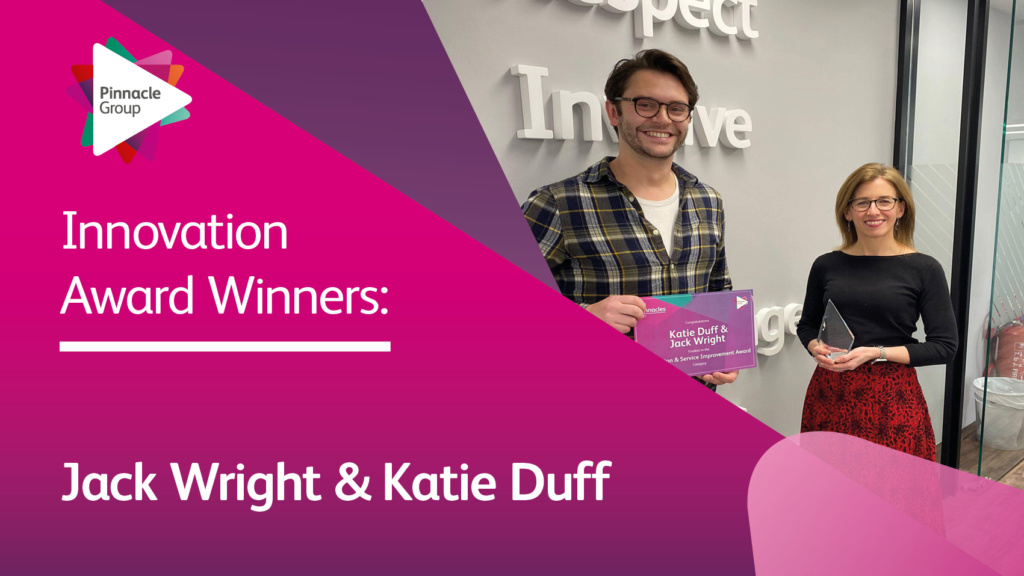 Jack and Katie have been working together for just over a year and have developed and managed the deployment of the first-of-its-kind innovation in the district heating and billing space. Pinnacle Power's new open-protocol and cloud based Pay-as-you-go heat product 'MBus PAYG'.
They have challenging the status quo of expensive, licensed prepay systems to deliver this hardware and software innovation by involving clients in the development journey and understanding their needs; delivering excellence by bringing to market a product that is unchallenged in terms of cost and functionality.
The solution has impressed clients so much so that some are rolling it out on all of their new sites and are looking to retrofit existing ones too.
Congratulations to Jack and Katie and our other Innovation Award finalists:  
Simona Misukiatie, Project Manager
Performance Management Team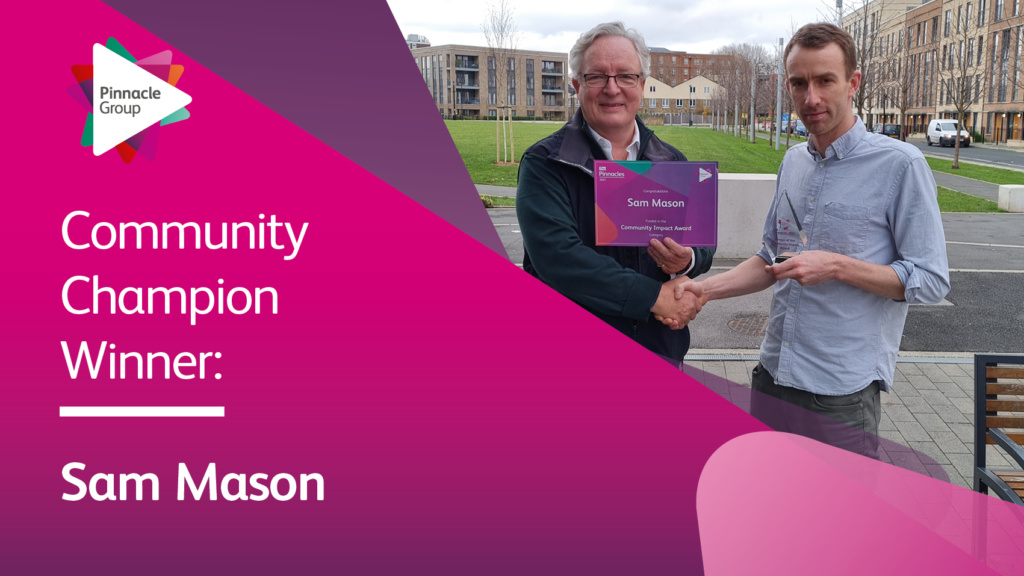 Sam has only been with Pinnacle since February 2021 yet has already proved his passion for meeting residents and providing opportunities for the community. Sam has shown that the residents are at the heart of all we do and that their involvement and voice is an essential element of bringing the community together.
Sam has extended his 'can-do' attitude to create community development strategies on each of his projects, adding value to the work that Pinnacle does as well as delivering £30K of external funding to help deliver workshops for the young people living on our estates.
Congratulations to Sam and our other Community Impact Award finalists:  
Helen Regan, Housing Officer
Rawdon Littlemore Team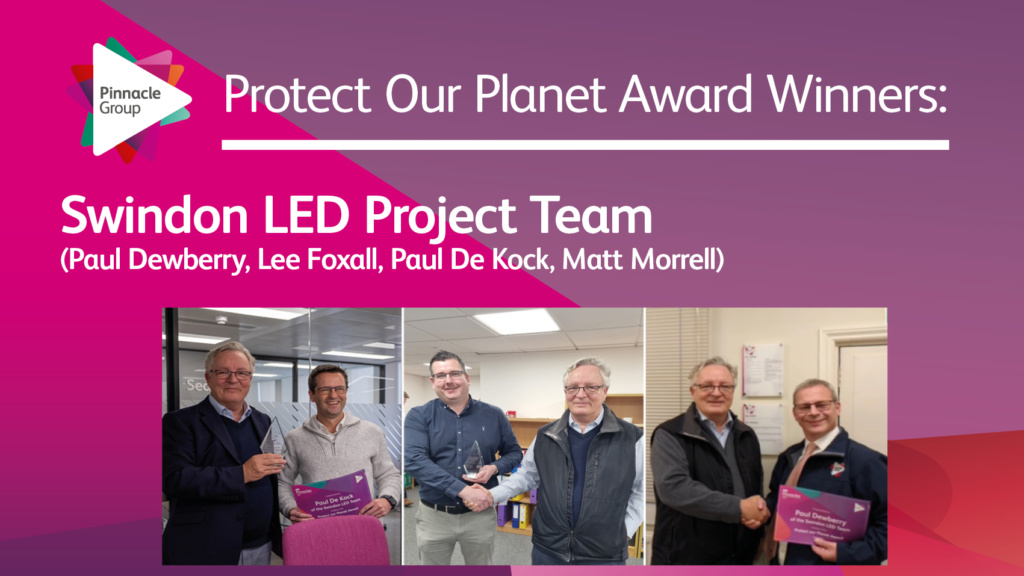 In addition to the substantial reduction in energy consumption achieved for the Swindon Schools Project, Paul Dewberry and the team, have achieved many other significant results.  The team sourced a UK manufacturer for the lighting system to ensure that the carbon footprint was further reduced by using local suppliers. 
The standout feature of the team's actions is how they have succeeded in improving the overall learning experience for students, through this project, which positively impacts the overall drive to reduce carbon . The enhanced lighting system has improved overall wellbeing and mental health for the learners, as students are able to study in well-lit rooms, and this is having a hugely positive impact on their education. This is a fantastic result from a project which at first set out to save energy! 
Congratulations to Swindon LED Team and our other Protect Our Planet Award finalists:  
Sarah Russell, Procurement Manager
Michael Hogg, Asset Adoption & Commissioning Manager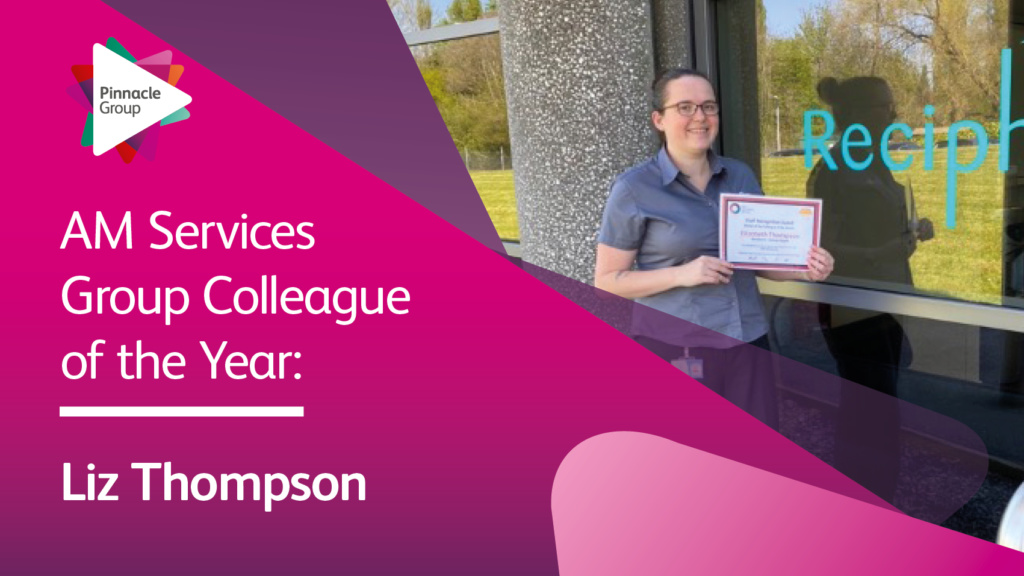 Liz believes in teamwork and leads her team to be the best they can be. She communicates with them regularly and works alongside them daily to iron out any issues and ensure service delivery is at its highest. This has led to Liz and the team being recognised with several AM Services Group colleague and team awards.
The Recipharm site's Engineering Team Leader summed up Liz's vital contribution during a coronavirus-impacted time, saying: "We couldn't do it at all without you. We know that the current situation makes it difficult for you as a team, and the additional services you have provided have been exceptional and always with a friendly smile and 'can-do' attitude."
Congratulations to Liz and the other finalists: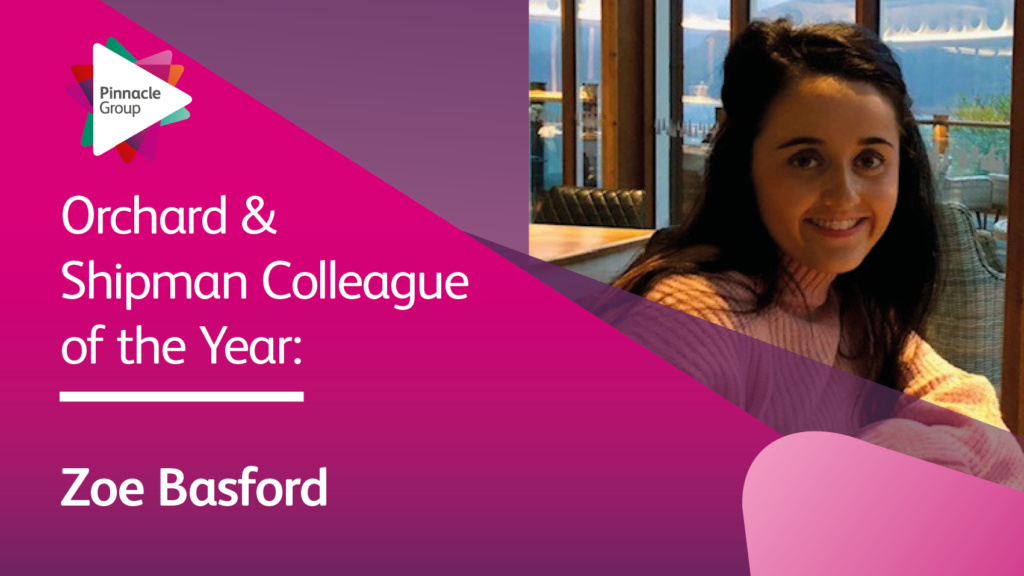 Zoe proved herself an absolute star over the year, achieving 38% of the company's Google reviews in 2021 and receiving a total of 54, 5-Star reviews! She has continuously and consistently gone above and beyond her daily duties to deliver an outstanding level of customer service to our landlords and tenants in a time that has been particularly difficult for many.
Congratulations to Zoe and the other finalists:  
Abbie Jay Cronin
Gillian Parris
Unfortunately, The Pinnacles awards event, which was due to be held in December at the prestigious VSC military members club in the heart of London, was cancelled due to the tightening of COVID restrictions. However, since then our ExCom team and senior managers from AM Services Group and Orchard & Shipman have been honoured to visit finalists to present them with certificates and trophies.
We look forward to celebrating in person with all our finalists and colleagues this year.