HARD-WORKING Assistant Property Manager, Amber McCoy, is a rising star in Pinnacle Group – and a huge inspiration after quickly working her way up since starting her career as an Apprentice in 2020. In recognition of National Apprenticeship Week 2022, we take a look at her story.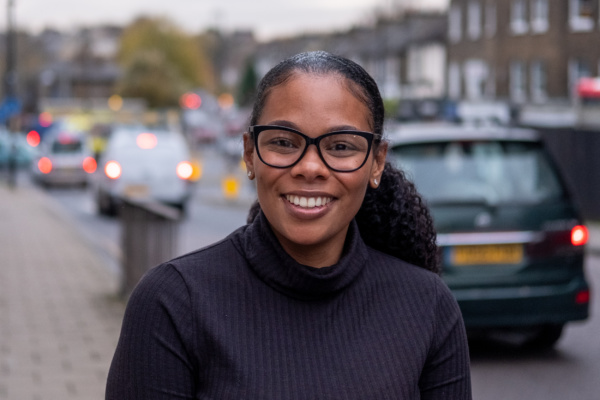 Joining as a mum-of-three came, Amber started her Apprenticeship later in life following a five-year career break to look after her children. Since starting as an Apprentice Housing Assistant in November 2020, she then quickly progressed – being promoted two times – and is now revelling in her role as Assistant Property Manager for Asquith Court in Lewisham.
Amber's backstory  
Amber was studying for a full-time law degree in 2014 when she discovered she was pregnant in her final year with eldest child, now 12. She had five years away from work after her second child, and now also has four-year-old. 
"I was keen to get back into work," said Amber, who had also worked as a Customer Services Officer in a bank for seven years during her career. "The Pinnacle Apprenticeship became available on the Lewisham Council website – and an opportunity at the Brockley office came up." 
Joining Pinnacle Group  
Amber took the plunge and applied for an Apprenticeship with Pinnacle Group, she said: "Being a social housing tenant myself and having dealt with landlords, I know what good and bad service looks like and I just wanted to give back and be able to provide a good service. And I really enjoyed interacting with different people in my previous role – in a way it is similar to housing because you are dealing with people who have different stories and issues." 
Part of her degree included studying property law which led to an interest in shared ownership and leasehold. With Pinnacle Group, she was also taking one day a week to study for her level 3 qualification in housing management and was also able to take a break in her Apprenticeship.  
A rising star  
After seven months in her Apprenticeship, Amber was then offered a permanent position as a Housing Assistant, then later joined the Pinnacle Spaces division to assist the Property Manager. 
In her current role supporting Asquith Court – which has 67 properties, 40 general needs and 27 shared ownership properties – she has the added responsibility for building maintenance. She looks after resident requests from arranging for repairs to supporting residents with access to utilities.  
Amber, said: "I have really enjoyed working with Pinnacle Group. My colleagues and my line manager are all so friendly and supportive. My career here has progressed twice in two years and the learning has been very flexible. This has all worked so well with my family life too. If you put in the work and do well everyone will boost you.  Don't be put off by apprenticeships if you're considering your options at a later stage in your career – it has been wonderful for me." 
Kate Donovan, Head of Operations: Homes at Pinnacle Group and Amber's line manager said: "Amber is proof of how an Apprenticeship can start at any life stage and lead to an excellent career. Encouraging people like Amber back to the workplace and seeing them thrive is so rewarding and we are proud of all the different life experience that our colleagues bring."