Electric

vehicles have been introduced to the fleet on the 7+3 year contract
By 2022, 100% of the vehicles on the Central Bedfordshire Council Corporate Landlord Services contract will be powered by electricity
Pinnacle are investing in charging points at local offices and developing partnership arrangements with existing infrastructure at Council sites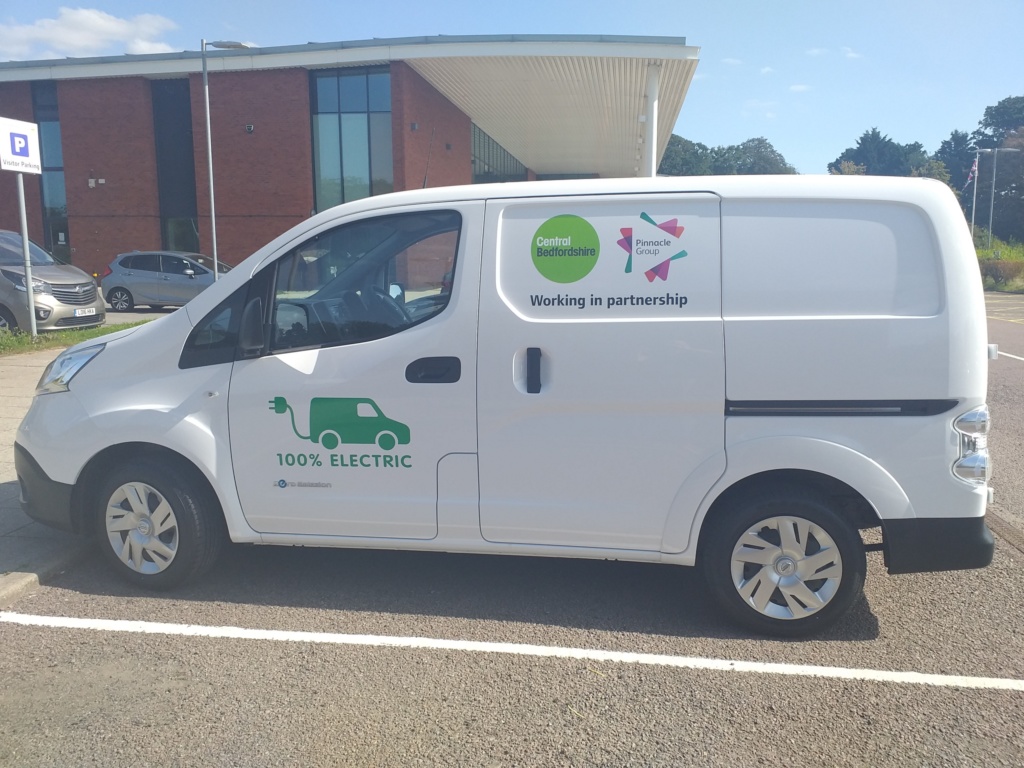 Pinnacle Group's liveried vans are a well-known sight on the roads of Bedfordshire, and going forward, some of those vans will be electric vehicles (EV). 
In 2019, Pinnacle Group ("Pinnacle") were awarded a contract to provide soft facilities management (FM) services across Central Bedfordshire Council's ("the Council") non-domestic estate on a 7+3 year contract worth over £13m.  Pinnacle supply the cleaning, catering, waste management, security and gritting services across the Council's portfolio of 53 corporate buildings, four care homes and 10 children's centres.
During the competitive tender process, the Council's focused procurement approached was based on delivering sustainable, long-term value across the duration of the contract which centred around innovation and improvements. This commitment was proved in the Council's evaluation mechanism of 80% quality, 20% price.
The Council and Pinnacle are working together to create a shared vision for Corporate Landlord Services and Social Value is at the heart of this. Pinnacle are supporting small and medium-sized enterprises (SMEs), finding innovative approaches to improve and sustain value, improving compliance across the estate, and have focused on introducing suitability initiatives, such as EV's.
The brand new EV's will cover on average 80-miles a day, servicing many community sites around Central Bedfordshire. The first electric models being used are The Nissan NV200.
Pinnacle are working towards phasing out polluting petrol and diesel vehicles across their wider fleet of 420 vehicles.    With new technology coming to market, Pinnacle are working with both their fleet management company and manufacturers to identify those vehicles due for renewal that can be replaced with an EV.  Pinnacle have also adopted an approach of new fossil fuel leased vehicles being agreed without a business case to justify it.  Additionally, Pinnacle have recently rolled out a salary sacrifice scheme for EV's to encourage staff to move towards an EV and one of the first participants in the scheme is the Regional Operations Manager for the Central Beds contract.
"We are delighted to be working with Pinnacle to help achieve our corporate sustainable goals. We are excited that Pinnacle is offering improvements with this initiatives and others which are delivering real benefits to the community."
"We are proud to have introduced electric vehicles to Central Bedfordshire, we are working hard to reduced polluting emissions and improve air quality where we can. We look forward to working with the progressive Council to continue to drive innovation and improvements across the contract to achieve other sustainable goals which benefit the local community."