At Pinnacle Group we now offer financial advice and support for residents to ensure they are accessing the benefits they are entitled and can manage any debt.
Pinnacle's new Financial Inclusion Manager, Martin Keating, is working in the communities where we provide housing management services across the UK, to help households identify which benefits they are entitled to, as well as support applications and give debt advice.
Working closely with the Department of Work and Pensions (DWP) and local authorities, Martin is supporting residents, especially those with low literacy or numeracy skills, to navigate the benefits system.
"I'll look at the whole family situation and the financial issues holistically," explains Martin. "I can help with any hurdles along the way and also make applications on behalf of the residents. I'm basically the first port of call and a one-stop shop."
In addition, Martin supports residents who do not have internet access to find the financial support they need, which has become increasingly difficult as more services move online.
Since the start of the year, Martin has made a tremendous impact, supporting 192 residents, and has achieved financial outcomes for Pinnacle and its residents in excess of £134,000.
"I'm also able to help with any debt problems and can support residents manage their finances and repayments. In one particular case, I was able to support one resident with debt relief, and with the local Citizens Advice Bureau, managed to reduce her £25,000 debt to £5,000," adds Martin.
Martin is also currently engaging with 33 residents across Pinnacle's communities with employment training such as CV writing and interview techniques with external partners. This is just one of the initiatives that Martin would like to continue.
"I love working with residents and really making a difference," explained Martin. "My work is fully supported by Pinnacle and now COVID restrictions are easing I'm collaborating with colleagues to help more people through town hall events and setting up drop-in surgeries."
In the meantime, Martin is running internal training events with Pinnacle case officers on benefit programmes, disability benefits and universal credit.
"I want to ensure that case officers are identifying and referring residents to me who might not be claiming all the benefits they are entitled to or who might be in financial trouble," said Martin.
"Residents can contact me directly at any time; there is no need to wait for a referral. I want to ensure that all Pinnacle residents are getting all the benefits they are entitled to."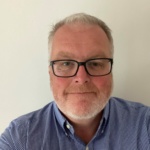 Martin Keating, Financial Inclusion Manager at Pinnacle Group, can be contacted on 07985 871635 and by email on [email protected].