Pinnacle Group has been awarded Silver on the Ministry of Defence's Employer Recognition Scheme. This award signifies Pinnacle Group's continued commitment to the military community. We are proud to be an employer which supports the employment of those who serve or have served in the Armed Forces and their families.
The Defence Employer Recognition Scheme acknowledges those organisations which actively demonstrate support to the armed forces community, by proactively demonstrating their forces-friendly credentials as part of their recruiting processes, actively ensuring that their workforce is aware of their positive policies towards defence people issues and  advocating support to partner organisations, suppliers and customers.
Part of Pinnacle's commitment includes an additional two weeks of paid leave per year to Reservists specifically to enable them to attend annual camp.
Pinnacle Group has also recently established an Armed Forces Network, made up of mix of veterans, reservists, CFAV's and families of serving personnel or veterans. The Network is intended to link up these employees to provide support, to consult with them to review our current policies and practices and identify ways in which employment opportunities can be made more attractive to spouses of serving personnel, personnel who are exiting the service and veterans.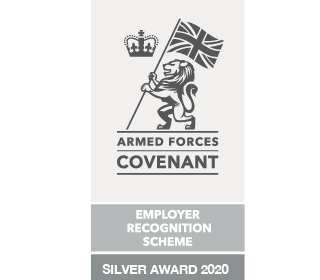 "We are delighted to have been awarded the Silver Award in recognition of our support for the Armed Forces Community. We are deeply proud of all of our colleagues who are current and former members of the UK's Armed Forces. Across Pinnacle, colleagues with military experience show valuable transferable skills such as leadership, project management and communication, and we are committed to continuing to expand the support we provide to them and the wider Armed Forces Community."
"As a former member of the armed forces, I was apprehensive about entering the civilian workplace. However, the team at Pinnacle have been very helpful invited me to join our Armed Forces Network. This network gives me and other former servicemen the opportunity to discuss the policies and practices at Pinnacle which is fed back to the senior leadership team. Pinnacle's commitment to reservists is also very helpful, as this ensures that we can fully commit to serve our country while working in 'civvy street'."
"The breadth and diversity of the winners this year shows how business support for the Armed Forces continues to grow no matter the sector, company size or location. I am grateful for the positive attitude and flexible policies these organisations have adopted towards the defence community, which is testament to the fantastic contribution our serving personnel, veterans and their families can make to any organisation.

"I am delighted that so many companies are supporting our people and that, through this scheme, we can give them the public recognition they deserve."