Groundbreaking Eco Pod Build in Huddersfield
A fantastic new eco classroom space designed and built in SEND school, using cutting-edge technology to create a unique space for students to learn about sustainable living.
The team in Kirklees, where Pinnacle provides total FM services to three Special Educational Needs and Disability (SEND) schools in a 25 year contract on behalf of Kirklees Council, has completed a new standalone eco-building at Castle Hill School.
The SEND school is for students ages 3 to 19, supporting and educating children with complex special needs. This new impressive space will allow for a teaching space that is suitable for students to learn about green objectives and the value of recycling.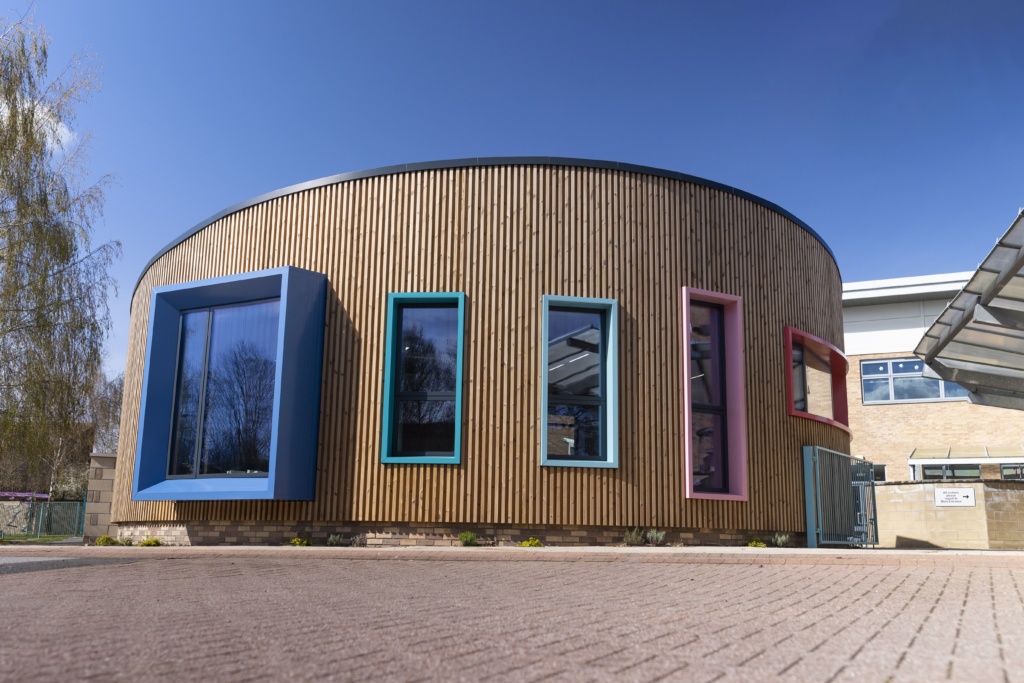 Led by Michael Cooper, Lifecycle and Variation Manager at Pinnacle Group, the collaborative team worked with architects, William Saunders, and specialist builders, BlokBuild, to build the new classroom structure using sustainable modern methods of construction (MMC), environmentally friendly construction techniques.  
The build was designed using a Passivhaus methodology, which is a performance-based set of design criteria which create very low energy buildings. Some of the environmentally friendly features of the new space include; solar panels, a living roof, a heat recovery system, and a unique multi-faceted curved lattice wall with thermal wood cladding.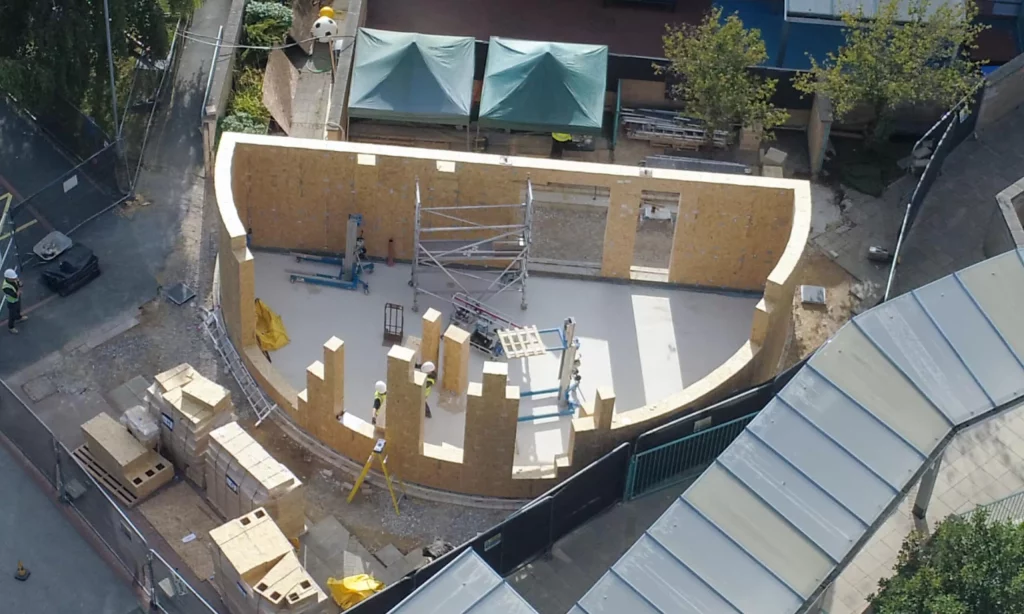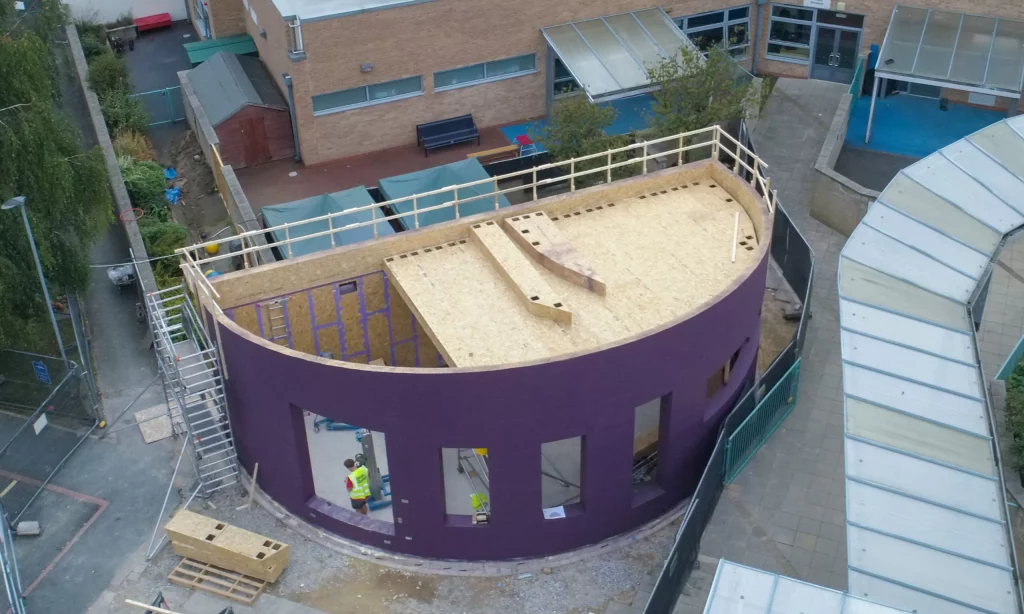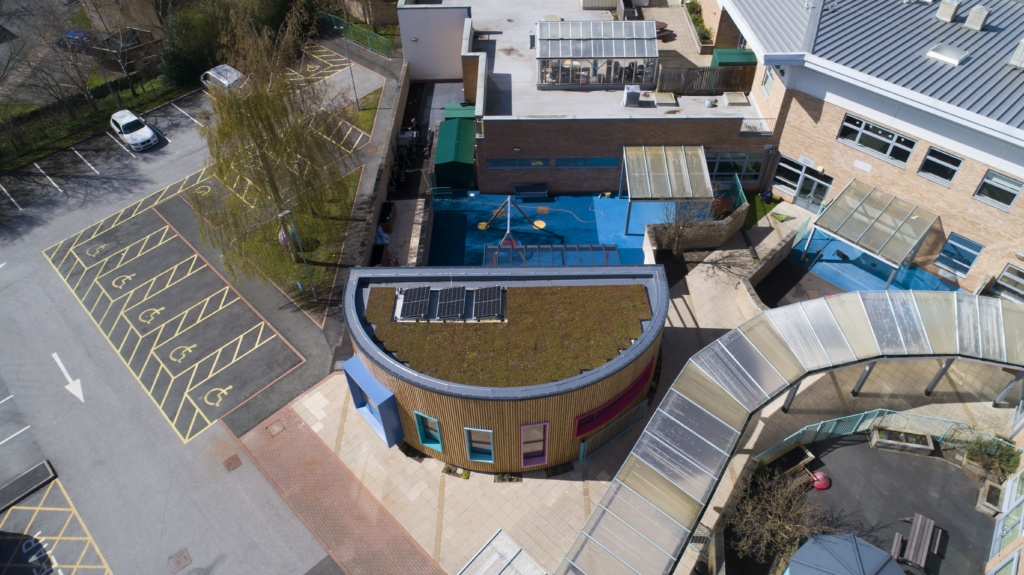 The mechanical and electrical installations have been designed to provide an energy-efficient building and to include reducing loads, selecting systems that make the most effective use of ambient energy sources and using efficient equipment and effective control strategies. An integrated design approach has been adopted to ensure that the architectural elements and the engineering systems work effectively together.
Electrical systems installed:
High efficiency LED light fittings with intelligent automatic controls.
Photovoltaic electricity generation.
Mechanical systems installed:
Eco water heater with smart technology giving high energy efficiency.
Electric LST fan heaters with intelligent low energy consuming EC motors.
High efficiency energy recovery ventilation unit with night time summer building heat purge facility.
The building project, which was featured on the latest series of Channel 4's Grand Design, was delivered on time and within budget, with the installation being under two weeks during term-time, without disrupting staff or students at the live SEND school site. The school and the students are delighted with their new classroom space.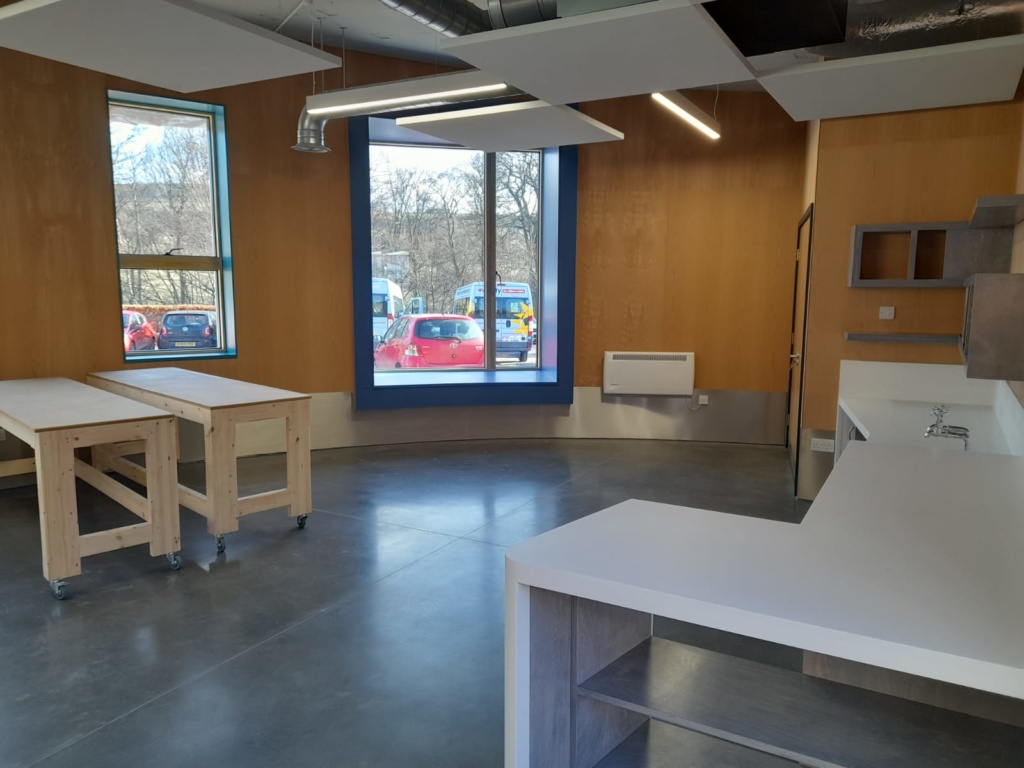 Michael Cooper said of the project, "School are delighted with the completed project, this will be their flagship building proudly situated at the front of the school site, the students are further overjoyed as the building also includes superb views over the ancient Castle Hill monument."
Steve Perren, Principal at Castle Hill School commented, "We are also grateful to Pinnacle for collaborating towards success."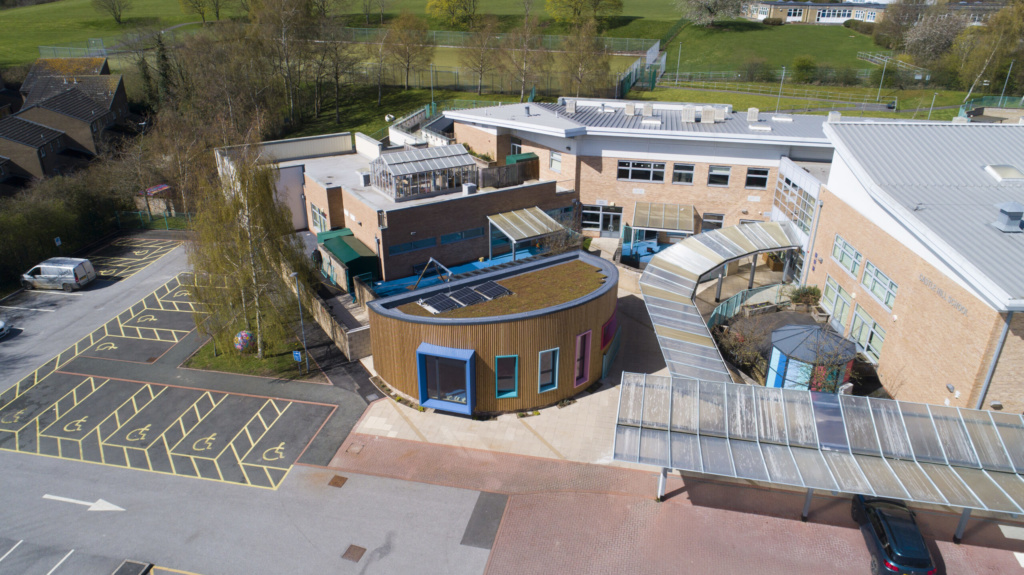 The innovative project has been recently shortlisted for three categories at the Structural Timber Awards for:
Project of the Year
Installer of the Year (Blokbuild)
Product Innovation award (Blokbuild)
The project has also shortlisted on one of the awards for Education Estates:
Pinnacle Wins Place on Six Lots of Major Government FM Framework
Pinnacle Group is delighted to have been awarded a place on the Crown Commercial Service (CCS) Facilities Management and Workplace Services Framework. This latest achievement bolsters Pinnacle's tender opportunities within central and local government departments as well as health, education and blue-light sectors.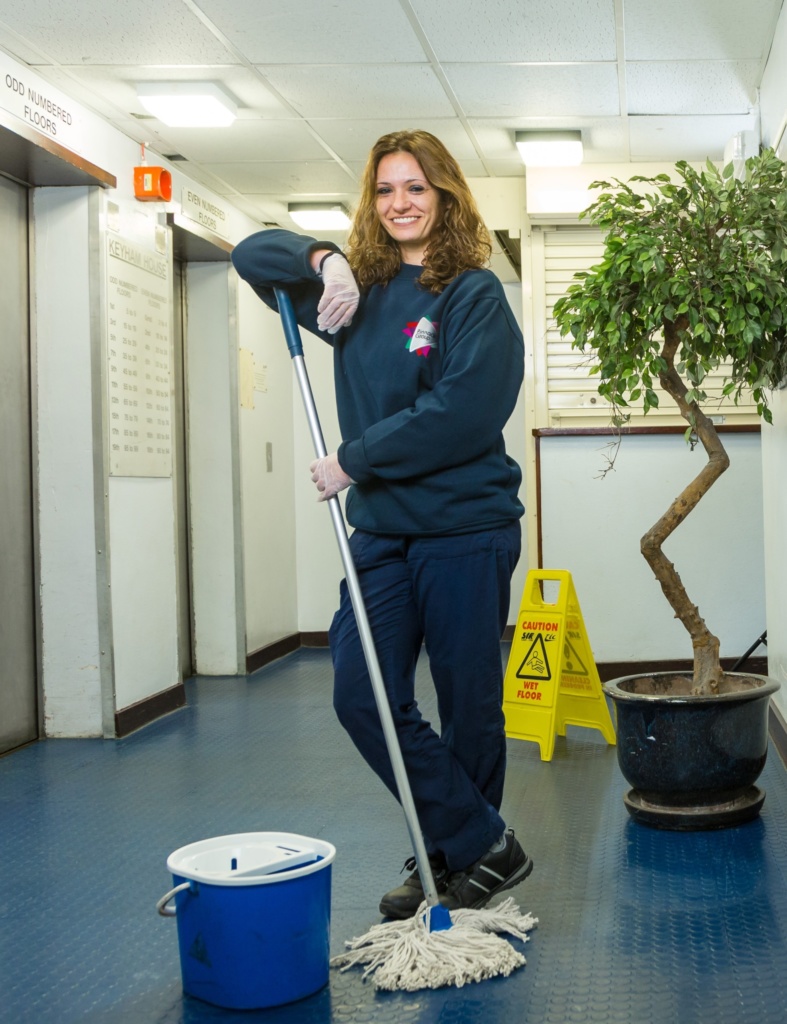 Having secured a place on six of the CCS Facilities Management and Workplace Services framework lots, the business will be eligible for work across the spectrum of total, hard and soft facilities management opportunities.
Just 44 suppliers have been selected onto the framework, which places a focus on social value outcomes, something that Pinnacle strongly welcomes. Pinnacle's own ESG framework is at the heart of it purpose and underscores its commitment to protect the planet, empower its own people, deliver community impact and to be a responsible and ethical business at all times.
Neil Fergus, Managing Director, FM at Pinnacle Group said: "Becoming a supplier on this CCS framework provides Pinnacle with an opportunity to compete against some of the most established FM providers in the country for the large-scale, long-term government contracts, which form the backbone of our future growth strategy.
"This is a huge achievement and a recognition of the extensive skills and capability within our FM business."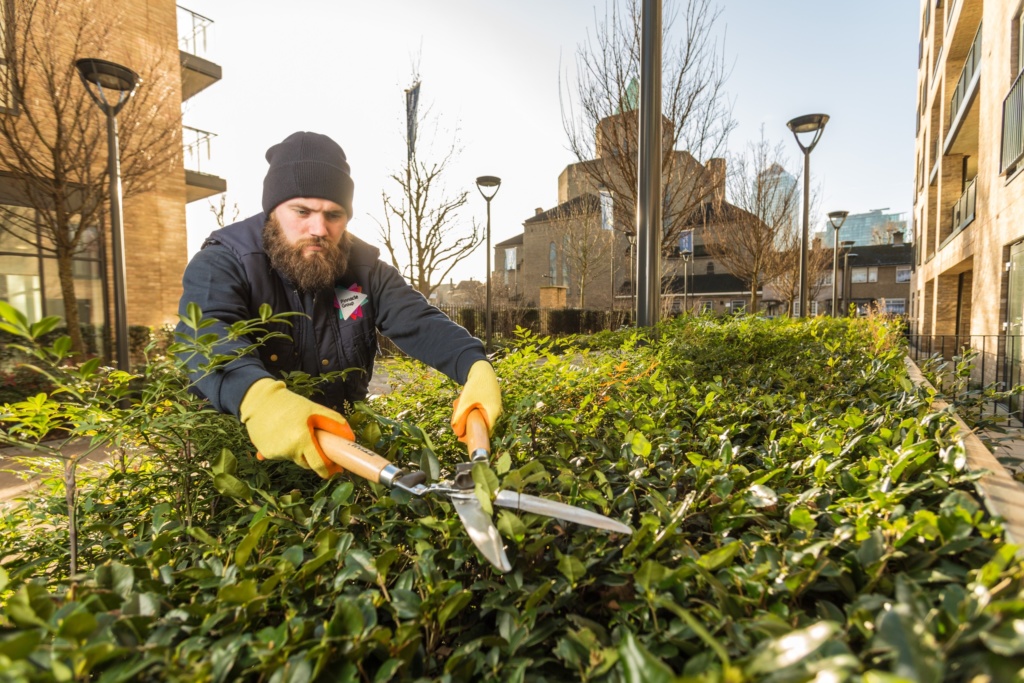 It is expected that call-off competitions for contracts tendered under this framework will begin in late summer 2022.
Crown Commercial Service supports the public sector to achieve maximum commercial value when procuring common goods and services. In 2020/21, CCS helped the public sector to achieve commercial benefits equal to £2.04bn - supporting world-class public services that offer best value for taxpayers.
Pinnacle Group Reappointed to Cleaning Contract for 600+ Council Owned Facilities
A much sought-after contract has been secured by Pinnacle Group to provide specialist cleaning services to Solihull Community Housing (SCH), which run housing services on behalf of Solihull Council.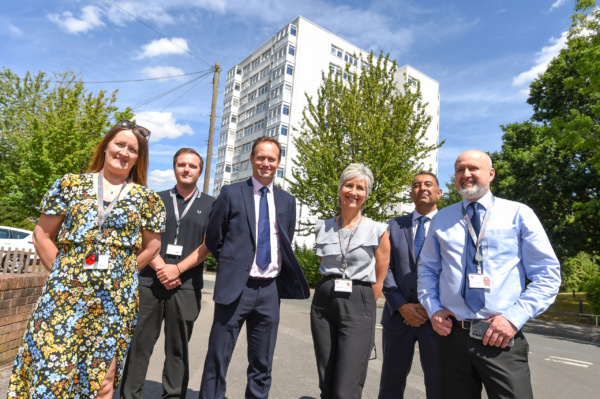 The SCH cleaning contract, which is worth almost one million pounds, will once again be held by Pinnacle Group who previously won the contract from 2010 – 2015. As part of this latest agreement, Pinnacle Group is responsible for the responsive and planned cleaning of more than 600 individual facilities including offices, community centres and homes from 1 August 2022.
Neil Fergus, Managing Director, FM at Pinnacle Group said, "We have a strong relationship and previous working history with Solihull Community Housing, and as a result of this we know the sites well and how we can apply our extensive cleaning experience and customer service to best support them. Our fantastic facilities management team will offer a full range of cleaning services, which will involve internal and external cleaning of the buildings, specialist biohazard removal, as well as clearing of fire or flood damage and deep cleans. 
"We are delighted to have been successful in this bid and to be working once again with the team at Solihull Community Housing. Since our last tenure we've improved the technology we use to support the services we offer. This will ensure that any queries and questions are dealt with even more effectively than before."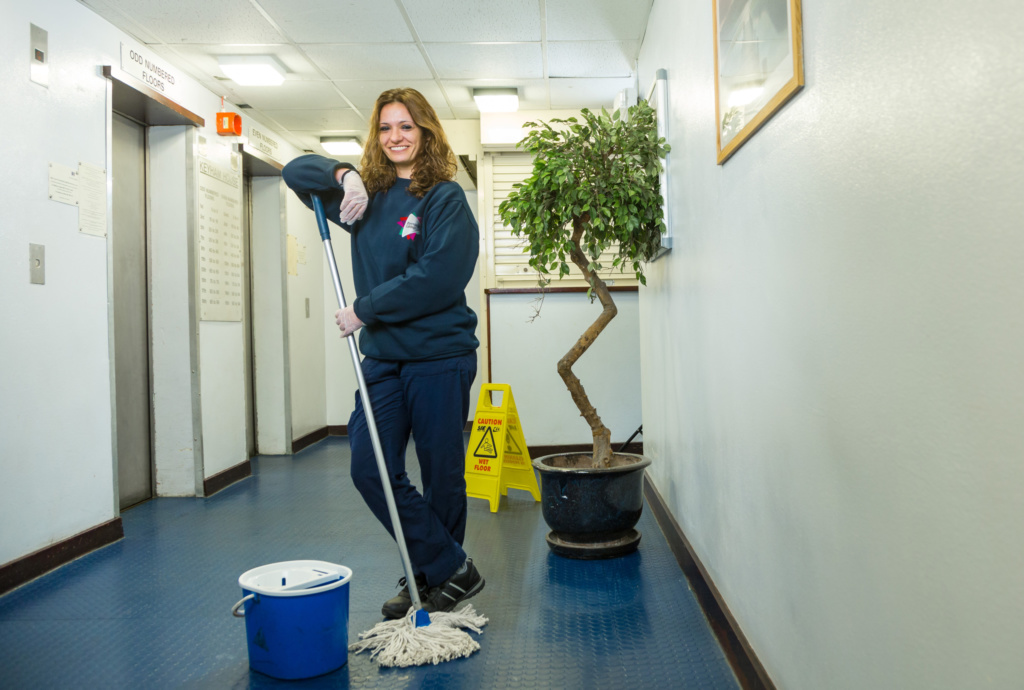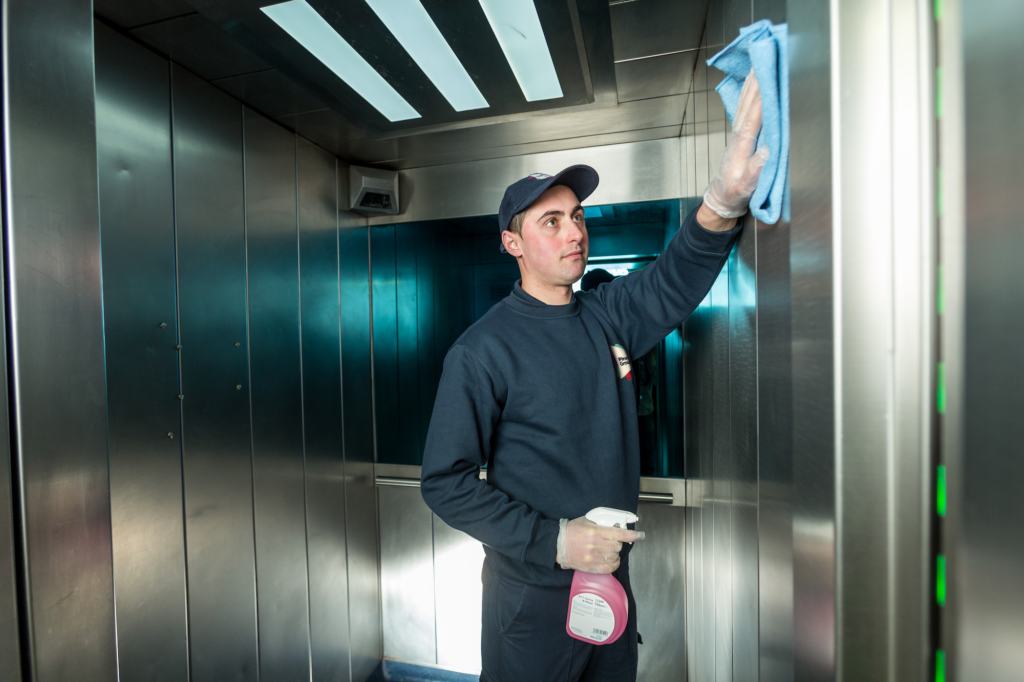 Operating a six-day-a-week service, including bank holidays for all high-rise buildings, Pinnacle Group's team will become an integrated part of the community and a familiar face to residents.  In total, the new contract covers three service areas: 555 low rise blocks, 37 high rise blocks, three offices, three community centres and the Extra Care Scheme, which supports people in living independently. Already an extensive contract, there is potential to extend the housing element to incorporate further properties.
Fiona Hughes Chief Executive at Solihull Community Housing said: "The hygiene and safety of all our buildings is imperative. We are thrilled to appoint Pinnacle Group to the SCH cleaning contract to help us achieve this. We look forward to Pinnacle providing a high-quality cleaning service and of course, as always, we welcome any feedback from our customers."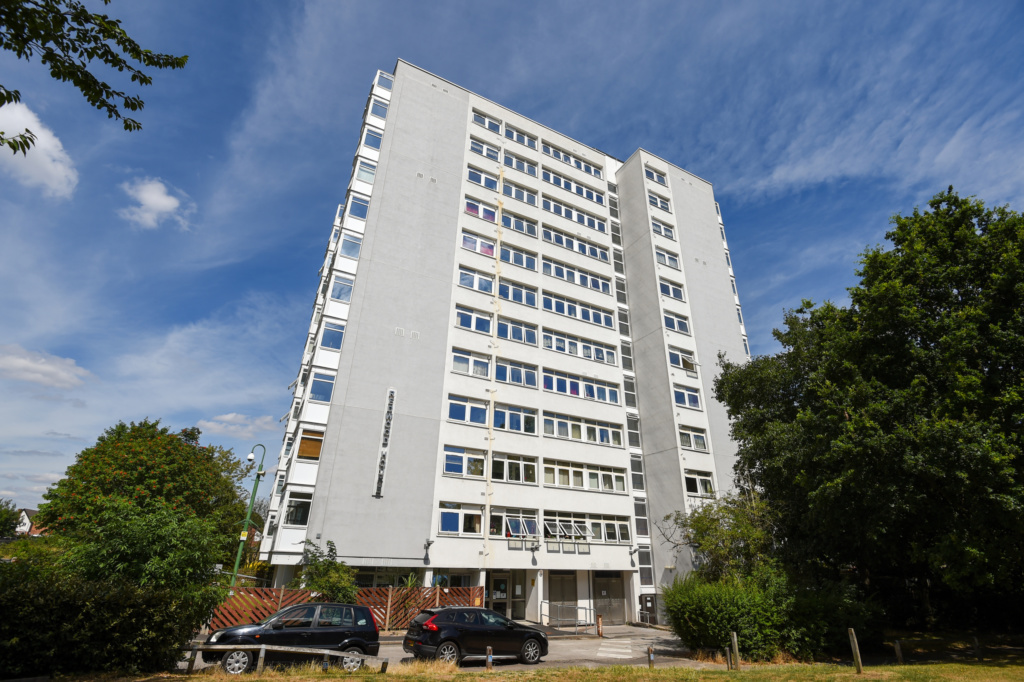 Yorkshire Three Peaks Success
Recently, a team of colleagues from our Facilities Management (FM) division who are based in Leeds, took on the Yorkshire Three Peak challenge to raise money for Fairfield School in Batley, where Pinnacle Group provide hard and soft FM.
On Friday 17th June a team of 15, including 11 Pinnacle colleagues and staff and Governors from Fairfield set off at 6am to tackle 26-mile trek. A classic trekking challenge, the route took in summits of Pen-y-ghent (694m), Whernside (736m) and Ingleborough (723m).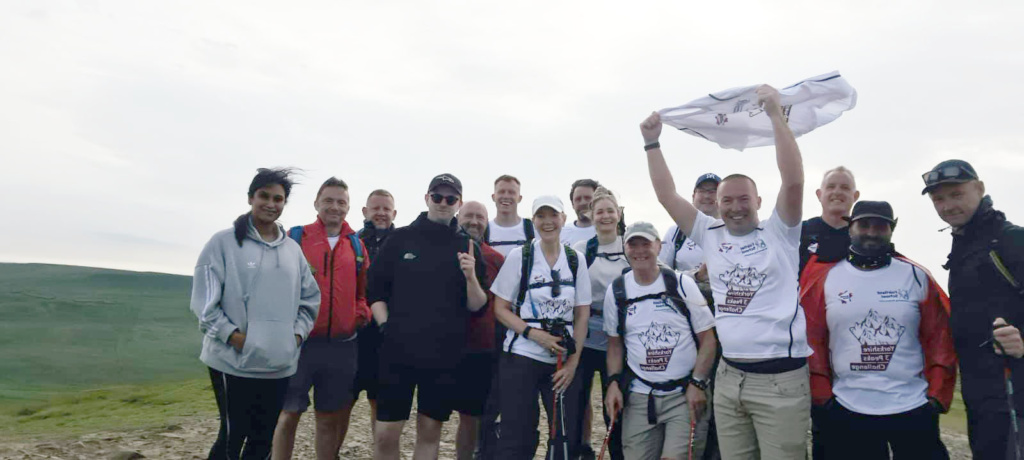 Assisted by the Pinnacle Group support vehicle, providing sandwiches, energy drinks and much needed pep talks, team members each burned in excess of 4,000 calories taking on some extremely difficult terrain. Over the course of many thousands of steps, and much blood, sweat and tears, the team successfully conquered the challenge in just over 12 hours.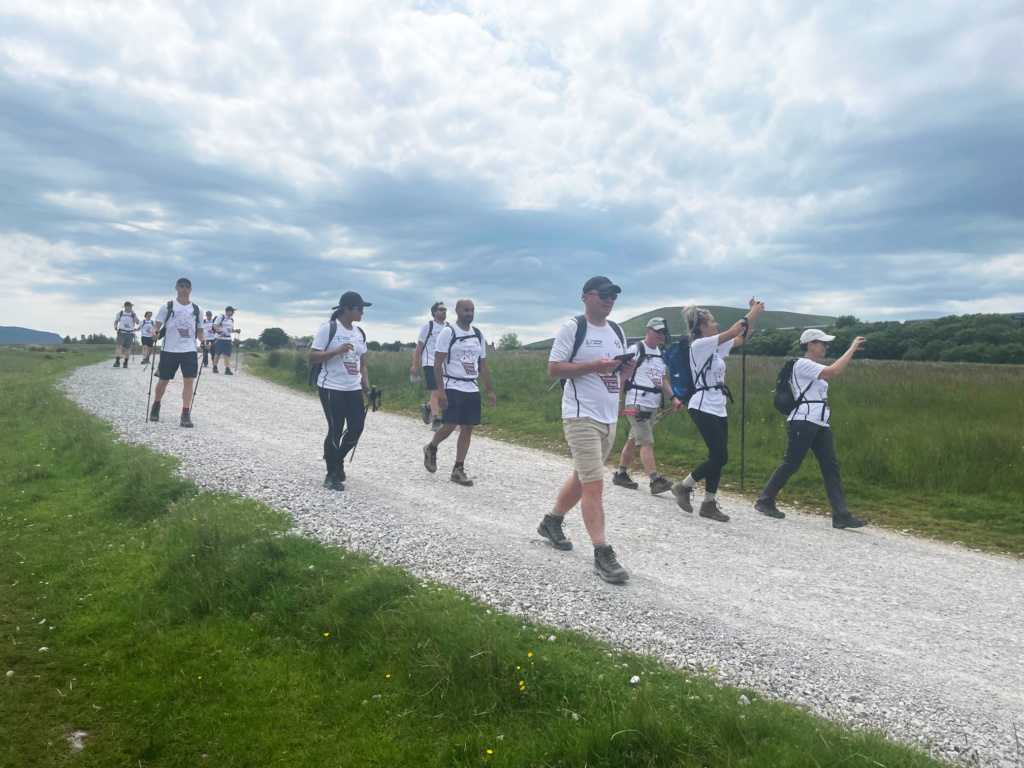 Thanks to their efforts, the team have now raised over £1,000 for Fairfield school. The money raised will go towards developing the school playground. Currently a large open concrete space, the playground will be transformed into four separate smaller areas with a safer soft crumb ground and artificial grass. These will consist of:
A 'bike zone' to resemble a miniature formula one racetrack for bikes and trikes, complete with shed storage space;
An 'Active Zone' with a roundabout, swing, climbing frame, sunken trampoline, bridge, tunnel, and den;
A 'Gymnasium Zone' for our more active pupils to burn off some energy; and,
A 'Relaxation Zone' with a sensory gazebo, seating area with planters and focal feature, interactive pathway with a sensory tambour tunnel.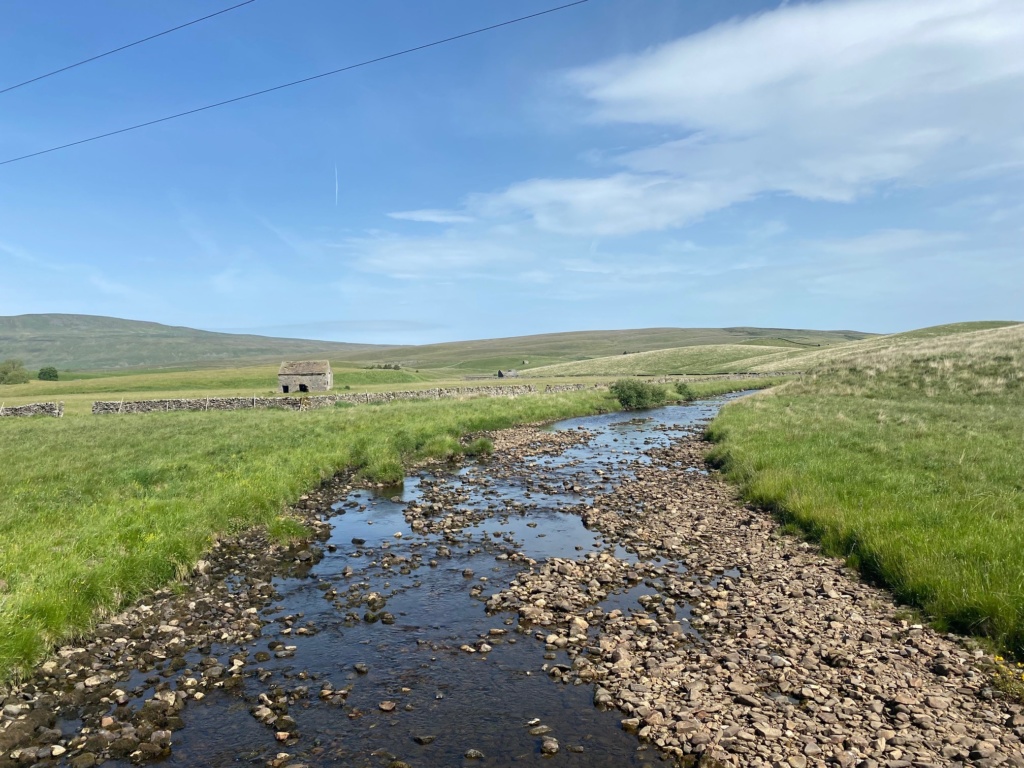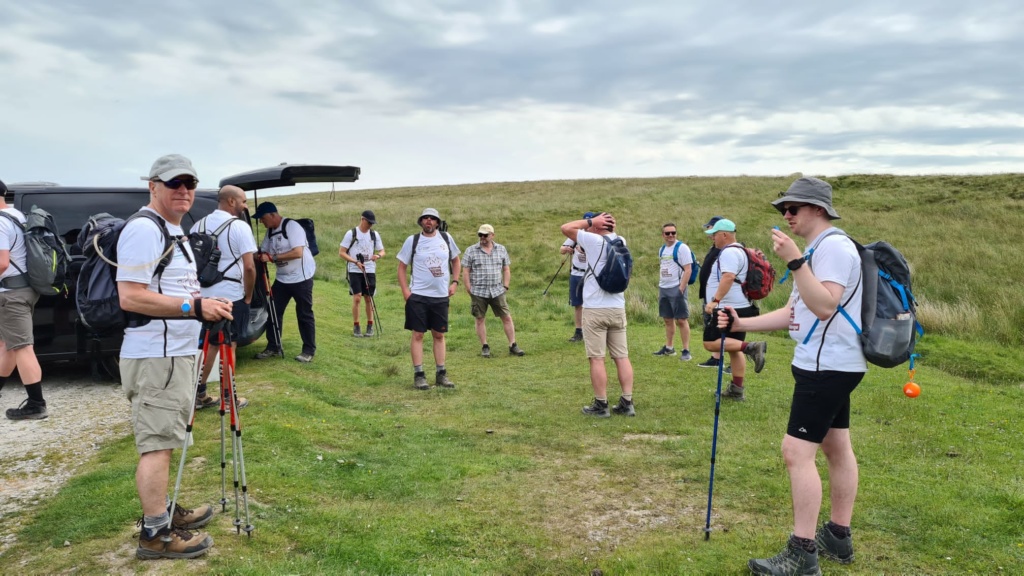 Steve Walsh, Business Manager at Fairfield School said: "Thank you again to everyone involved. The day was a fantastic team build event and I hope this may be the first of many joint adventures we can do together."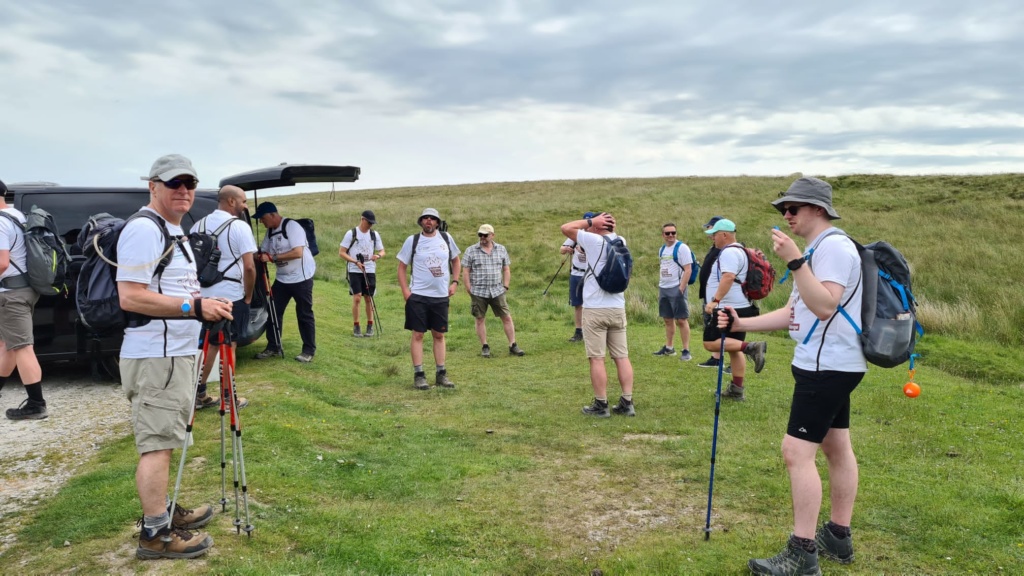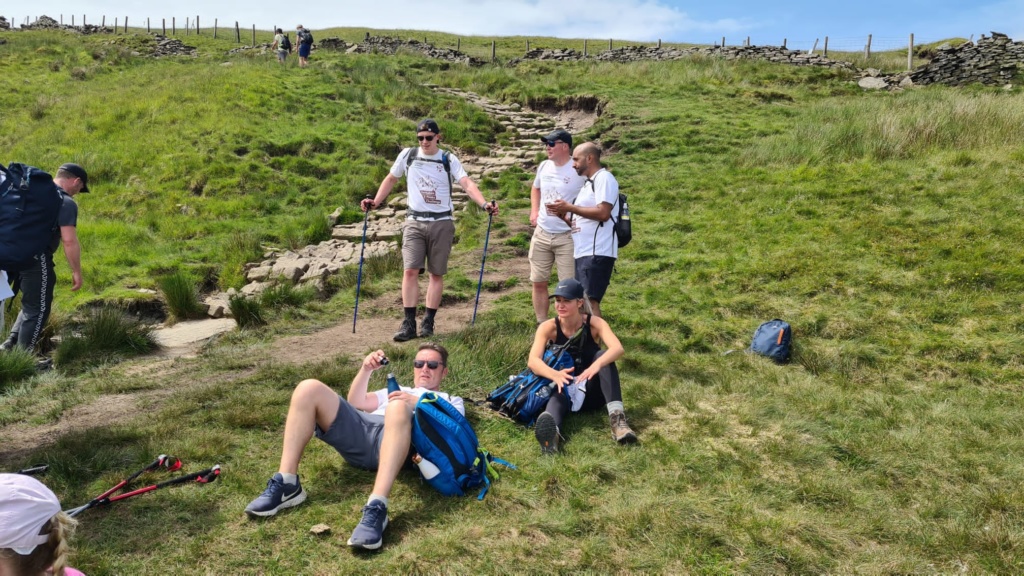 Congratulations to all involved on an enormous achievement! If you would like to donate to the cause, please click here.
Celebrating World FM Day
Each year, on World FM Day, the IWFM (Institute of Workplace and Facilities Management) highlights and celebrates the impact and value that facilities teams, and the wider industry, contribute to business worldwide.
Pinnacle Group is proud to be a Corporate Member of the IWFM, the organisation that promotes excellence among a worldwide workplace and facilities management membership community.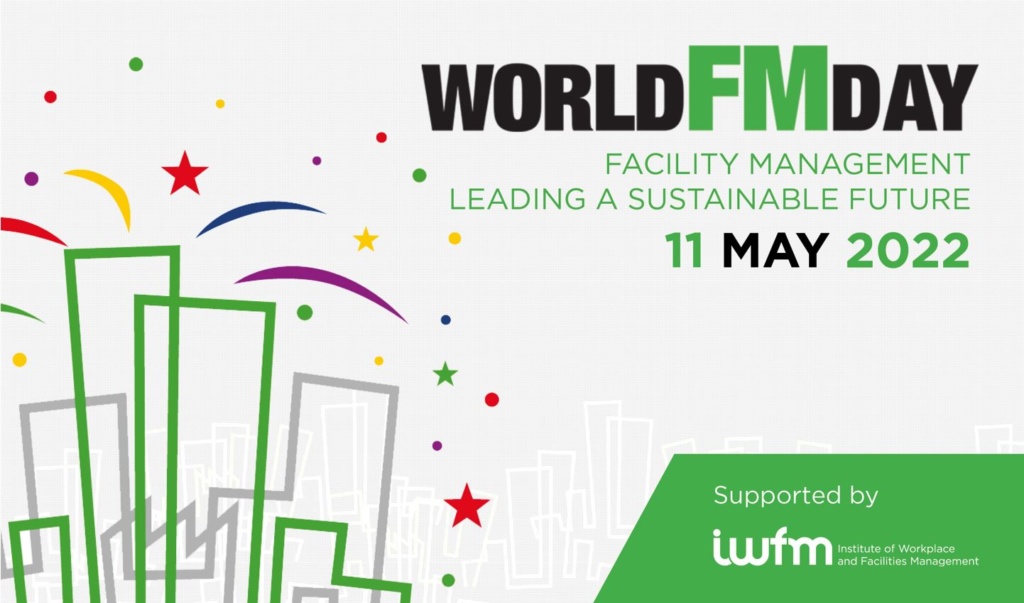 We're delighted to celebrate World FM Day, recognising and thanking all of our people who make a vital contribution to putting our customers at the heart of facilities management services, providing places where people are safe, healthy and able to thrive.  
The theme for World FM Day 2022 is 'Leading a sustainable future'.
Leading a sustainable future
With the day focusing on the FM industry's opportunity to make positive change through corporate sustainability, Managing Director, FM Neil Fergus commented: 
"As we grow as a company, we are seizing the opportunity to operate with purpose. This is already ingrained in our company values. And, through the actions of our teams, we see our staff go above and beyond their daily duties to protect our planet, care for our people, have a positive impact in the community and deliver our services in a responsible and ethical manner."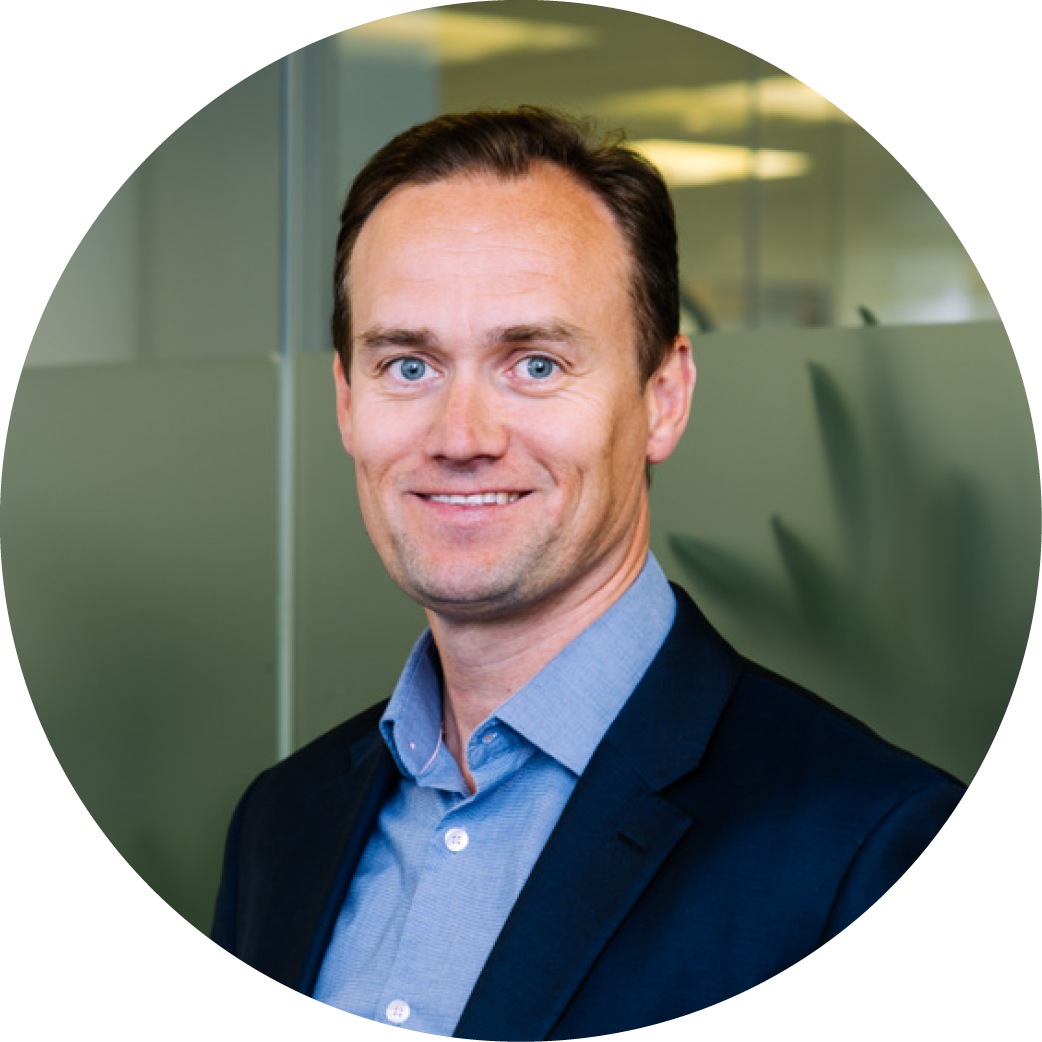 Neil Fergus
Managing Director, FM
Here we highlight some of the recent actions, across our business, that support our ongoing commitment to a sustainable future.
Our commitment to ESG 
We have a rich history as a socially conscious and values-led business. Building on this, we have launched our ESG Framework which is structured around the four pillars of:
Protecting Our Planet
Our People
Community Impact
Responsible Business
Through Protecting Our Planet, we are removing carbon, reducing pollution and continuously looking at making the right choice for the environment when deciding on ways of working and selecting suppliers, products, equipment and materials.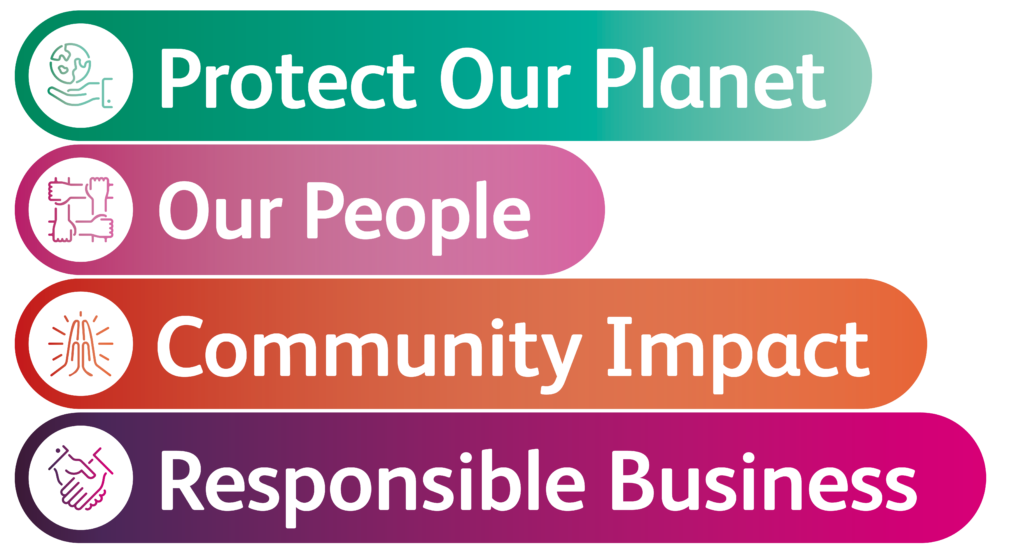 Project Electrify
Our Carbon Reduction Plan to Net Zero aims to achieve:
Net Zero on direct emissions by 2025 (Scope 1 & 2) 
Full emissions by 2035 (Scope 3)
Project Electrify supports Pinnacle's Carbon Net Zero road map with the roll out an all-electric fleet across 500 service vehicles servicing over 100 UK locations. Analysing the usage requirements of all vehicles, due for renewal or new vehicles added to the fleet, these will be considered for an electric vehicle replacement to reduce our environmental impact.
This is backed by the rolling out of our own electric vehicle charging infrastructure across our sites and depots, maximising charge points on existing grid capacity.
Using telematics and data analysis, we will continuously review the programme to see if changes need to be made, based on our experience in the field and future efficiency.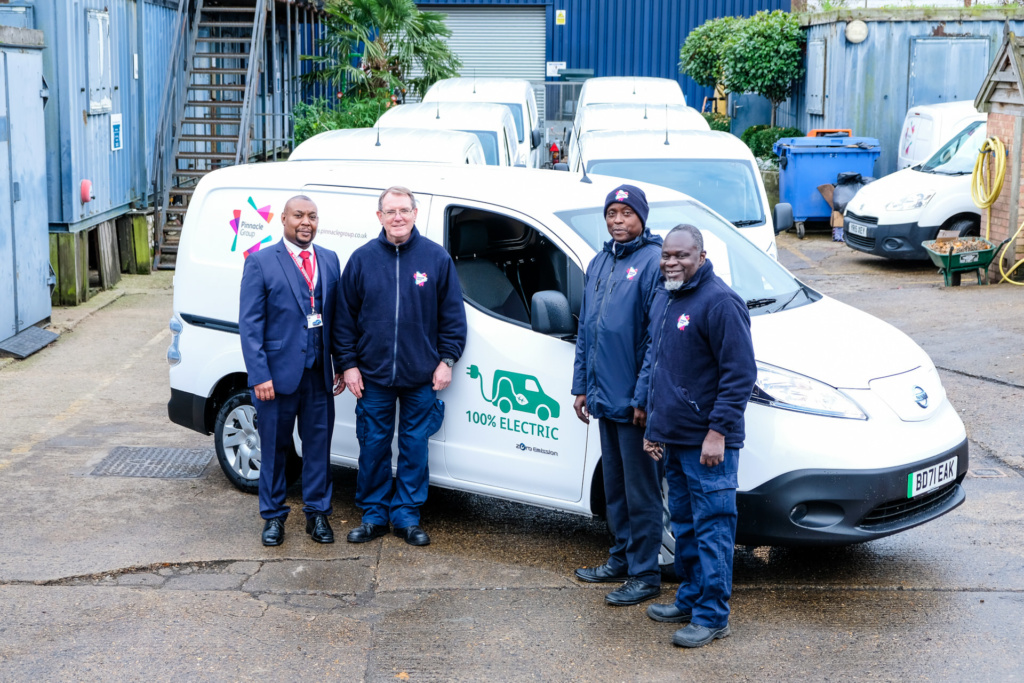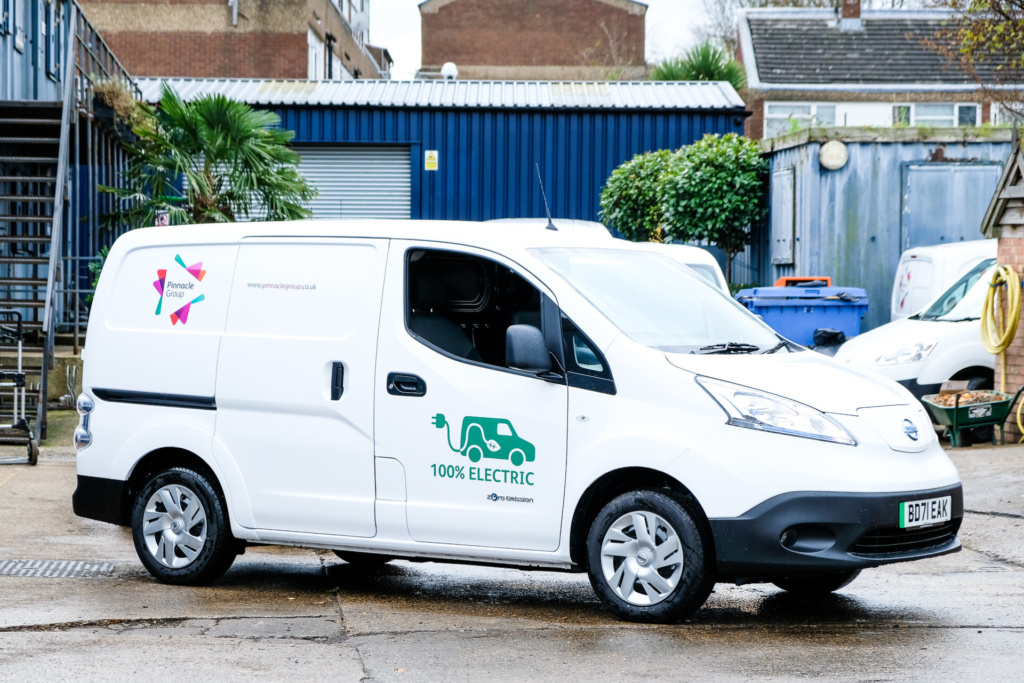 Moving towards electric grounds maintenance equipment
In one of our contracts - Essex County Council - we have demonstrated a successful switch of 100% of our small kit to electric.
Creating energy efficiency through LED/PIR installations
Through our initiative of installing 6,000 energy efficient LED lights across seven schools in Swindon, we have delivered an impressive energy reduction of 70%.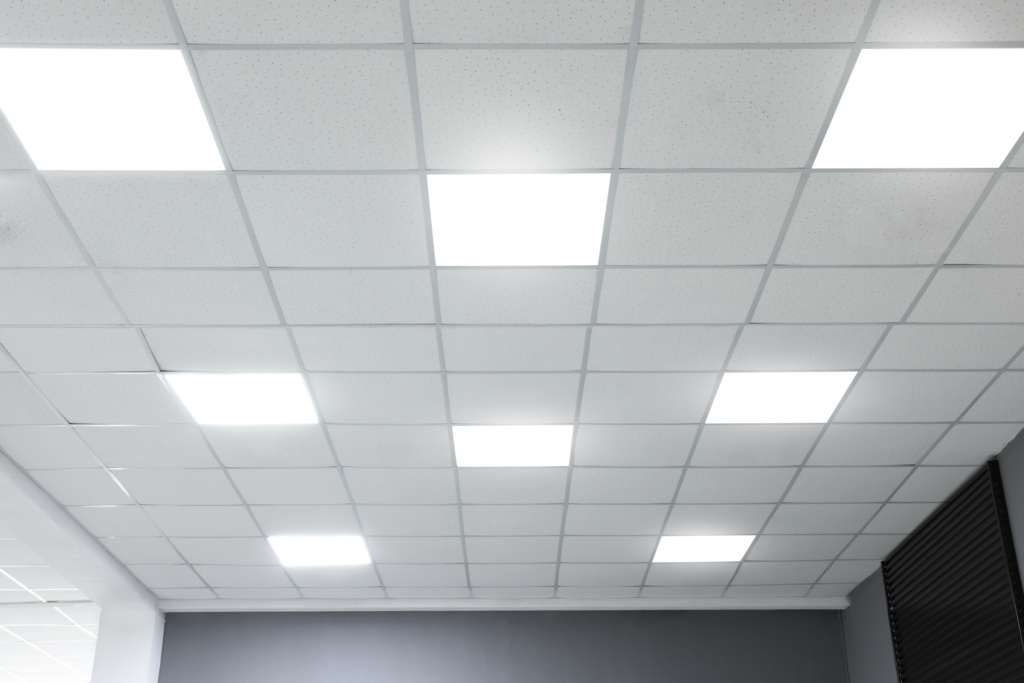 Responsible cleaning
As a business that is committed to procuring with purpose, we want to replace the use of harmful chemical products and consumable products, used in the delivery of our contract cleaning service, with environmentally responsible alternatives. Our vision is to embed technologies within our contract cleaning service delivery that:  
Do not use ingredients toxic to humans  
Do not use ingredients toxic to aquatic life  
Stop plastic pollution through the reduction of single use plastic  
Promote the growth and development of small, localised, innovative businesses within our supply chain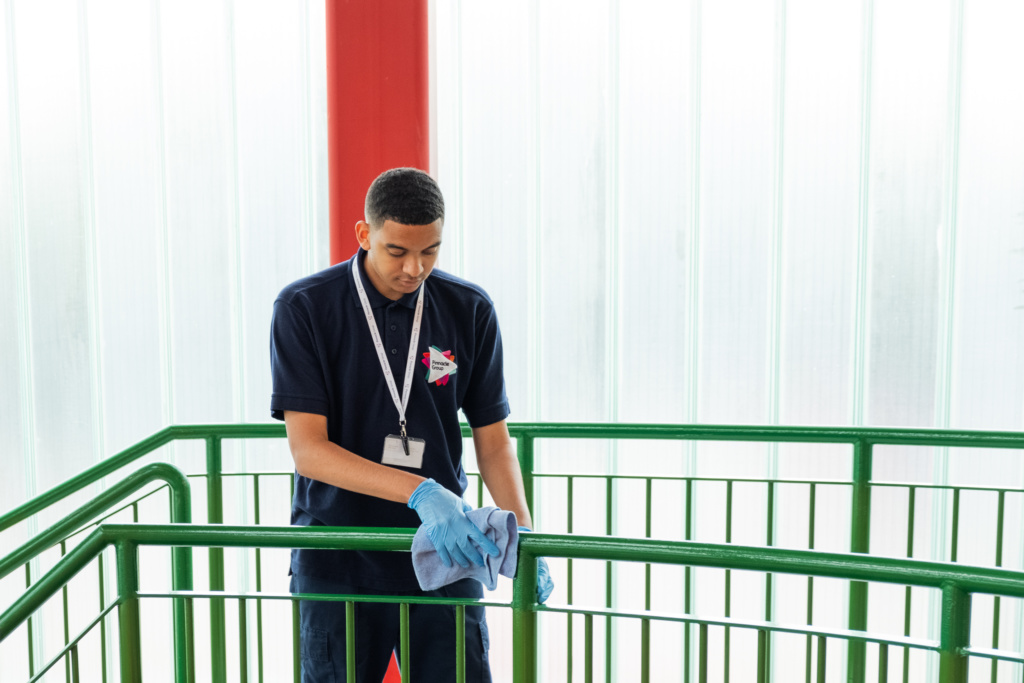 Project Switch  
A key part of our Responsible Procurement Policy, and cleaning responsibly, is our new national sustainability standard for commercial cleaning and hygiene supplies Project Switch in partnership with Bunzl Cleaning and Hygiene Services (BCHS).  
Project Switch ensures that sustainably produced and packaged cleaning chemicals, plus hygiene consumables, are prioritised across our soft facilities services portfolio. As part of the collaborative sustainability initiative, BCHS has committed to offsetting carbon emissions associated with our cleaning supplies delivery management, so that they are carbon neutral.    
As part of this project, 10 per cent of Project Switch's annual spend will be allocated with approved local SME, VCSE and micro suppliers. 
Ongoing measurement of the policy will be used to keep reducing the number of post-consumer recycled (PCR) bottles being put back into the circular supply chain, working towards 100 per cent by 2025.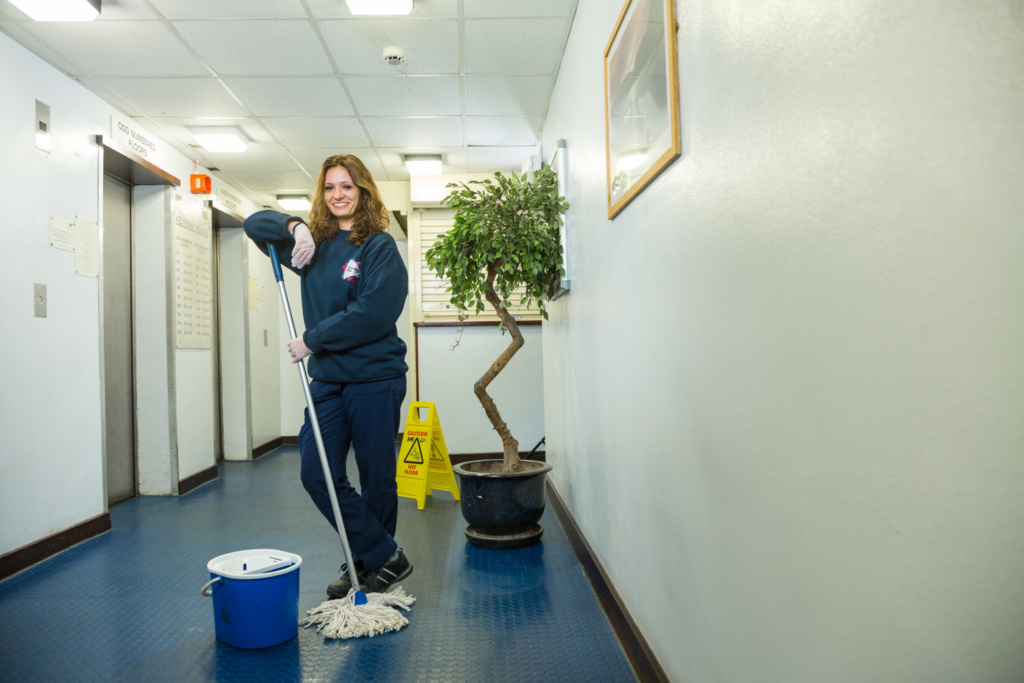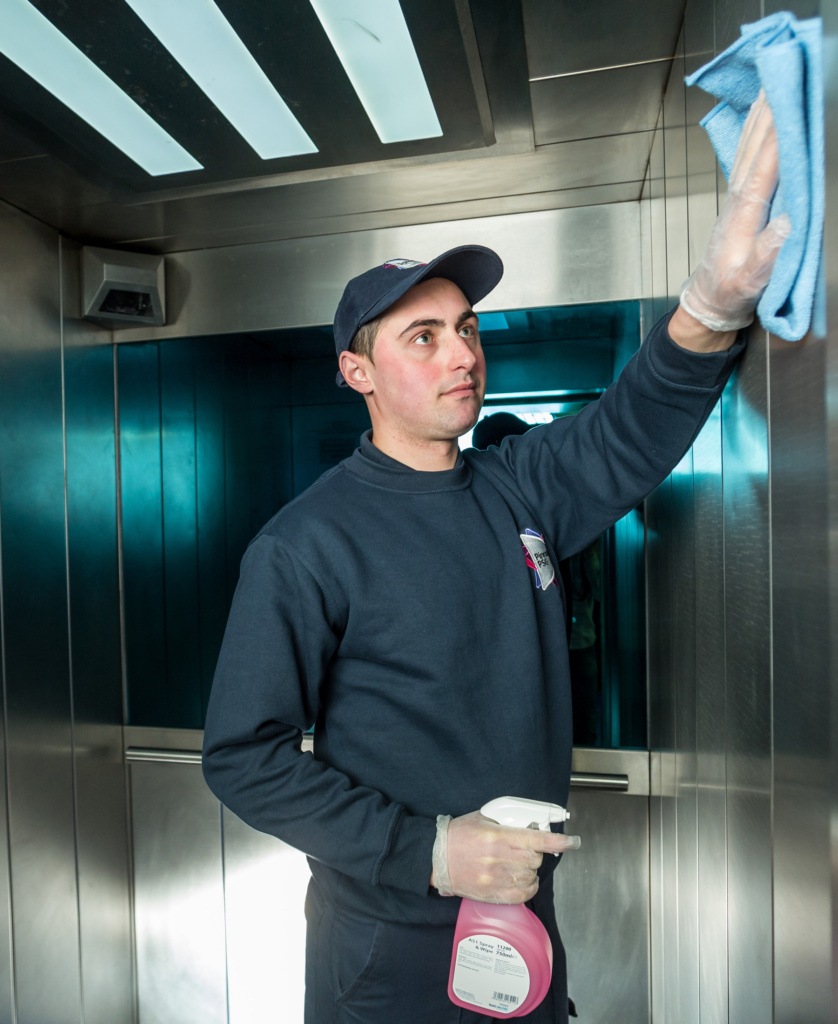 Community impact
Our employees are passionate about engaging with and doing the right thing by the communities we serve. Many dedicate their time and develop initiatives to support local causes alongside community partners, partnering with local charities and social enterprises to provide help where it matters most.
At one local school, we have been supporting local planting, showing pupils how to successfully grow their own strawberries and combining this with healthy eating education.
From supporting the building of a community garden for a local hospice, to supporting local food banks across the country and creating community allotments, we are so proud of our people and the impact of their fantastic work.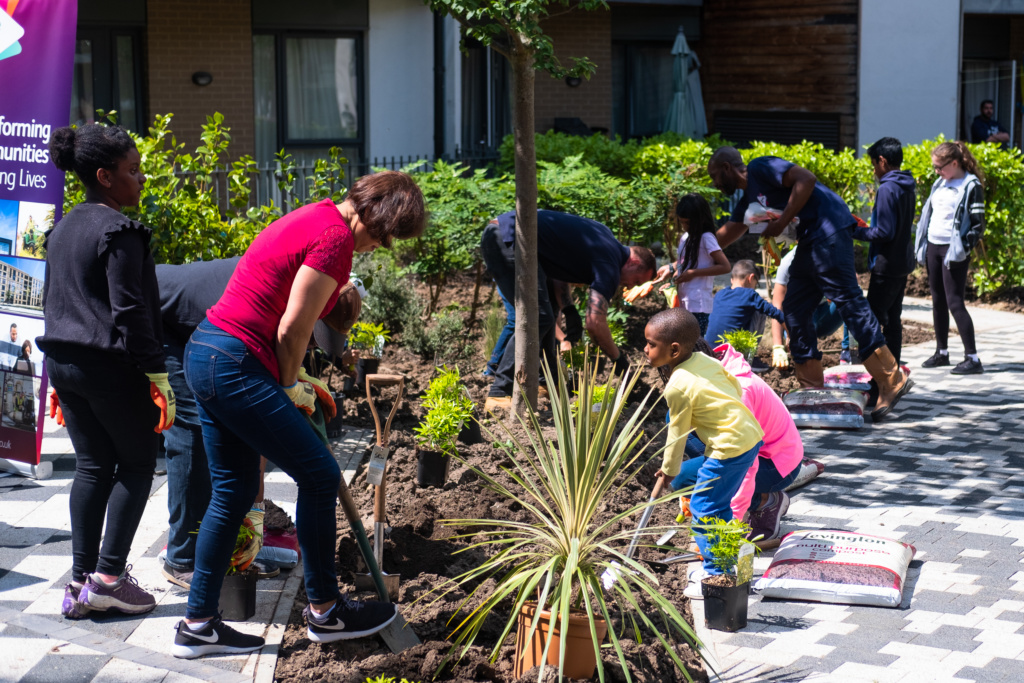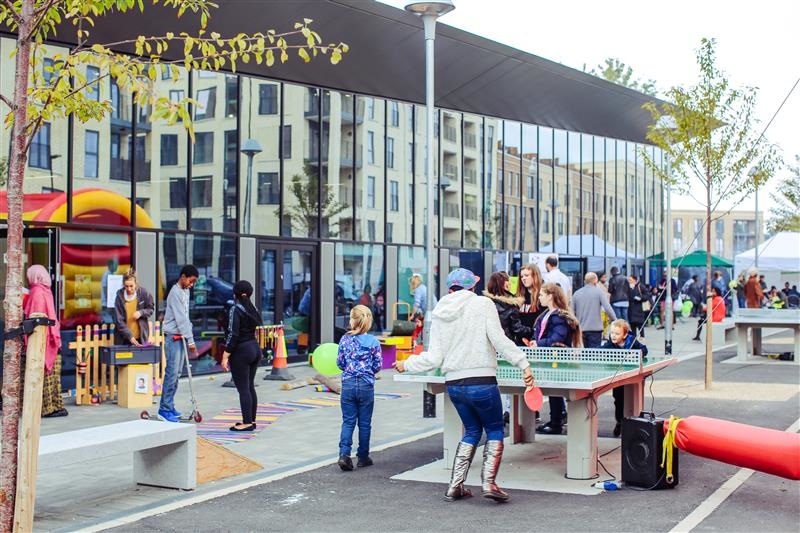 New National Standard to Drive Sustainability in New Hygiene Procurement Management Partnership 
Pinnacle Group, together with Bunzl Cleaning and Hygiene Services (BCHS) have launched Project Switch – a new national sustainability standard for commercial cleaning and hygiene supplies.  
The new Project Switch procurement policy, designed by Pinnacle Group and BCHS, utilises Pinnacle Group's strategic position in the upward supply chain via its buying behaviours.  It will prioritise sustainably sourced cleaning chemicals and hygiene consumables, for   use across Pinnacle Group's soft facilities services portfolio in homes, educational facilities, and public buildings.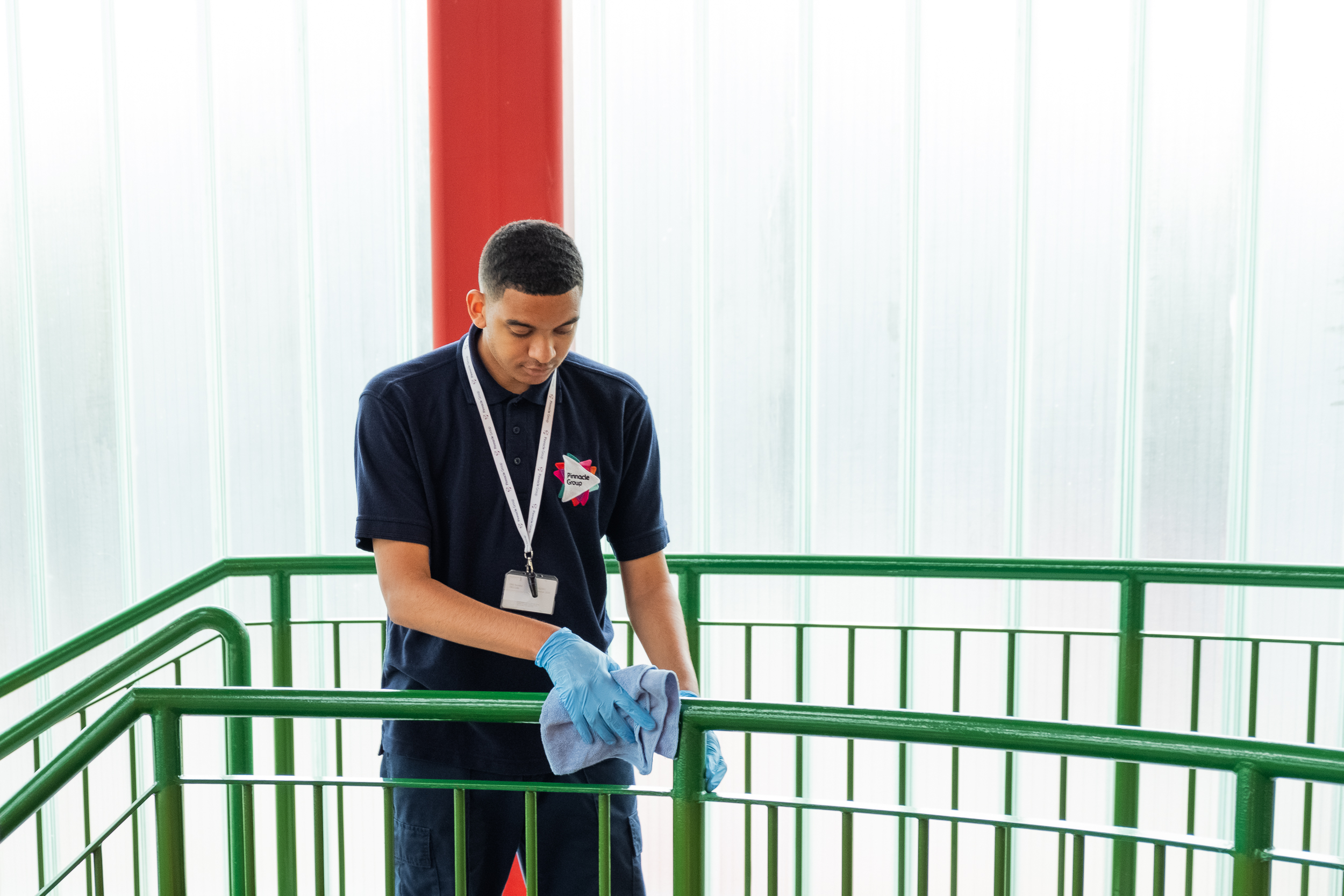 As part of the partnership, BCHS has committed to offsetting carbon emissions associated with Pinnacle Group deliveries, so they are carbon neutral, resulting in reduction of Scope 3 Emissions. The 'Responsible Procurement Policy' also feeds into Pinnacle Group's ESG framework. It includes a new supply chain management system and set of supply chain values to develop meaningful socio-economic partnerships. As part of this, 10 per cent of Project Switch's annual spend will be allocated with approved local SME, VCSE and micro suppliers.
Furthermore, ongoing measurement of the policy will be used to keep reducing the number of post-consumer recycled (PCR) bottles being put back into the circular supply chain, working towards 100 per cent by 2025.
"Over the next two years, Pinnacle Group and BCHS intend to roll out and embed the new purchasing practices outlined within the policy, in order to reduce our carbon emissions and improve the impact we have on the communities we work within as well as the wider environment.
 
"Sustainable procurement requires a high degree of accountability between buyers and suppliers, and this is at the heart of our supply chain management relationship with BCHS. Taking visible and accountable steps like this is important, as while we recognise it is not always possible to have products meet the requirements of this standard, we are striving towards this by ensuring that there are no products in use that fall below our minimum product standard, which goes above and beyond compliance. A number of reporting systems and metrics have also been developed internally that will allow us to measure our performance and identify areas of opportunity as we move towards 100 per cent use of sustainable procurement."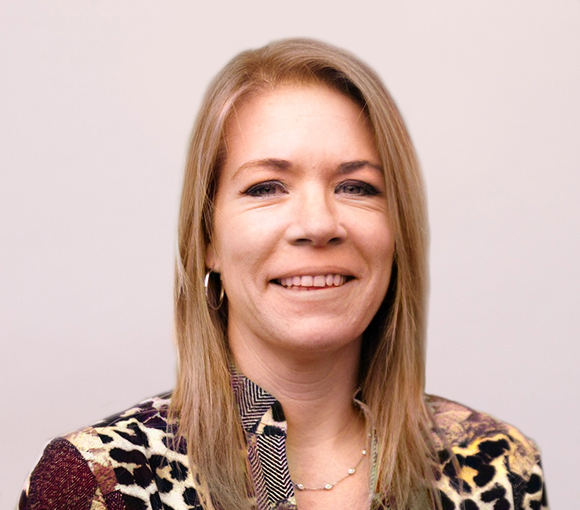 Sarah Russell
Procurement Manager, Pinnacle Group
"BCHS is proud to work collaboratively with Pinnacle Group on improving the impact we both have on local communities and the wider environment. Supported by the BCHS Sustainable Solutions initiative, the sustainability procurement policy and carbon offsetting commitment together ensure products are sourced sustainably and have a limited impact on the environment."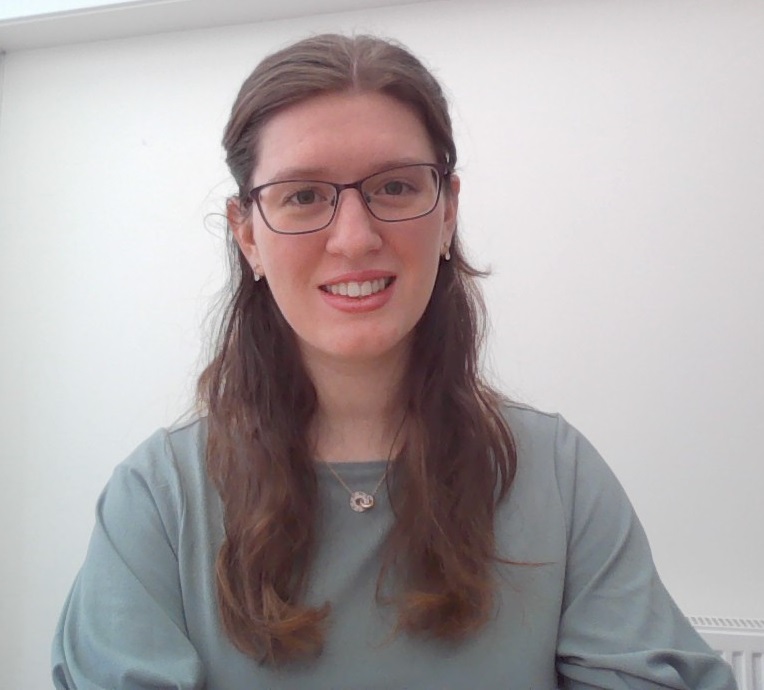 Anna McArdle
Sustainability Manager, BCHS
To find out more about our ESG Framework, made up of the four pillars Protect Our Planet, Our People, Community Impact and Responsible Business, visit.  
Pinnacle Charges Towards Net Zero With Fleet of Electric Vehicles
Pinnacle Group is delivering on its "Project Electrify" ambitions to roll out an all-electric fleet of service vehicles. Pinnacle looks to transition almost 500 Light Commercial Vehicles (LCVs) from the current diesel-power to all-electric - starting with its first 33 models of the Nissan eNV200.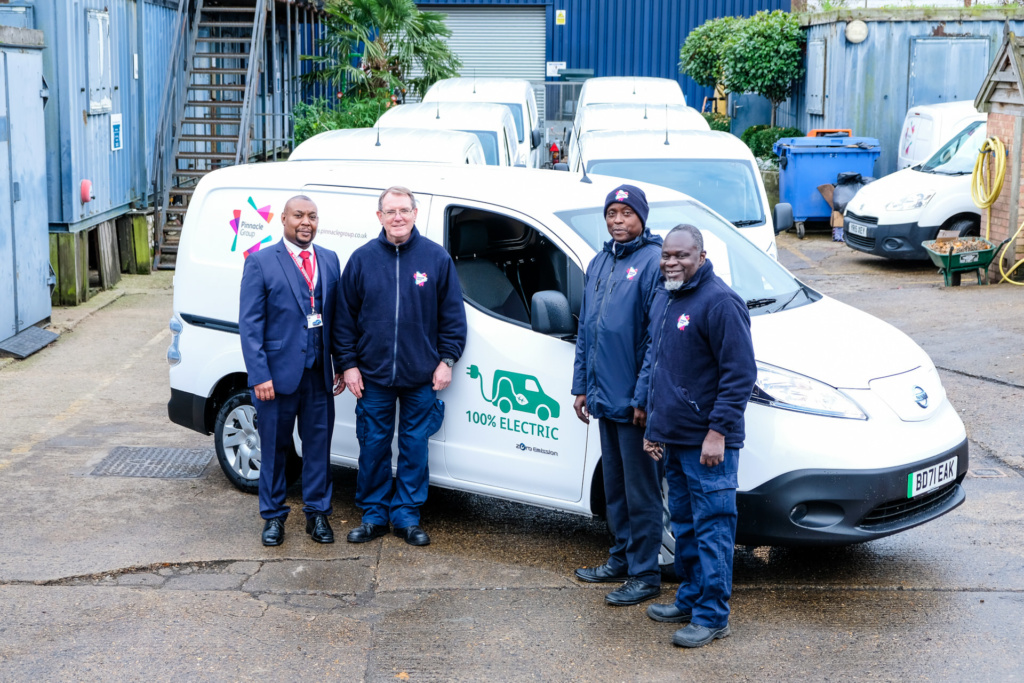 Pinnacle, which has more than 100 locations and 3,000 staff nationally, is accelerating its efforts to build a carbon neutral fleet under its Carbon Net Zero road map. Every vehicle due for renewal or added to the fleet will be considered for an electric vehicle replacement where possible.
Working closely with Fleet Alliance, a national fleet management company, there are also plans for a smaller tranche of Citroen e-Berlingos and electric replacement Light Commercial Vehicles (LCVs) in the new year. The move follows a comprehensive six-month plan to identify the vehicles suitable for electric replacements.
Pinnacle's group procurement manager, Sarah Russell, said: "We are pleased to take the first step as part of our Project Electrify strategy, which has been well-researched and formalised by a dedicated cross-sectional group of colleagues.
"Building on Pinnacle's ESG 'Protect our Planet' commitment, we will now be pressing ahead with the transition ambition in earnest - and we are planning to equip each of our core locations with the required charging infrastructure. This will start with the installation of 10 charging points at Tulse Hill, South London, in the new year."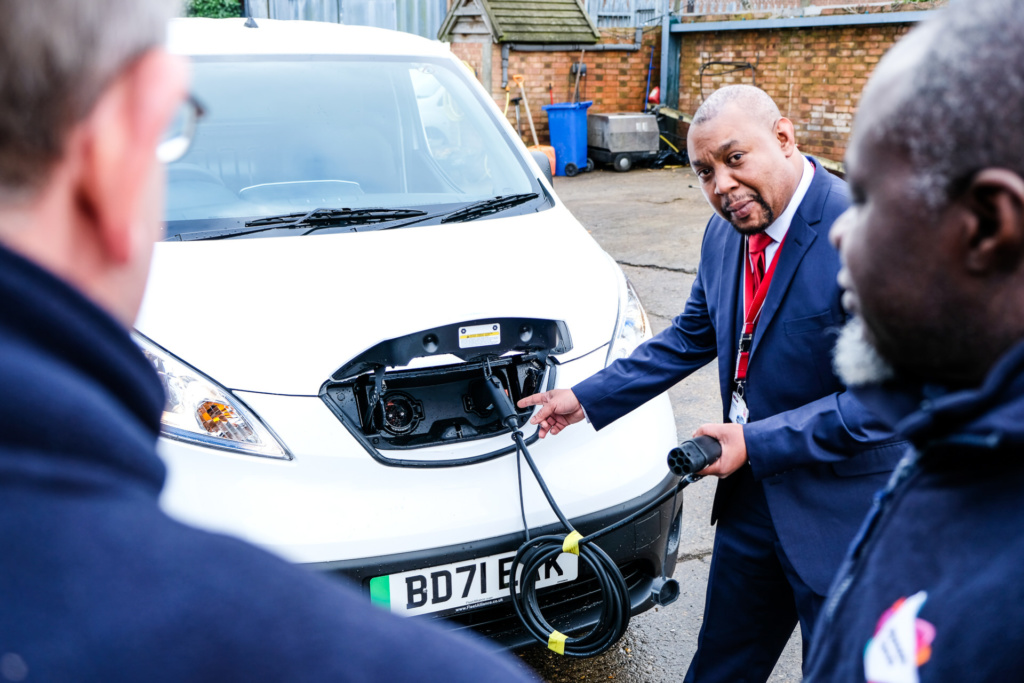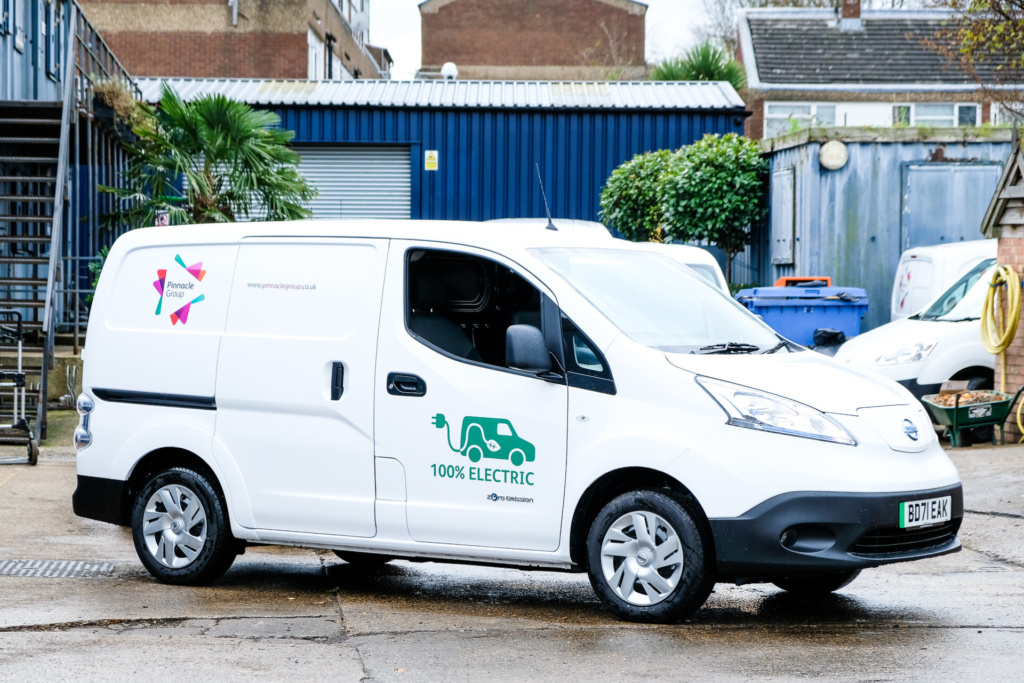 Pinnacle Group has been an outsourced client of Glasgow-based Fleet Alliance since late 2017 and benefits from several services and solutions.
Fleet Alliance CEO, Andy Bruce, commented: "Pinnacle Group is to be applauded for its decision to transition to an all-electric fleet in a structured, disciplined and well thought through manner.
"We will, of course, be with them all the way to ensure that the transition is a complete success and plays a key role in helping them achieve their zero net carbon ambitions."
The vehicles will operate on four year/68,000-mile operating cycle, which will allow Pinnacle to better-record the long-term carbon savings. With full maintenance packages, drivers will be provided with electric charge cards, while those who park their vehicles at home overnight can also opt for home chargers.
Karen Reid, Corporate Sales Manager for Fleet Sales at Nissan, said: ''We are naturally delighted that Pinnacle has chosen Nissan as a partner on its electrification journey. This announcement is a great way to round off an incredible year for e-NV200 in the fleet arena.
''Pinnacle are clearly serious about making a success of their decarbonisation plans and the team there deserve huge credit for their efforts. We wish them every success.''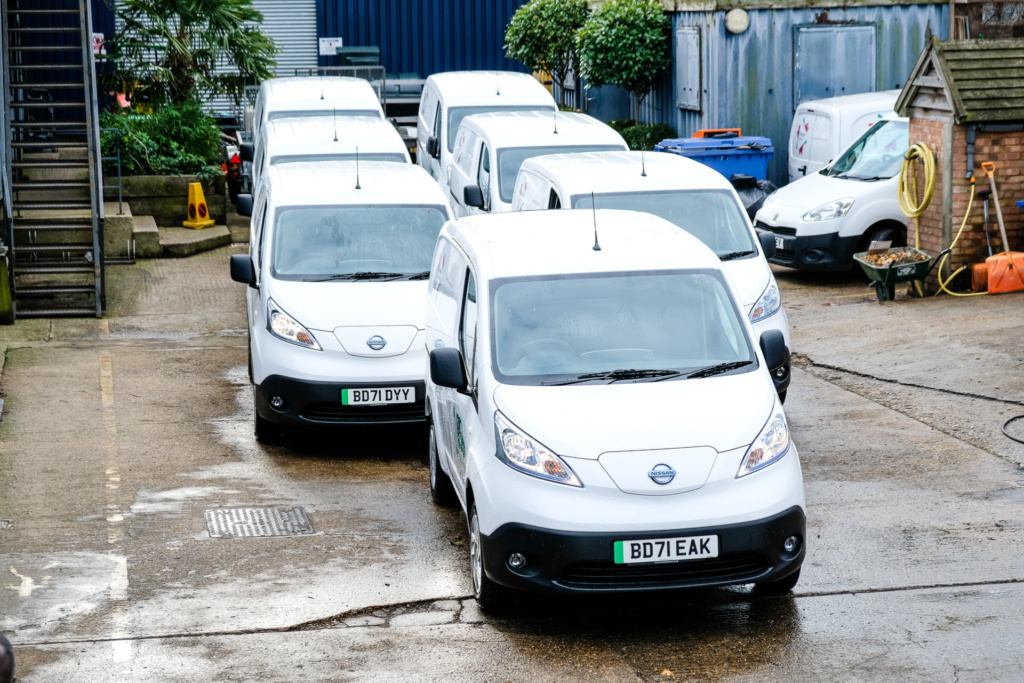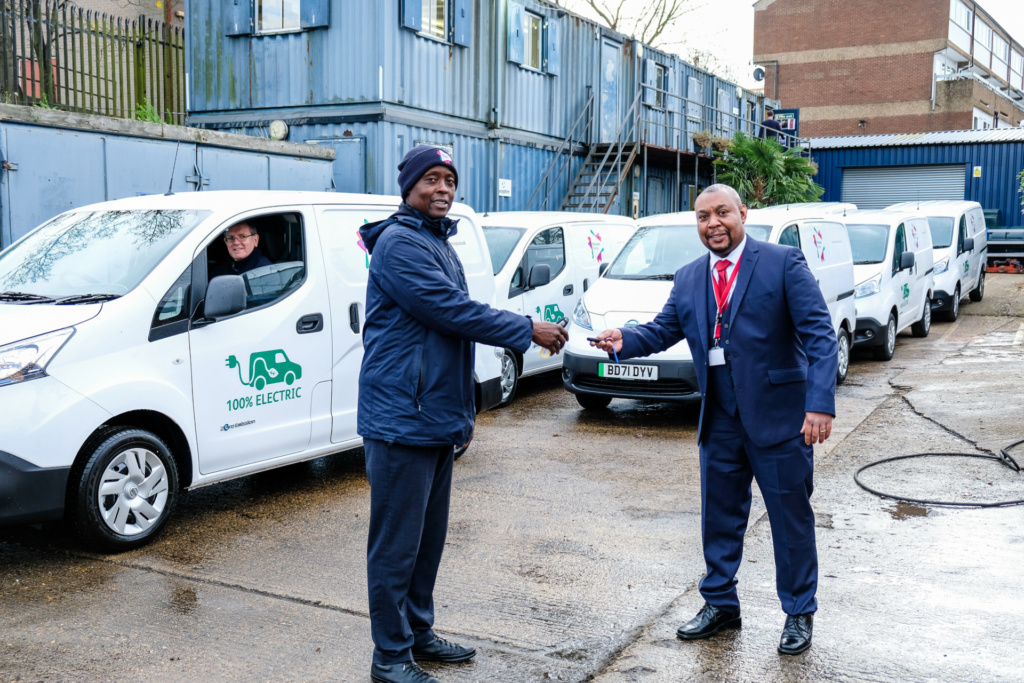 Pinnacle LED the Way for Swindon Schools
PINNACLE GROUP, a leading national facilities management (FM) provider, is proud to be working with seven schools in Swindon to reduce energy consumption by an estimated 60% - 80% per annum by switching to LED lightbulbs.  
The energy efficient lighting replacement initiative is part of Pinnacle's commitment to improve sustainability and deliver long term value for the school buildings managed by its local FM team. 
So far, over 6,000 light fittings have been replaced with state-of-the-art LED lighting as part of this energy saving project. Working with lighting specialists WILA, who have partnered with Pinnacle to install the LED bulbs in the schools over the past six months, it is predicted that around 260 tonnes of CO2 will be saved every year across the seven schools.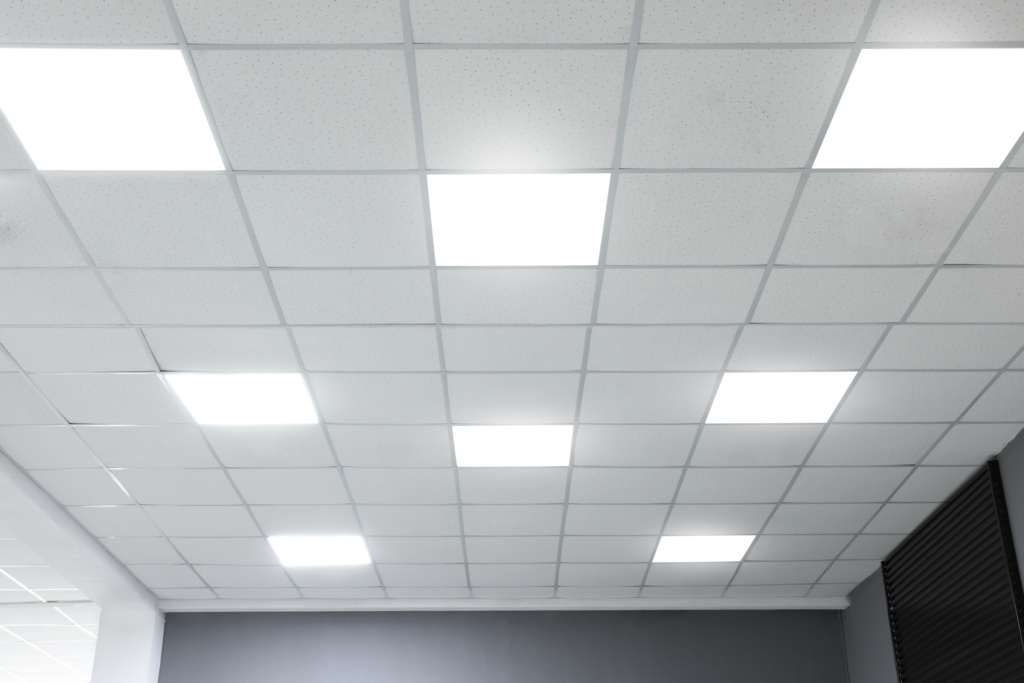 Furthermore, based on the energy consumption savings and the capital cost of replacing the fittings, it is estimated that the project would have paid for itself in under four years. The schools that have benefited from the project include Abbey Park School, Red Oaks School, Uplands School, Brimble Hill School, Nova Hreod School, Orchid Vale School and Moredon School – all of which are primary, secondary, or Special Educational Needs (SEN) schools. 
"Pinnacle consistently strives to enhance the energy efficiency of the buildings that we maintain. This project proves that a small but significant change can be both environmentally friendly and cost effective, which is paramount when working towards a more sustainable future."
Paul Dewberry
Regional Operations Manager, Pinnacle Group
"WILA was delighted to be appointed to upgrade the lighting for seven schools across Swindon. We fulfilled this by replacing T5+T8 lamps with LED solutions, upgrading 6,000 luminaires in total. We took responsibility for supply, installation and commissioning of the lighting, as well as partnering with Lumicom to ensure disused luminaires, batteries and lamps were recycled. The new luminaires are now running at 80% and have been integrated into the onsite DALI control system. WILA have delivered further energy savings by customising the control system to dim the luminaires by the windows and reduce Passive Infared (PIR) time."
Jon Grzbiela
Business Development, WILA
Pinnacle is a leading FM provider for the education sector and is currently serving 220 primary and secondary schools, academies and universities. Pinnacle plans to roll out similar projects, in the near future, to significantly reduce energy consumption across a wide range of buildings and facilities. This forms part of Pinnacle's recently launched ESG Framework which has been developed to make a positive difference to the communities Pinnacle supports.
To learn more about Pinnacle Group and its commitment to ESG here.
Pinnacle Group Acquires AM Services Group
Pinnacle Group expands facilities management expertise and acquisitional growth drive with purchase of AM Services Group
TODAY, Pinnacle Group has announced that it has acquired AM Services Group (AMSG) in a deal that extends its service capacity, technical skill set and expert knowledge across new FM sectors including retail, manufacturing, and chemical industries. This acquisition expands Pinnacle's service footprint across the North of England and Midlands as well as bolstering its business-to-business offer.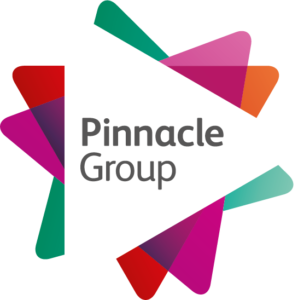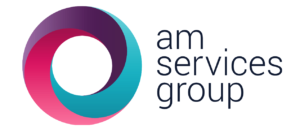 Importantly, this acquisition also enhances Pinnacle's ability to deliver holistic seamless services to a broader range of communities in accordance with their commitment to community stewardship.
Established in 2001, AMSG is a Lancashire-headquartered business which employs 750+ people. It has a loyal client base with an impressive 96% business retention rate.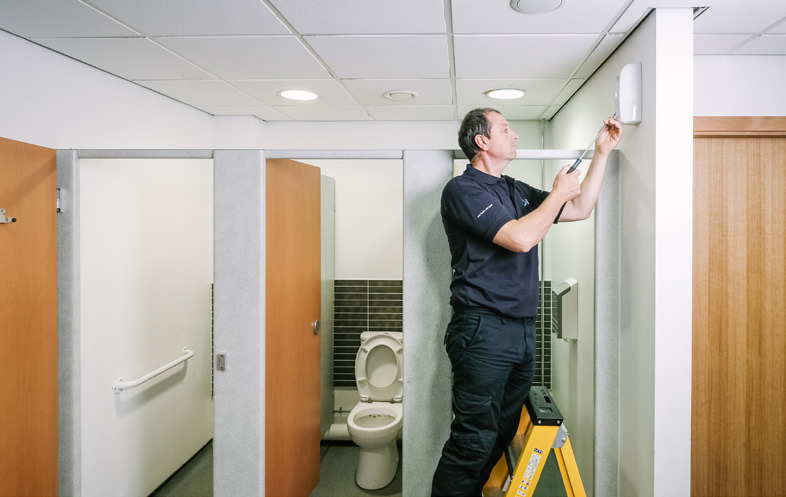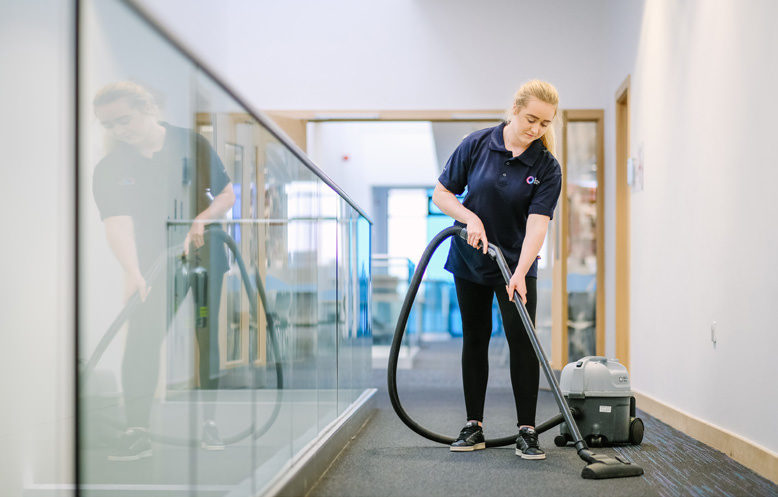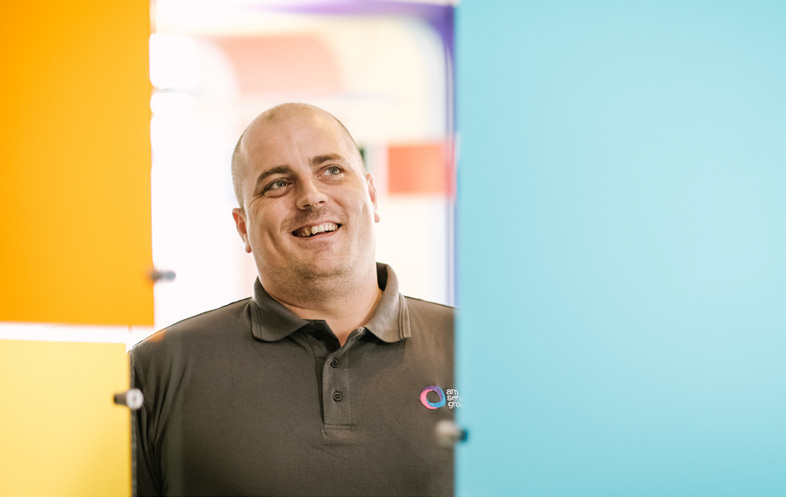 AMSG's Greg O'Brien, Managing Director; Ashley Kirk, Commercial Director; and Neil Cooper, Operations Director will all remain with the business to focus on continuing to deliver growth and service excellence. This senior management team will fully integrate the AMSG business with Pinnacle over the next 12 months. Current CEO and Founder Adrian Cresswell will be retiring from the company.
The acquisition provides AMSG's existing and new clients with enhanced value through wider access to technical skills and innovative service solutions and will support Pinnacle's existing plans to optimise new FM growth opportunities. This includes penetration of the large-scale UK catering market by building on AMSG's recent landmark contract win with a leading Japanese multinational automotive manufacturer.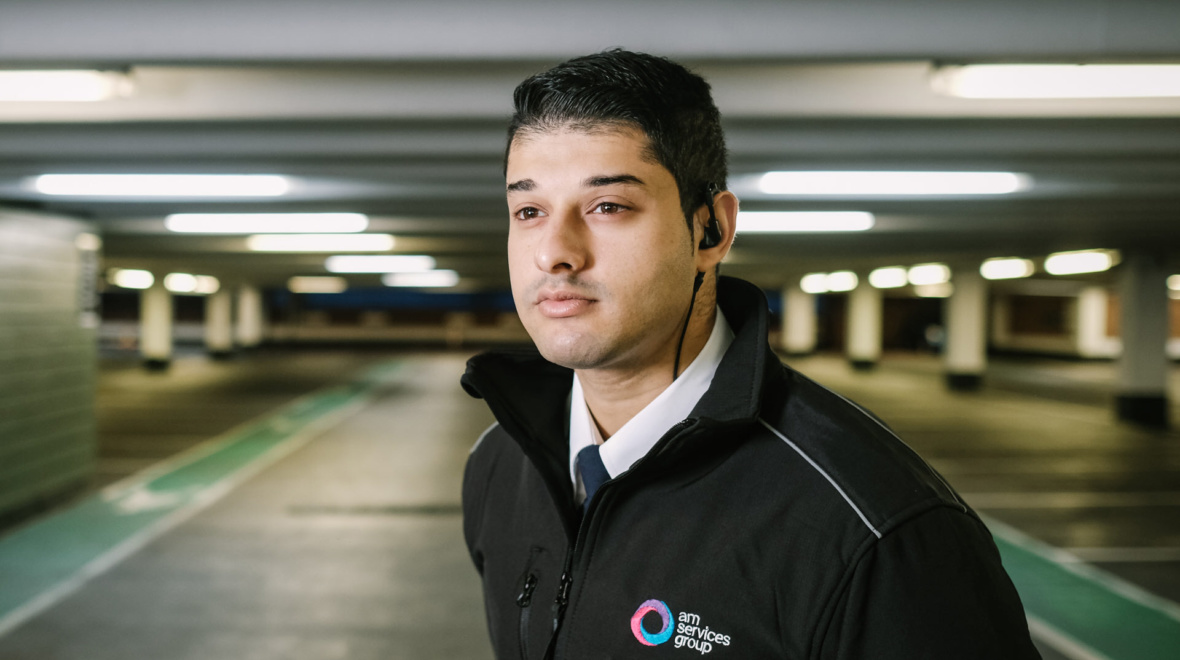 "Pinnacle prides itself on delivering the very best FM services and the acquisition of AMSG bolsters that further. Both organisations have enviable reputations for delivering consistently high levels of customer service. In tandem with shared customer-led service values, our joint track record of longstanding, trusted client relationships and recurring revenue, puts us in good stead for continuing to strengthen and grow Pinnacle."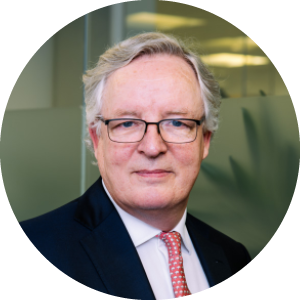 Peregrine Lloyd
Chief Executive of Pinnacle Group
"After 22 years heading up AM Services Group, I have decided to retire from the company. It has been an amazing privilege to run and develop this business during my tenure and given me immense pride. I would like to thank all the people that have helped me develop the business along the way, your dedication and commitment has been faultless. I am confident that Pinnacle and the AMSG management team will work well together, given that they foster the same commitment to delivering high levels of customer service and staff development. The aligning of these two companies offers many opportunities for those working within the business."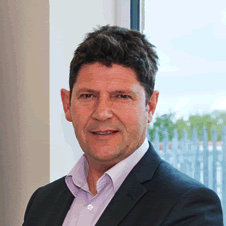 Adrian Cresswell
CEO and Founder of AMSG
"Pinnacle's clients and customers will benefit greatly from this acquisition. Our wider geographical spread, broader FM service scope and ability to seamlessly integrate service provision across more FM sectors will ensure that Pinnacle remains top of its game. The technical expertise that AMSG will bring will ensure that we continue to innovate in terms of our service models to better meet client and customer needs."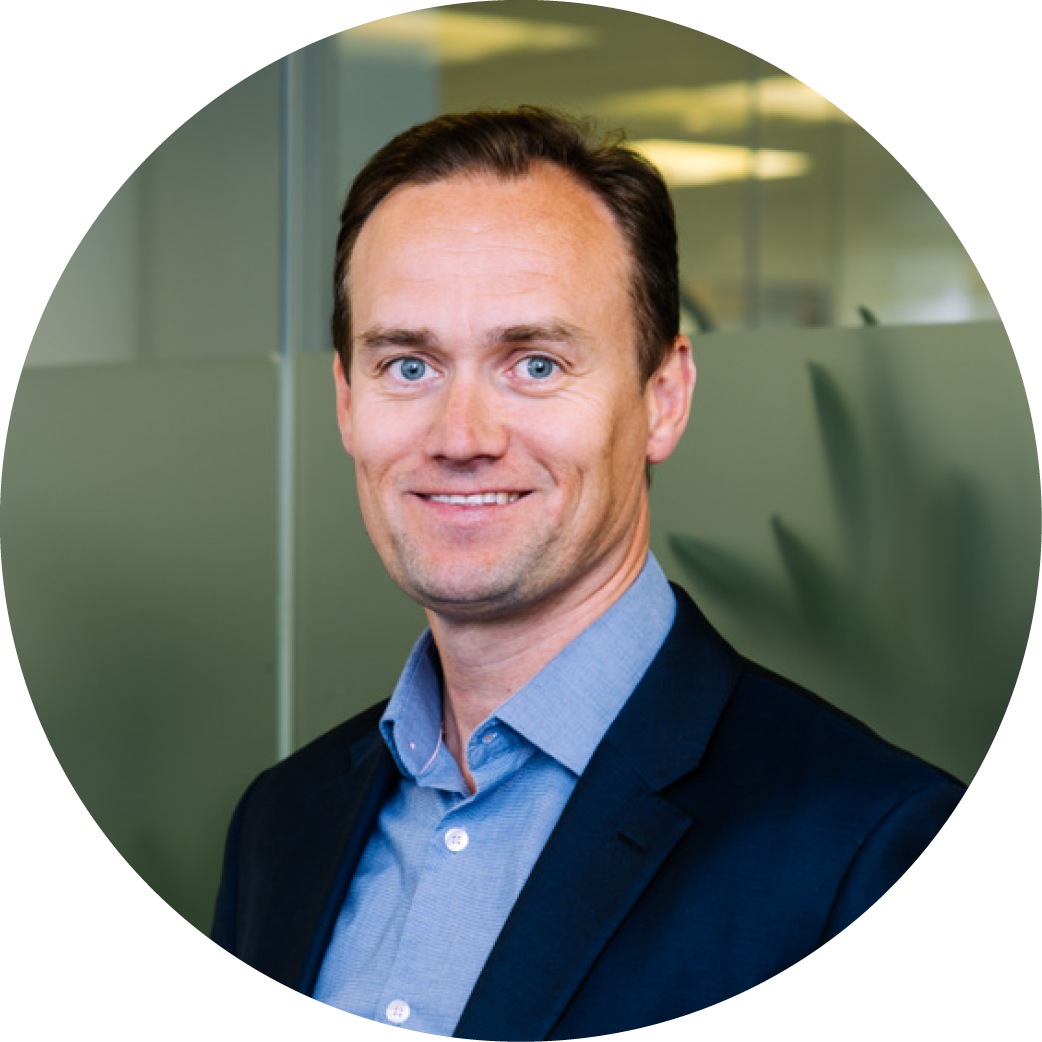 Neil Fergus
Managing Director FM of Pinnacle
"Adrian has built the AMSG brand with pride and passion which I am sure he will throw into his next ventures. It is rare to find two companies that share similar people focussed values and going forward I am looking forward to working with everyone at Pinnacle, sharing best practices that will underpin our growth, benefit our clients and develop our teams."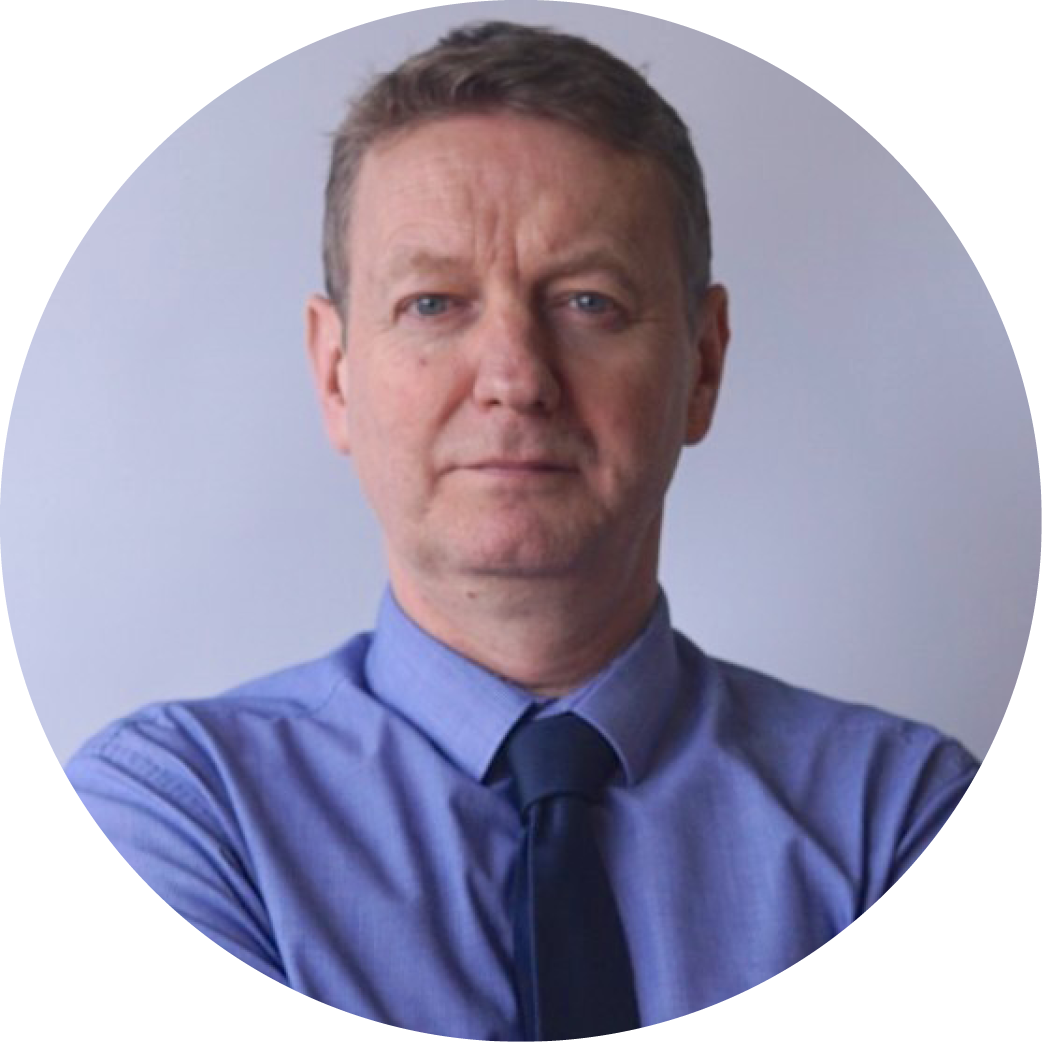 Greg O'Brien
Managing Director of AMSG
Earlier this month Pinnacle announced it had acquired residential and social housing specialists Orchard & Shipman, expanding its Homes business nationwide.
Rebecca McCann, Associate in the Corporate team at Forbes Solicitors advised on the deal, alongside Rachel Marsden at MHA Moore and Smalley and Charlotte Potts and Kaine Smith at Rickitt Mitchell.
Celebrating World FM Day
Today we celebrate World FM Day and say thank you to our facilities management colleagues for all the vital work they carry out every day.
This year's World FM Day theme is 'Celebrating FM: standing tall beyond the pandemic'. Here we celebrate some of the members of the Pinnacle team who have gone above and beyond the call of duty to ensure that the communities we serve continued to receive the best service possible throughout recent testing times.
COVID-19 Cleans, Lambeth (London)
The FM industry has been at the frontline of the nation's effort to combat COVID-19 and protect the public. 
Pinnacle provides FM services throughout the borough of Lambeth and in response to the current pandemic we ensured that the Council's playgrounds are COVID-secure. 
To tackle this challenge of reopening the playgrounds safely, Pinnacle and its specialist teams deployed its specialist COVID cleaning service to 90+ of Lambeth's playgrounds. 
As a result of this treatment, play surfaces were sterilised and local children could touch and enjoy these spaces. The children of Lambeth now have safe playgrounds and spaces to grow, thrive and be their best, as our society returns to normal.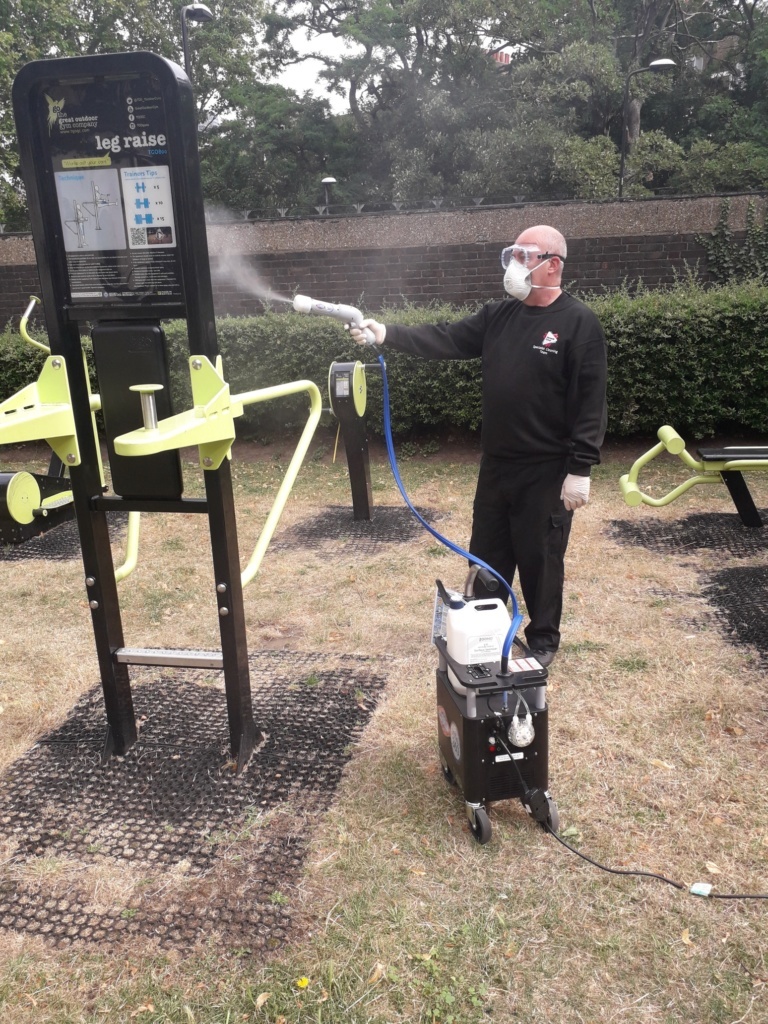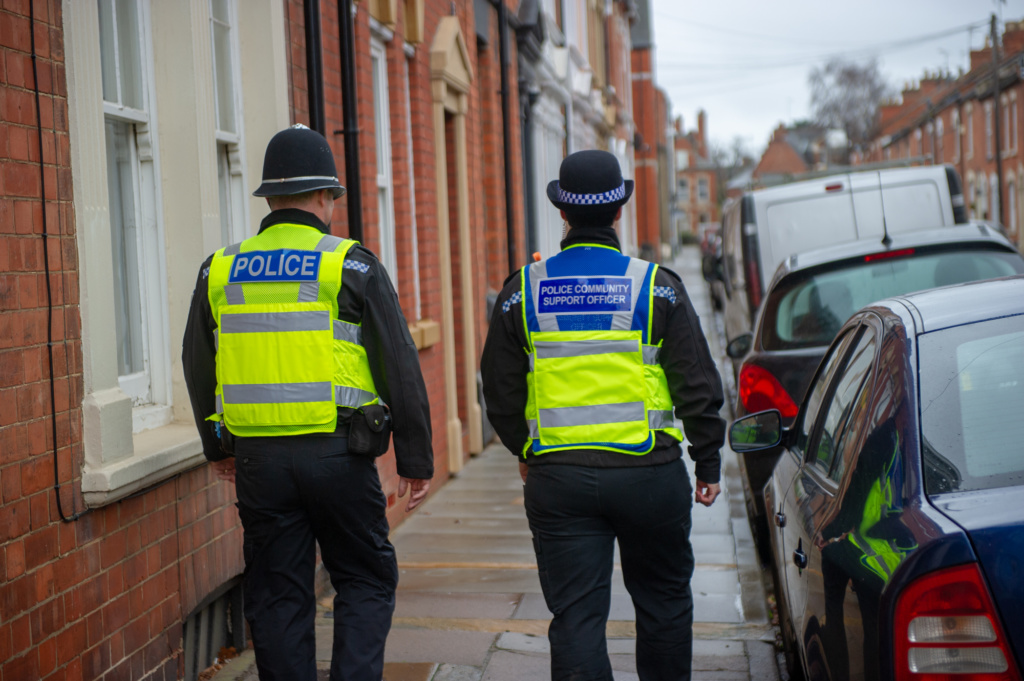 Increased precautions, Humberside Police
Gill, Angela and Laurel work at Hessle Police Station, providing cleaning services which are allowing the station to operate safely. The team were described by the client as being "brilliant[…]always friendly, polite and go above and beyond when it comes to helping people and doing their job. Nothing is too much trouble for them."
The client added: "In the challenging times we find ourselves they are having to work extra hard, especially with all of the extra wiping of contact points and specialist sprays for sanitising, but they never complain, they just get on with the job at hand which must be particularly difficult here with it being a 24 hr station." 
VE Day Celebration, Leeds Schools
All members of Pinnacle's Schools Catering team came into work on Bank Holiday Friday which should have been their day off to open three schools in Leeds to provide a VE day meal to Key Workers and vulnerable children.  Putting on this lunch in celebration of VE Day is another example of the team's dedication to their community and to delivering added social value on their contract, something that is greatly appreciated by the client.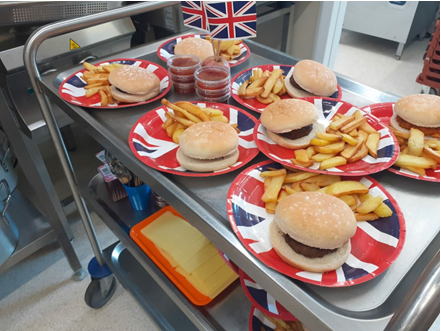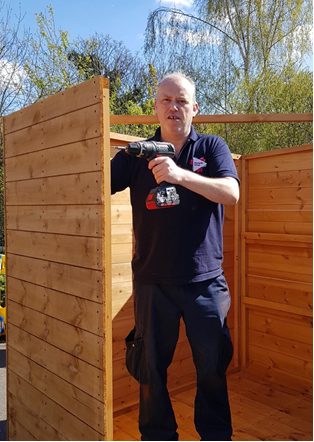 Adjusting work hours to keep schools working, North London Schools
Rob works as a caretaker at Starksfield, part of our North London Schools contract. He is a lone worker and is respected by his colleagues for always going above and beyond, on what can be a challenging contract. 
Recently, Rob voluntarily went into work on a Saturday to put up a reading shed which now provides a space for students to read under shelter in their playground. He has also carried out additional cleaning during school hours to sanitise door handles, carrying out toilet checks and daily stock takes. 
He consistently communicates well with colleagues and ensures everyone continues to feel supported. 
Shopping for residents, Lambeth (London)
Wahab Balarabe and Kenneth Cottrell have been helping elderly vulnerable residents in Ethelred Towers, Lambeth North, providing them with essential food items. Waham and Kenneth have been going shopping for their residents in their time off and bringing items to work and delivering them to their door.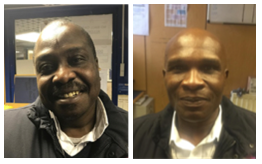 A heartfelt thank you to all colleagues who have gone the extra mile in carrying out their duties. 
Happy World FM Day!
Supporting Residents by creating a sustainable new community allotment
The opportunity to get involved in supporting the Chalkhill allotment project arose when a group of residents contacted Pinnacle Group, requesting its support in the development of their allotment space. The idea behind the allotments was to create and kick-start a new project for the whole community to be involved in.
The Pinnacle Group team agreed that this project was a great initiative and saw an additional opportunity to use recycled materials to fabricate the planters. On our client's Clapham Park site, also managed by Pinnacle, decking was required to be removed from properties and was planned to be disposed of. Pinnacle devised a plan to re-use this decking, providing additional sustainability benefits to the project.
https://youtu.be/S-I_IOfpEGU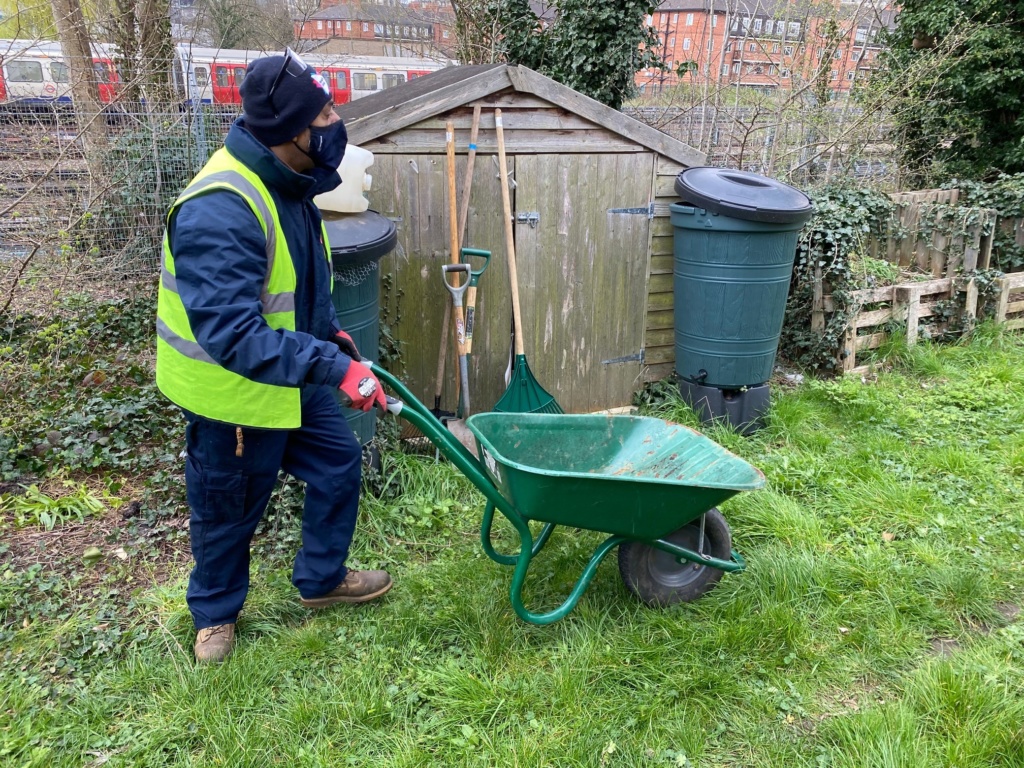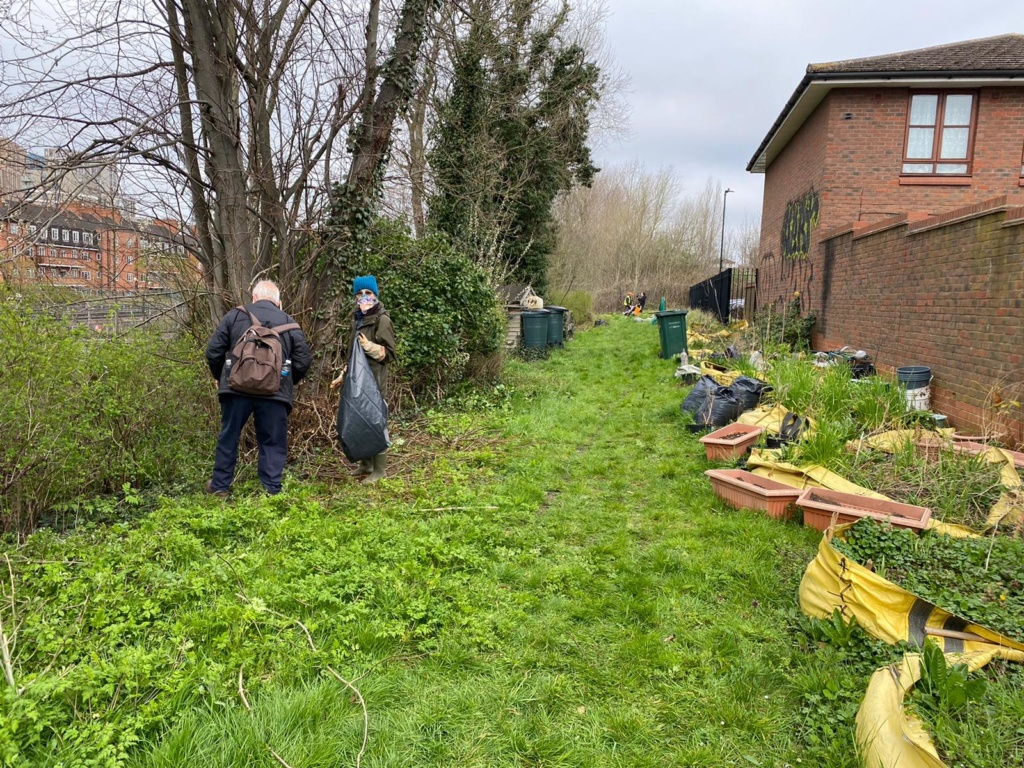 Over the course of a week, the team worked on the site, with the support of local residents, to clear the area and build all of the planters for the allotments from scratch. After they had been built, these planters were finished with compost, topsoil, and several sets of new hand tools were provided to residents so that they can begin their green-fingered journey. Pinnacle's total contribution towards the project was in excess of £1,500, representing excellent social impact value for money.
What started as a great initiative to bring together the local community and residents quickly became a reality. The Chalkhill allotment is one of many similar projects delivered by Pinnacle for its residents and we look forward to seeing them flourish.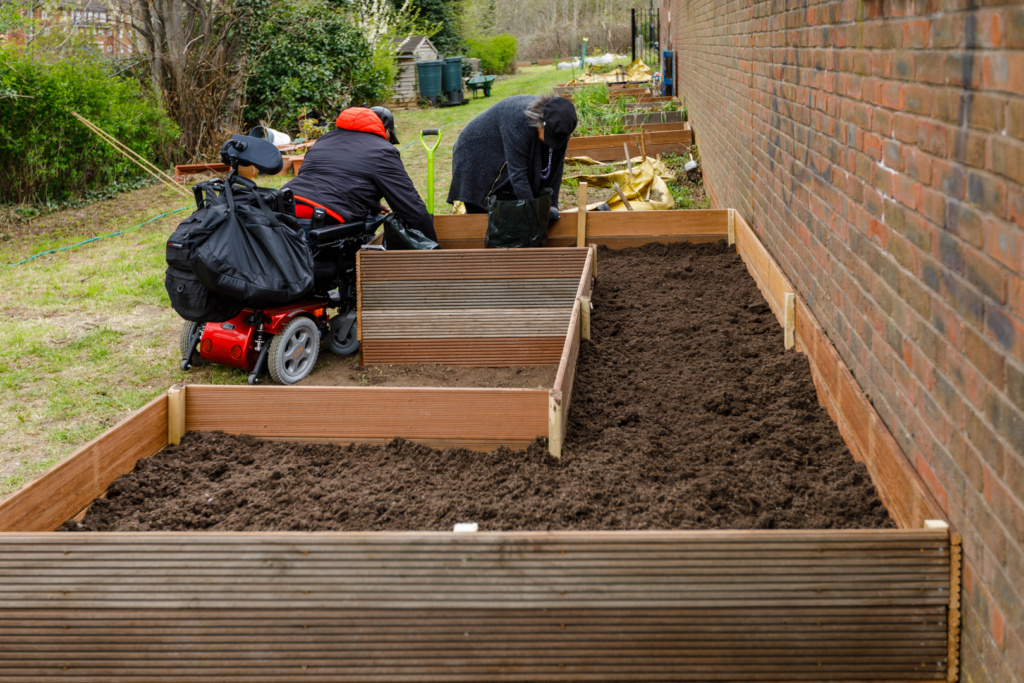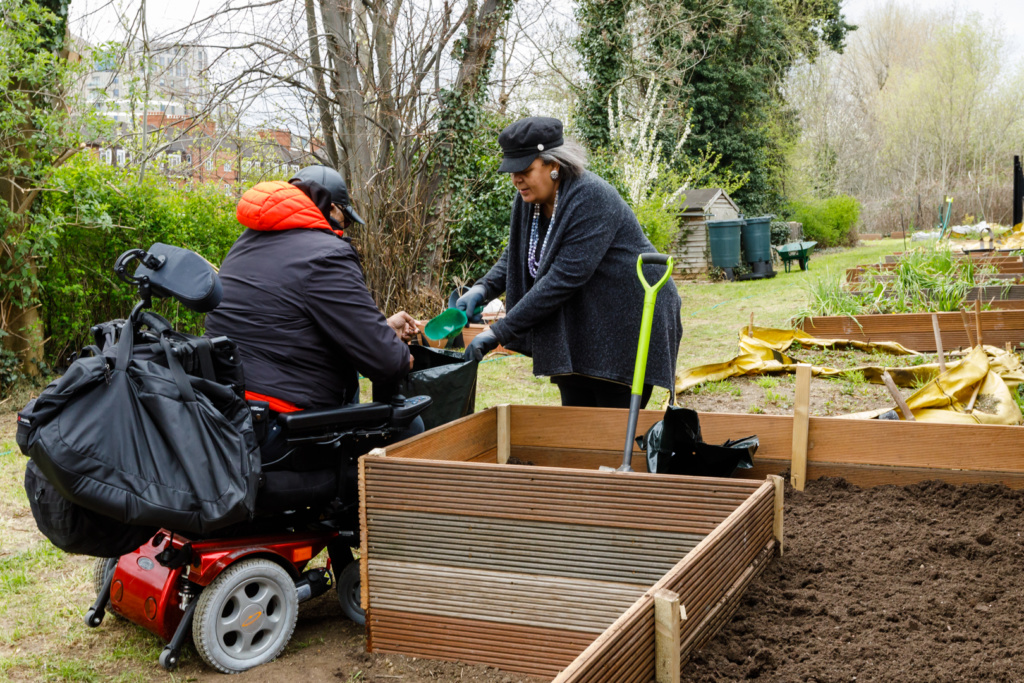 "Thanks to everyone involved... what a transformation, can't wait to get our families down there and start planting seeds."
Chalkhill Resident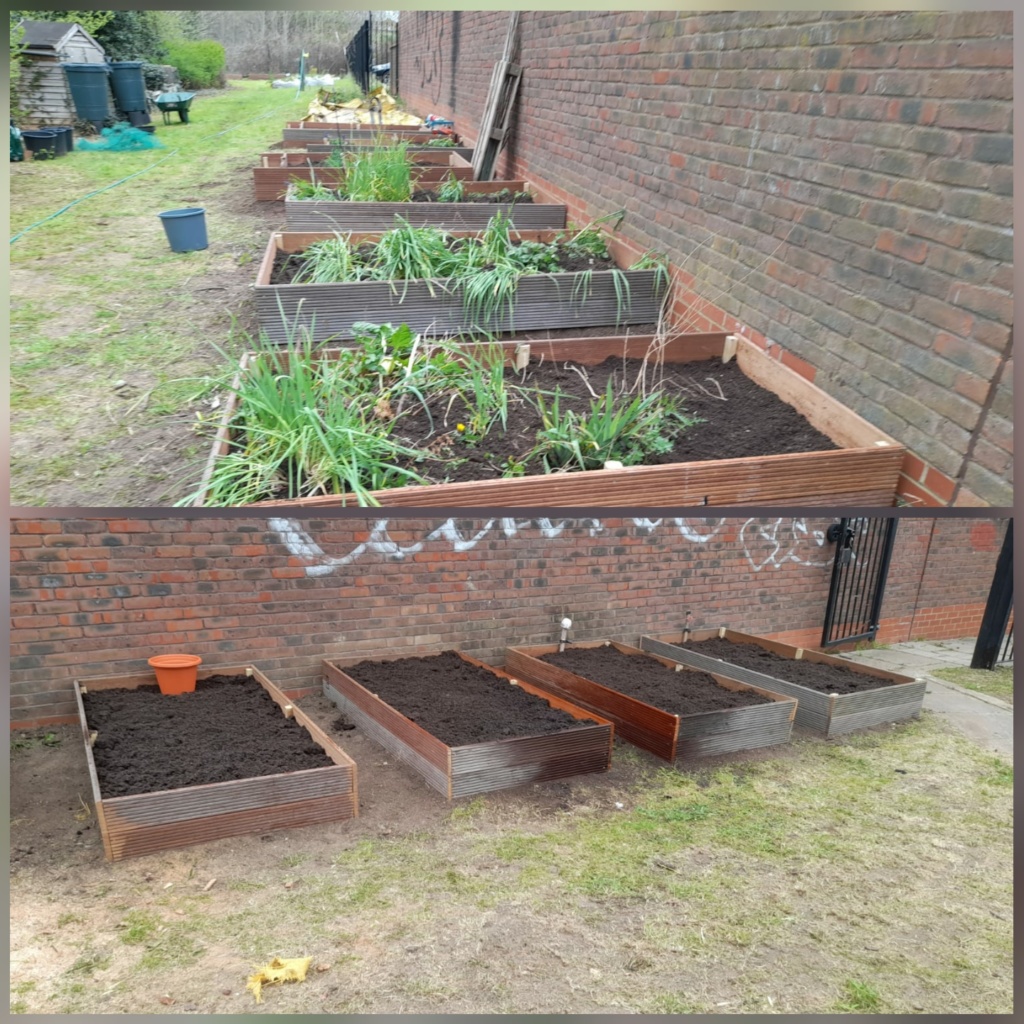 Pinnacle win a contract to provide FM services for Clarion Housing Group's properties in Cambridgeshire and Lincolnshire
Pinnacle Group has announced that it has been contracted by Clarion Housing Group, the largest housing association in the UK, to provide cleaning services for properties in its Wisbech, Huntington, Peterborough and Cambridge estates.
Pinnacle are proud to support Clarion and the local communities that it serves and are delighted to have won this competitive, three-year contract.
As of 8 March 2021, Pinnacle are providing estates services to 195 sites, including new build flats, low to medium rise flats and a mix of new and pre-established housing estates. The contract is for an initial three-year period, with a possible two-year extension, and will include the 17 retirement schemes that Clarion operates in the region.
Pinnacle are providing estates services across these sites, including regular cleaning and management of the wide ranging and mixed tenure and sheltered sites in Clarion's Cambridgeshire and Lincolnshire portfolio. Pinnacle are a housing management provider, delivering tailored solutions to over 300,000 homes and looks forward to applying this experience to this contract.
"Having worked with Pinnacle Group in the past, their professionalism and experience gave us the confidence that they were the right group for the job. We have been really pleased with their approach to supporting our residents and working with them to build positive relationships. We look forward to working in partnership with Pinnacle over the next three years.
Sally Greetham
Clarion Group
"It's fantastic to be awarded this contract, especially during a time where we want to provide the absolute best services to Clarion's Cambridgeshire and Lincolnshire residents. As shown in our work with other housing associations, Pinnacle takes pride in building valuable partnerships with our customers' teams and ensuring that their residents get the best possible service. We look forward to demonstrating this commitment to Clarion."
Neil Fergus
Pinnacle Group'
Both Clarion and Pinnacle Group are focused on taking a sustainable approach to housing, and partake in a variety of wider ventures. These include Clarion Futures, the charitable foundation of Clarion Housing Group and Pinnacle People, the group's social investment arm, which both help get people back to work, develop skills and support with personal financial management.